Neloc information forum (Intro, membership, event calendar , etc)
02-23-10, 12:08 PM
NELOC Mod
Join Date: Mar 2006
Location: MD
Posts: 5,201
Thanks: 0
Neloc information forum (Intro, membership, event calendar , etc)
---
This thread serves as an archive for most of the relevant information concerning our group. In this thread you will find our introduction, members map(gives an idea of where our peeps are geographically), link to our events calendar, as well as our Caravan guidelines. Each link contained, within, will take you to the apropriate thread for you review.
Neloc Introduction,,
https://www.clublexus.com/forums/nel...ease-read.html
Geographic member's map,,
https://www.clublexus.com/forums/nel...ember-map.html
Events Calendar (Where to locate and how to find),,
https://www.clublexus.com/forums/nel...d-running.html
Caravan Guidelines,,
https://www.clublexus.com/forums/nel...a-caravan.html
Becoming a Neloc Member,,
https://www.clublexus.com/forums/nel...oc-member.html
---
Last edited by trukn1; 11-17-10 at

11:16 PM

.
05-17-10, 10:01 AM
Driver School Candidate
Join Date: Jul 2009
Location: Texas
Posts: 33
Thanks: 0
Thanked 0 Times in 0 Posts
New member
---
Just wanted to drop in and show some respect. Name is Alex I live in PA. I drive a 1995 SC300 with a 2JZ-GTE stock twins. I don't have pics right now, I will have some up soon.

I am looking forward to showing up to a meet.
10-14-10, 10:17 AM
Driver School Candidate
Join Date: Oct 2010
Location: md
Posts: 6
Thanks: 0
Thanked 0 Times in 0 Posts
---
Hey you guys my name is Elvin, everyone calls me El. I had an evo 9 but it spun a bearing (my baby) it was a pretty fast evo fp black and supporting mods. I didn't have the money to fix it at the time (student) so I sold it. But I bought an sc300 with a 1jz motor. It isn't the cleanest but I plan on leaving it stock for a while until I find another evo. And I will be going with the whole Vip style and Bpu. If anyone is in the pg, md area, plz say hi I also need parts like a passenger side fender and jade green front bumper. Also a good painter. So pm me for info.
Thanks Again,
12-03-10, 03:00 PM
Pole Position
Join Date: Oct 2009
Location: Md
Posts: 301
Thanks: 0
---
I think I may have already done this but here it is in the case I didnt...
My name is Treez Gov: Harvey. I have a 93 Gs300 and this is my second one. I do plan on getting a sc300 one day...my car was green and F*d up but I painted it and theres a thread on it if you need to see more pics. Im a Mechanic by trade but currently work in the Annapolis area as a Caregiver. My work is easy I just take care of my individual and chill all day
I am 6'5 and love basketball and football. I play on leagues for both activley and hope to market myself into something bigger one day. I played breifly for the Maryland Marvels semi pro basketball team.
My car has 218k miles
all maintence done by myself, timing belt due soon
Painted
20' Verde 5 star rims with color matching spoke (cover things) i dunno what there called lol
Custom ram air intake ( which isnt fiting properly so im either gonna change the cone or take it off
And turbo swap will be done tax time. Or a motor cycle. Cant decide.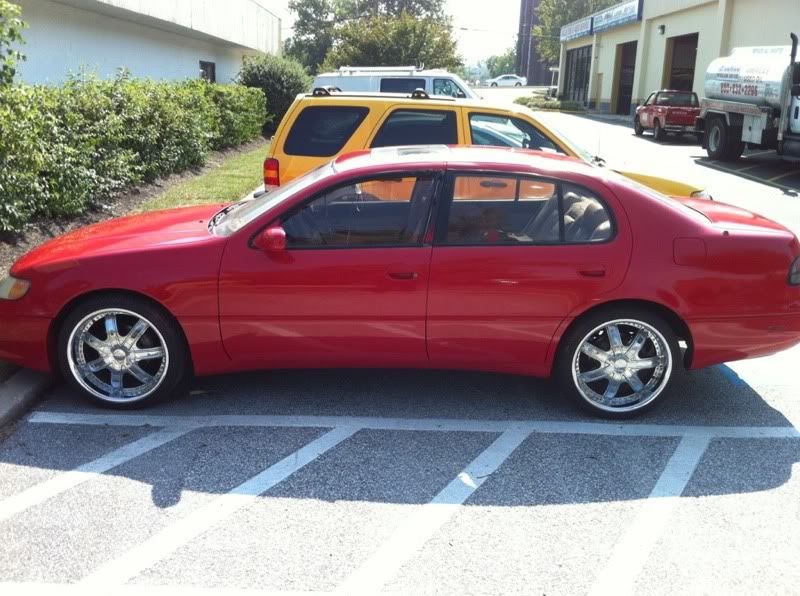 12-29-12, 02:21 PM
Lead Lap
Join Date: Apr 2011
Location: NY
Posts: 735
Thanks: 0
Introduction
---
My name is Andy, Im 20, and still currently attending College. I go to CUNY Baruch and I have recently saved up enough money from my two jobs to buy my 2006 Crystal White IS350 fully loaded except for ML. I cant begin to say how much I love this car, it bring me joy to just sit inside the car. Im hoping to attend a lot of the meets and meet the members of NELOC.
01-09-13, 02:43 AM
Driver School Candidate
Join Date: Apr 2012
Location: New jersey
Posts: 5
Thanks: 0
Thanked 0 Times in 0 Posts
---
eeeeeeeyyyyyy guys most of you know me as Martin's little brother benji in nj he has the slammed the turbo is300 and i plan on getting a sc300 or 400 either one and yeeeeeaaaaaahhhhhhh lol
10-04-13, 07:44 PM
11-02-13, 07:12 AM
---
My name is Dave. Picked up an Is300 sportcross about two years ago. Put it in garage and stored it until my truck died at 297k. Now slowly fixing it and love it more than any other vehicle I've drivin. Cant wait to finally meet up at Palisades meet. Cant miss my big dent in my hood(how i bought it) and the scratches my son drew into pass. rear door...but i rock it no matter what..lol