Headlamp Condensation Repair Tip
03-29-10, 05:25 PM
Moderator
Headlamp Condensation Repair Tip
---
Finally was able to take a picture of the area normally needing sealing with silicone (at least for me it was the issue). I took off the headlamp and went through the bumper disassembly, but at least one person here just did the re-seal without removing the HL.
Before you start cussing at the RX and being withour warranty, your condensation might be solved by this very simple repair. Good luck.
Tip of the day: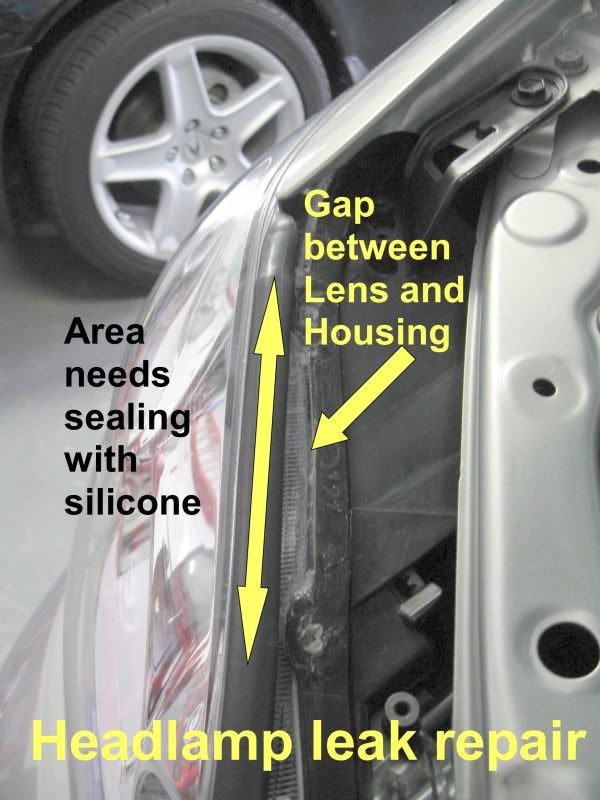 03-29-10, 05:27 PM
Moderator
---
So far after a year, knock on wood, no water inside the head lamp. It took me a year of blow drying, and hated rainy season because of the dreaded condensation!
02-22-11, 05:26 PM
---
Did you run a bead of sealant all the way around the whole lens cover? Or just the top edge? I was thinking of just sealing the top edge before resorting to taking off both headlamps to seal the whole lens cover.
02-23-11, 06:54 AM
Moderator
---
04-24-11, 09:26 PM
Driver School Candidate
Join Date: Apr 2011
Location: MN
Posts: 11
Likes: 0
Received 0 Likes on 0 Posts
04-25-11, 06:18 AM
Driver School Candidate
Join Date: Apr 2011
Location: IA
Posts: 5
Likes: 0
Received 0 Likes on 0 Posts
05-31-19, 02:16 PM
Driver School Candidate
Join Date: May 2019
Location: LA
Posts: 1
Likes: 0
Received 0 Likes on 0 Posts
06-03-19, 09:14 AM
Moderator