Weird Starting problem, anyone help?
07-24-12, 01:13 PM
Weird Starting problem, anyone help?
---
So riddle me this batma....errr clublexus. So in the morning at about 8AM I try to start my 93 sc300. It turns over for about half a second (hits 1k rpm's) then immediatly turns off. Tried to start it about 25 times yesterday morning and this morning, each day. Same exact problem.
Now the weird part is that on both days I get home from work at 5(yesterday, 3 today), walk over to the car and it starts right up the first time. Plugs are new, battery is relatively new, ECU is about two weeks old. The ONLY check engine light is the knock sensor which has been on for much longer than this problem. I drove it around the block both days, no problem at all with driving, no stutter or anything. I can walk outside any time during the day and start her right up. But first thing in the morning it wont start and I have to keep riding the motorcycle to work. What the hell??
I know the knock sensor needs to be replaced I'm just waiting for it to come in. There is no way that the knock sensor is causing this very time specific problem is there?
---
Last edited by Piratse; 07-26-12 at

08:39 AM

.
07-25-12, 05:14 PM
---
Anyone have a pic of the fuel pump ecu so I can see the easiest way to remove it? I have the below pic just wanted an actual pic.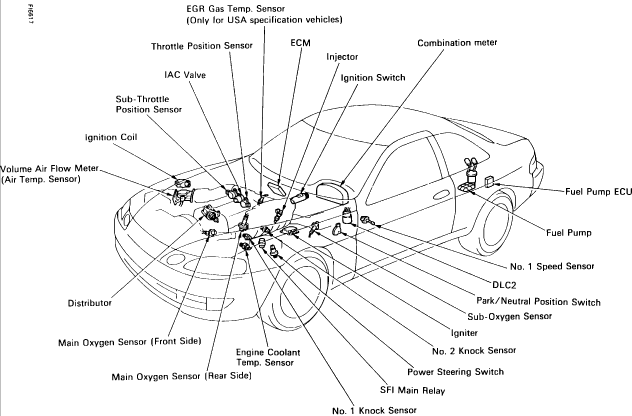 AS ALWAYS I WILL LEAVE MY ORIGINAL QUESTIONS IN CASE SOMEONE NEEDS THIS IN THE FUTURE
I THINK this will fix the problem (oddly enough I found the link through a different forum as search pulled up nothing for me on here)
https://www.clublexus.com/forums/per...tures-faq.html
This did not fix my problem but the link could work for others.
---
Last edited by Piratse; 07-26-12 at

08:40 AM

.
07-25-12, 06:46 PM
---
So I got in there and someone had already bypassed the ecu, BUT they cut two extra wires, so I tied those back in. I guess I will find out tomorrow if that worked.
07-26-12, 12:13 AM
Driver School Candidate
Join Date: Mar 2012
Location: FL
Posts: 49
Likes: 0
Received 0 Likes on 0 Posts
---
07-26-12, 08:42 AM
---
07-26-12, 05:13 PM
---
Well the pressure in the tank was not the problem either. Got home, opened the gas cap and released all the pressure. Started right up......This is a weird and very frustrating problem. Anyone have any more idea?
01-14-13, 09:46 AM
---
01-14-13, 09:56 AM
Lead Lap
Join Date: Oct 2010
Location: NY
Posts: 650
Likes: 0
Received 0 Likes on 0 Posts
---
Have the SAME EXACT issue down to the T. Had to do the 12V mod a while back when the fuel pump ecu went. my knock sensor is also bad, but as you confirmed it is not the knock sensor.

So all you did was change the fuel pump, and presto, problem solved?
01-21-13, 08:27 AM
---