new to an LS400
10-23-11, 04:29 PM
---
Nah, it was just luck on your part. He just probably had nothing to do at night.
But actually Lexus loses money with this forum active b/c
alot
less people bring thier cars in for service.
The way it should be.
10-23-11, 05:35 PM
Driver School Candidate
Join Date: Oct 2011
Location: tx
Posts: 22
Likes: 0
Received 0 Likes on 0 Posts
---
Originally Posted by
deanshark
Welcome to CL. Car looks nice and clean, stock is good.
My suggestion is to get the T-belt job done as soon as you can, especially not knowing when or even IF it's been changed. You don't want that snapping and chewing up the engine of a car you just bought. How many miles? Was it a one owner car? If so, I can't imagine why they wouldn't know if the T-belt was changed.
You can check through one of the Lexus sites with the VIN # to see if it has been done (at the dealer) Also, the PS lines being wet, get that fixed now so it will stop leaking on and in the alternator. The longer you wait, the less life your alternator will have. Almost anything you need you can find with the search feature, it's your best friend. Again, welcome.
Its good he changed the belt but the timing belt on ls400s are not interfaced with the engine. So if the timing belt were to snap while driving it will not damage the engine in anyway. You'll just be stranded and need to be towed home or a shop to replace the belt.
10-23-11, 05:54 PM
Super Moderator
---
Are ya sure about that on this 97?
10-23-11, 05:55 PM
BahHumBug
---
LoL, I wish I was paid, but usually I'm on here between studying and everything else I get up to
being a massive night owl doesnt hurt either.
10-23-11, 05:56 PM
BahHumBug
---
yeah...
you're almost totally wrong.
89-94 LS400s are non-interference (interface?
)
95-97 and 98-00 are both Interference engines, so if the belt snaps, your valves/head/pistons are DONE.
10-23-11, 06:09 PM
Driver School Candidate
Join Date: Oct 2011
Location: tx
Posts: 22
Likes: 0
Received 0 Likes on 0 Posts
---
Oops..I meant interference..android auto text. I typed "interf" and thought it would finish it for me but interface was before interference..and I mis-read the 97 part lol..sorry 90-94 is what I meant.
10-23-11, 06:41 PM
Super Moderator
10-24-11, 05:37 AM
10-24-11, 10:45 AM
Lexus Champion
---
yes i plugged it in the next morning. if you noticed i posted my question at 2am local here and was super tired! i drove the car that night for 120 miles with no problems other than the temp going up slightly from low coolant. added more and she is purring beautifully with no leaks!
i did break the darn cam angle sensor wiring connectors while removing them from their brackets, both of them
. however that's the only things i broke thank God! it took me awhile to break loose the water inlet/thermostat housing from the wp but everything else was gravy! i cleaned the block and parts i removed so it look longer than expected but well worth the time taken.
yes i replaced them along with the hydro tensioner. i have the cam and crank seals but decided not to do them until the next interval at 180k (in my case 220k) as they looked pretty good. i might regret it down the line but hopefully not soon! thanks for the quick responses!
10-24-11, 11:22 AM
---
I had that same problem when I did my T-belt the first time, that damn housing just wouldn't come out.
As for cleaning all the parts that came off and what you can reach, great minds think alike, I do it that way b/c it makes things so much easier while working on it in the future.
Good job.
10-24-11, 07:33 PM
Lexus Champion
---
since i know we all love these, here are some pics i took while doing the job. i apologize for the quality since all i had on me was my iphone (again).
all the goodies ready to go. i bought the tbelt, wp, idlers, and seals from an ebay seller. the auction came with an authentic mitsuboshi belt (OEM), aisin wp (OEM), made-in-japan bearings, and unknown seals (which is why i was hesitant to run them). all the rest i obtained at lexus of westminister who has great prices if you tell them you are from club lexus. FYI they beat sewell prices and the parts are readily available so no waiting!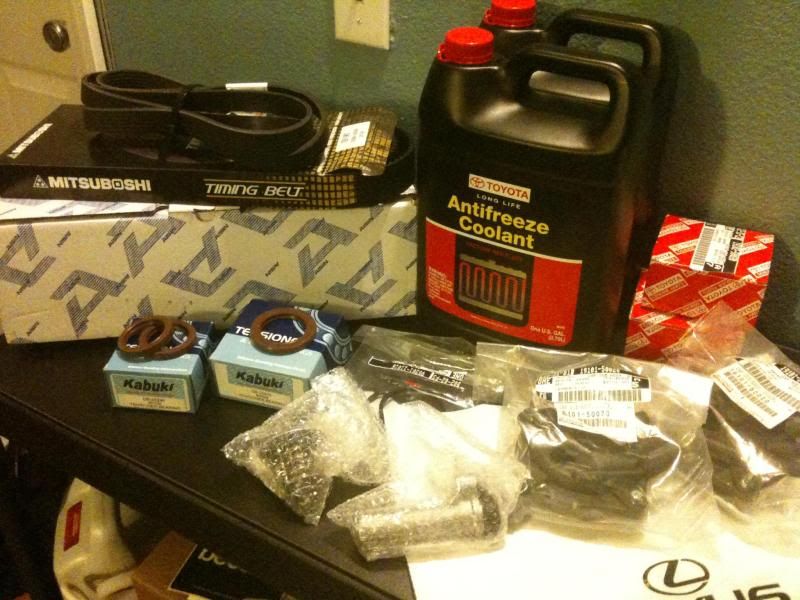 the workspace, good ol driveway!
covers off, motor was filthy!
what my belt looked like at 131k miles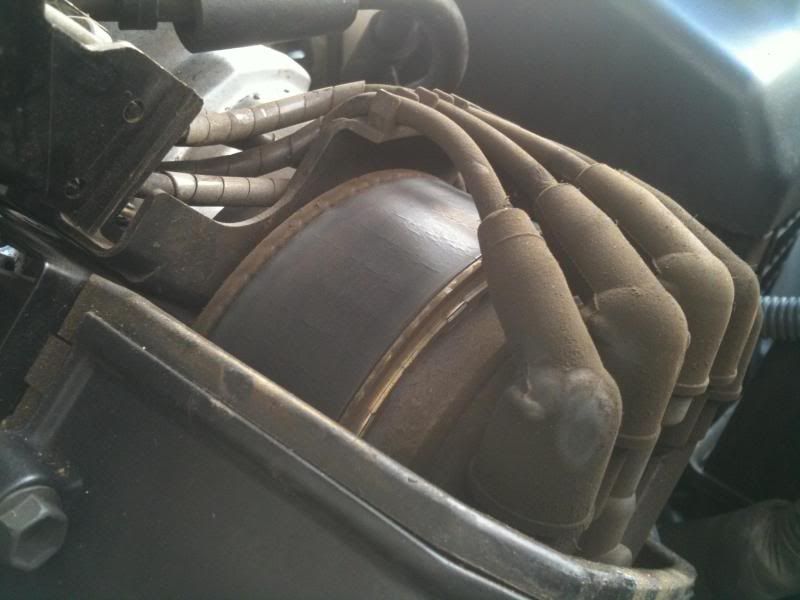 accessory belt had cracks too
close up of the tbelt, scary!
1/8 of the parts removed and set aside
radiator removed, previous owner had the lower splash guard cut for easier access to the oil filter, i personally don't like that but what can i do now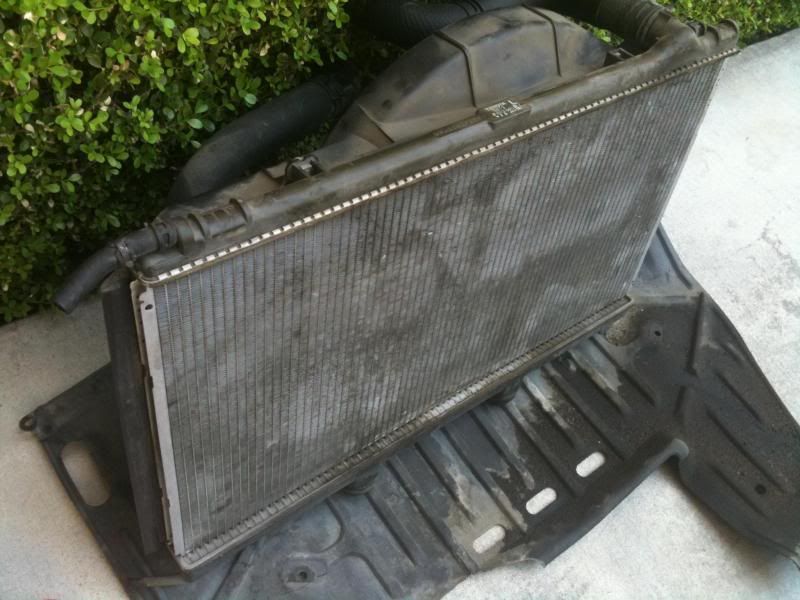 crank bolt removal, breaker bar with my jack's handle for more leverage
wedged an large allen key into the flexplate through the transmission access panel to lock the motor from spinning while removing the crank bolt, no need for any special tools
the crank bolt came of with ease w/o using pb blaster, yes i work out
wp removed, block cleaned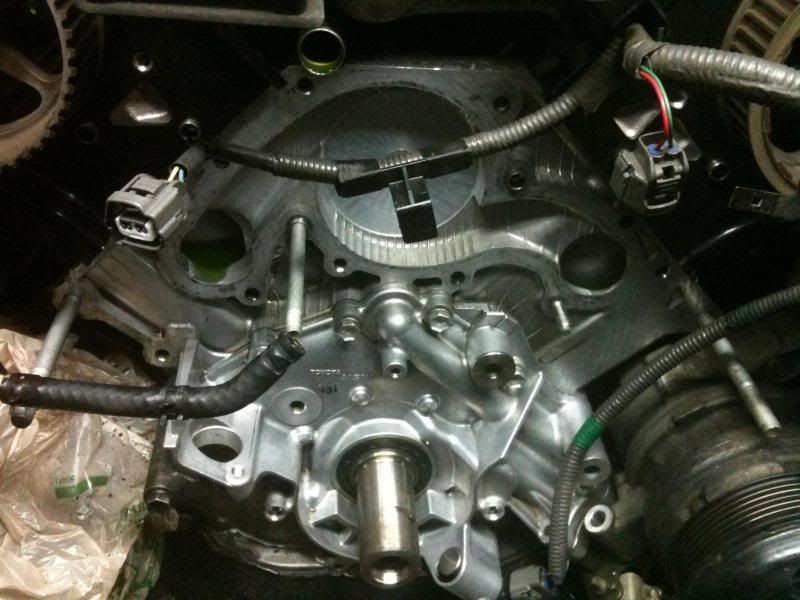 night arrives, lighting ensues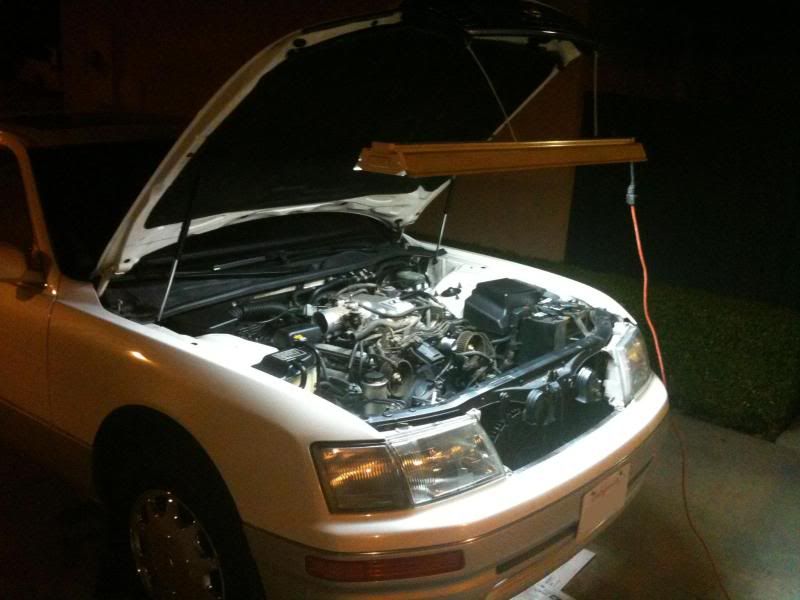 i continued the next day since i didn't want to rush, here is the belt on with markings lined up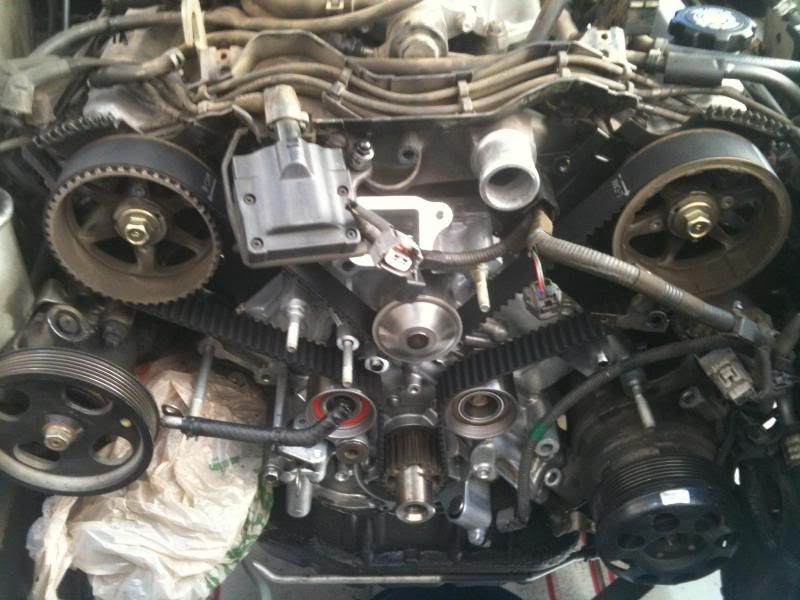 moments after turning the key, a sigh of relief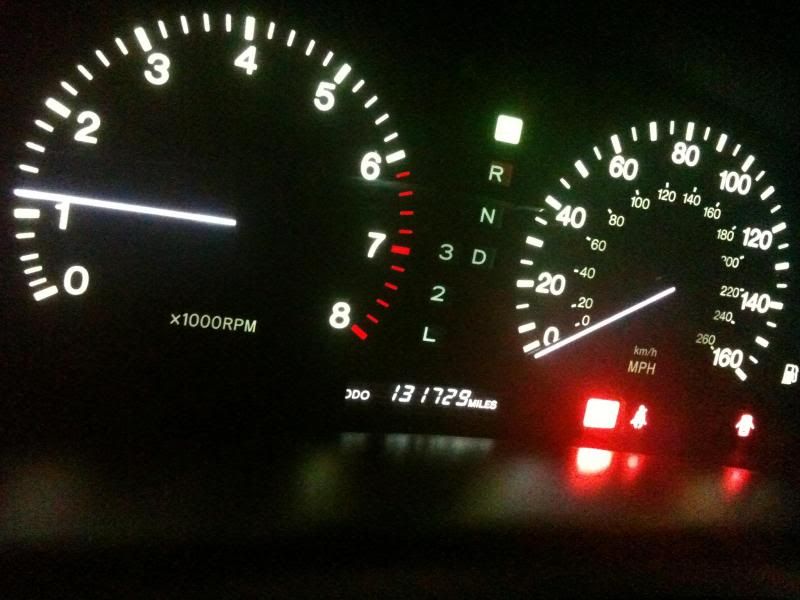 topping her off
kimberly's choice of drinks, had to refill the transmission fluid too after removing the radiator
all done and tidy!
i was going to do the power steering but everything looks fine on it but the air lines are wet so i have to investigate further. next up is a transmission flush and diff fluid change.
10-25-11, 06:33 AM
---
Good job dude. Turning the key for the first time afterwards is a little stressful sitting there hoping it starts, and then...relief.
The first thing I noticed was how
dirty
those plug wires are. You shouldn't have any dirt in there at all, something isn't sealed properly. Did you make sure all the timing covers were sealed up afterwards? I used some gasket sealer on some of mine so nothing would get in. Dirt and dust isn't too bad but if you start leaking any oil, or coolant, and it gets in there it would effect the T-belt tremendously. What was the total $$$ for all the parts? What ever it was, you know it's worth it b/c that belt looked pretty bad. Again, good job done.
10-25-11, 06:44 PM
Lexus Champion
---
yeah it was weird how dirty that was but it's not water tight and that dust was EVERYWHERE! i did clean the seals up as much as i could. there is no fluid on the old belt so it should be fine. the car came from a farm area where dirt roads are common. the air filter was clean. i wonder how clean the cabin filter is...hmmm.

total cost in parts came down close to $500. that includes the wp and seals, timing belt, both bearings, cam/crank seals, thermostat and seal, hydro tensioner, accessory belt, caps, rotors, spark plugs, fluids, and misc stuff (i.e. anti-seize, shop towels, FIPG). that's about right i suppose.


here are a few question i couldn't find answers too.
does a 90-94 have the same power antenna as a 95-97? also can i swap a 98-up climate control and vents into my 97?
10-25-11, 11:29 PM
Lead Lap
Join Date: Mar 2011
Location: sOuL-CaLiFoRnIa
Posts: 577
Likes: 0
Received 0 Likes on 0 Posts
---
Welcome Welcome Welcome My ninja! Glad to see a (nother) familiar face here. Cant wait to see the LS in person. I know you always pick the clean ones. Definitely can't wait to see it modded 'cuz I know you have "swag." Enjoy the forums Tim, great place for help and knowledge.

Joel