Installed RCA blocks on my AWD GS
07-12-11, 05:15 PM
Driver School Candidate
Join Date: Jul 2011
Location: CA
Posts: 30
Likes: 0
Received 0 Likes on 0 Posts
---
This is the first time I've seen or heard of RCA Blocks so I apologize for the nubness, what do these blocks do? I've read that it lowers the car a bit and that it corrects negative camber.
---
Last edited by jnaval; 07-12-11 at

05:20 PM

.
07-12-11, 06:03 PM
---
check out this diagram. it might help illustrate how these blocks work.
http://lexus.sewellparts.com/images/...000/482149.jpg
it raises the steering knuckle 20/25/30mm depending on the size of the blocks. the steering knuckle (part #: 43211/43212) is attached to the brakes and wheels so since the knuckle is being raised, it's moving the wheel upwards closer to the top of the wheel well. the struts and shocks are connected to the lower suspension arm (part #: 48620/48640) so since that part isn't being moved you retain the same amount of suspension travel and ride quality. the blocks are sandwiched between the bottom of the steering knuckle and the top of the lower ball joint assembly (part #: 43330K/43340A).
i think these blocks were originally designed for people on coilovers and airbags to sit even lower.
as far as i know, it does NOT correct negative camber. i may be (and probably am) wrong about this to a degree. i hope this explanation helps. if any other members can add to this please feel free.
07-13-11, 11:17 PM
Lexus Champion
Join Date: Sep 2009
Location: Bahrain
Posts: 2,648
---
That's just amazing!

I will try to take a picture of a GS350 AWD here in Bahrain, so you guys can see the ride height. It is identical to RWD GS's!

What's the deal with ride heights in the US? I know there is a bumper height regulation that has been in place for years over there, but never knew this applied to the rear axles too!!!
07-17-11, 05:20 PM
---
CONFIRMED....
3GS....AWD....max is 20mm RCA kit on 17" wheels....pics above....(thanks to gridlock 13).
3GS....RWD....max is 25mm RCA kit on 17" wheels (thanks to greyhndfan for confirming this)....pics below...
And 30mm if you running larger wheels....preferbly 19" +.
10-24-11, 05:33 PM
---
Rears are in testing phase...its similar to the 2GS/SC430...lowers + camber kit using inserts.
Fronts won't look lower...see these before and after pics by greyhndfan...he installed SAGE 25mm front RCAs....rear is stock suspension height....on 20" Works.
BEFORE: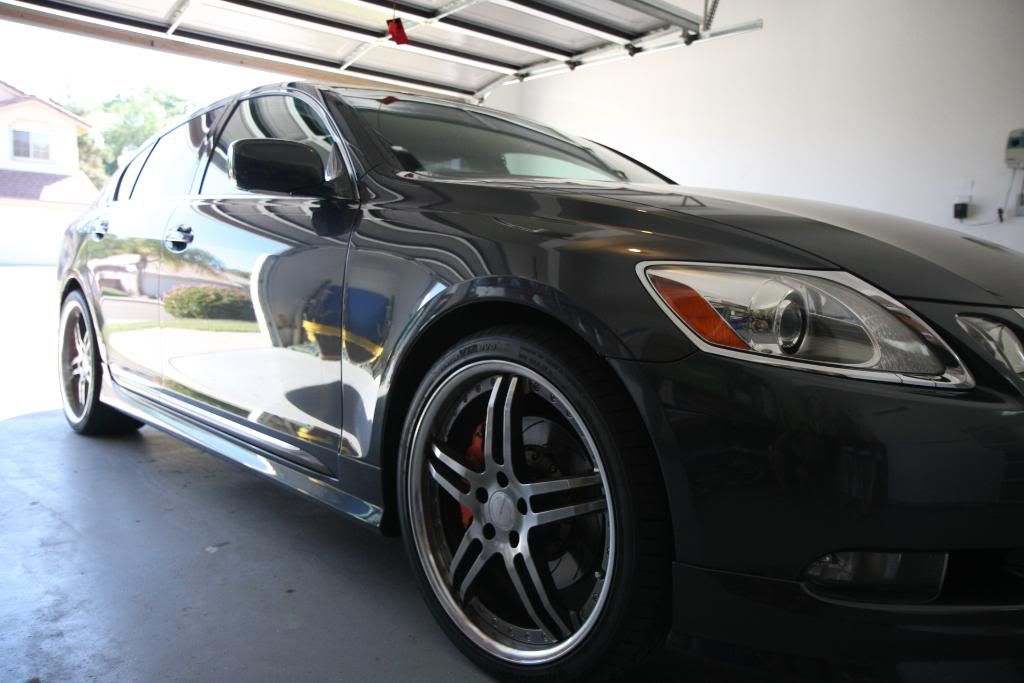 AFTER: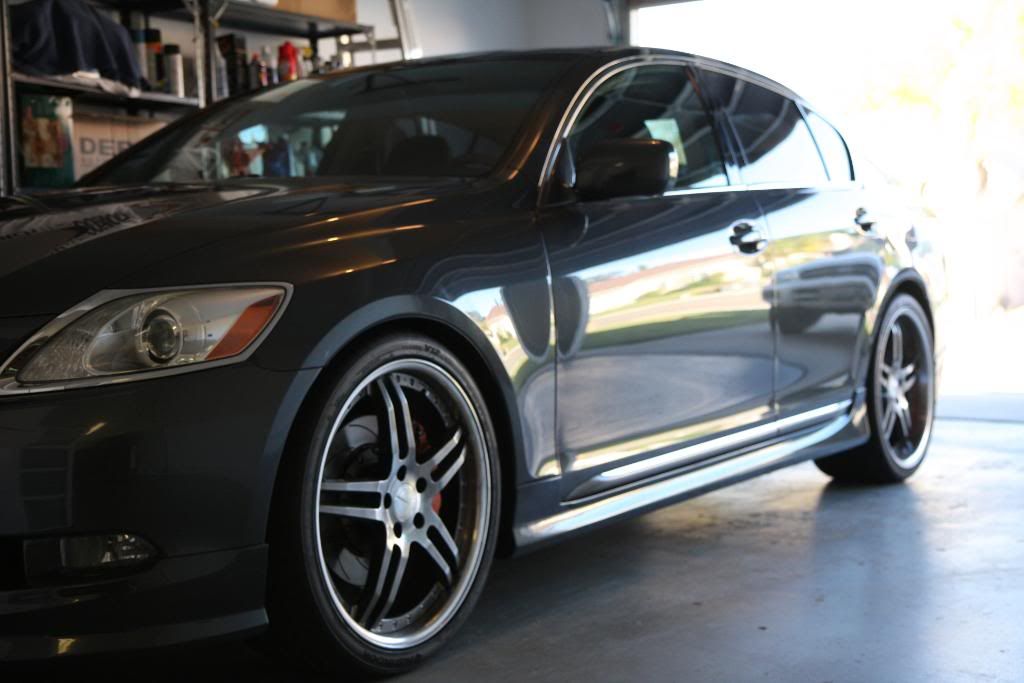 ---
Last edited by PHML; 10-24-11 at

05:38 PM

.
10-27-11, 07:10 AM
---
ride's perfectly fine. no problems with the blocks what so ever. i don't feel any change in ride quality or weird rubbing sounds if i hit a dip in the road. i'll recheck the torque on the bolts when i put my winter wheels on.
10-28-11, 09:33 PM
Lead Lap
Join Date: Jun 2009
Location: CA
Posts: 472
Likes: 0
Received 0 Likes on 0 Posts
---
same here after having them on for over a year.. Ride quality is same as stock IMO. I haven't checked my torque on them in awhile.. I'll do that as well. Looking at my pics there makes me think I need to wash my car this weekend.
10-30-11, 07:55 PM
10-31-11, 01:14 AM
10-31-11, 05:55 PM
Lexus Test Driver
Join Date: May 2010
Location: 954/718
Posts: 1,322
Likes: 0
Received 0 Likes on 0 Posts
---
This is good to know and it so happens that im riding on 20's as my daily and have stock 18'' lobster claws. Where can a purchase be made at and what would give a better look as far as lowering and not destroy my frontend alignment?