Replaced all 4 rotors today. Question about rubber piece in rotor
09-02-12, 04:57 AM
Rookie
---
LOL. Having the parking brake on, provided it is in working order, will make it impossible to remove the rotor!!!! To dis-engage it fully, you remove the grommet at the 6 o'clock position and using a flat head screwdriver turn the sprocket until the shoes are far enough away to release the rotor. You can tell it's loose by gently moving the rotor from side to side.
If the Rotor has been on the vehicle for a long period of time, rust forms between the hub and the rotor making it still difficult to remove. That's when you use an M8 bolt to easily break the rotor free from the hub - not a hammer.
Why is everyone just making this thread very long winded and repeating the same thing only twisting things around slightly in order to confuse people????
I'm getting annoyed because I have been reading HEAPS of misinformation on this forum in regards to brakes. It's a safety issue guys. If you ain't sure, seek pro assistance or leave it to the experts.
Chris
09-02-12, 09:35 AM
Driver School Candidate
Join Date: Jul 2012
Location: ca
Posts: 22
Thanks: 0
Thanked 0 Times in 0 Posts
09-04-12, 05:43 AM
Rookie
09-05-12, 04:19 PM
---
to each their own..i tried the bolt method years ago...went down to lowes and bought the bolt...but it didn't work....4lb hammer worked alot faster.
09-19-12, 10:33 AM
---
Originally Posted by

I got the brakes from ebay: [url
http://www.ebay.com/itm/390402517787?ssPageName=STRK:MEWNX:IT&_trksid=p3984.m1439.l2649[/url]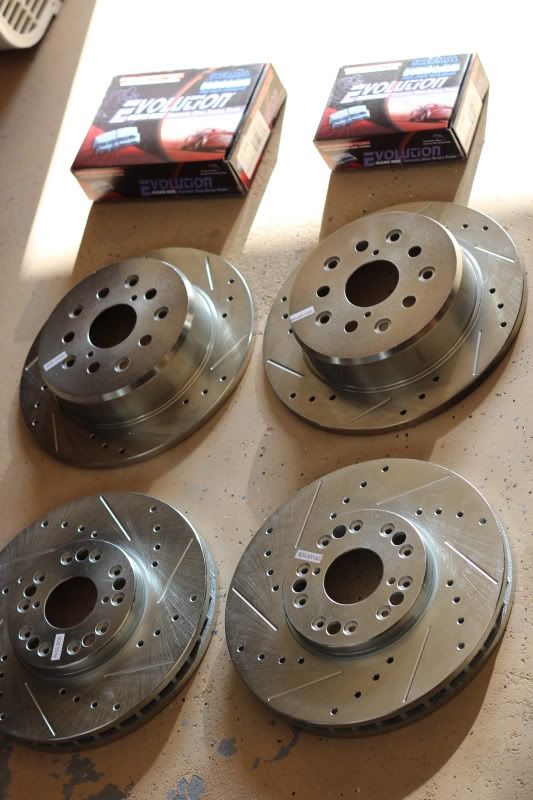 On another note- How are you rotors holding up so far?? I am REAL pissed I didn't go with Brakemotive's rotors! (THEY ARE MADE IN THE SAME FACTORY AS 'POWERSTOP/POWERSLOT ROTORS' ARE MADE- but the price is much better from this seller) What a deal !
I bought some other brand- b/c I liked the look of the slots better (they
looked
more 'high-end'...or like Stop-Tech's or Brembo's REAL-DEAL BBK's...
They are HORRIBLE compared to the rotors you got. (my dad put them on his Jeep- and they're not even getting orange or discolored where the PADS rub! They're STILL shiny silver...and have been for months...Crazy)
I found out AFTER I ordered and received mine- that I could opted to have them Zinc-coated for an extra $35. REALLY wish I knew that..instead I painted them with high-heat Brake paint and let my new $190+ EBC Redstuff pads take the paint off, where the pads rubbed.
BEFORE - 11.65" front rotors, with Floating, 2-piston calipers.
AFTER - 12.4" front rotors, with Fixed, 4-piston calipers!
09-19-12, 10:36 AM
---
I could've just avoided having to 'TRY' to keep the bogus rotors that I bought from corroding, by buying these ones!

Oh well... I might seriusly replace all four next summer and throw these rotors in the garbage...lol
(but because of how they look...up close, particularly)