Pix Of ISP MOde Rims on 2ndGen IS
05-01-08, 07:31 AM
Driver School Candidate
Join Date: Mar 2008
Location: TX
Posts: 24
Thanks: 0
Thanked 0 Times in 0 Posts
---
Here's one for you...
Another one.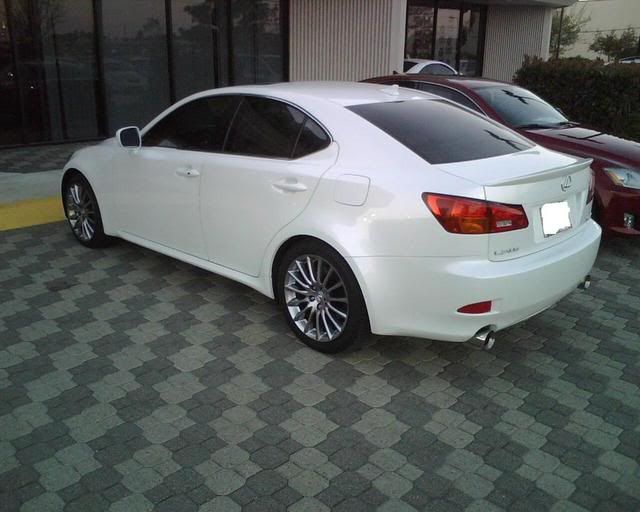 Everybody that saw my car when I got it told me that the rims made the car. I had to agree with them. It's a nice touch, especially for a factory rim.
05-01-08, 07:52 AM
Lexus Fanatic
Join Date: Dec 2007
Location: Candyland
Posts: 6,103
Thanks: 0
Thanked 0 Times in 0 Posts
---
05-01-08, 09:47 AM
Driver School Candidate
Join Date: Mar 2008
Location: TX
Posts: 24
Thanks: 0
Thanked 0 Times in 0 Posts
05-01-08, 11:23 AM
Lead Lap
Join Date: Jan 2006
Location: La
Posts: 544
Thanks: 0
Thanked 0 Times in 0 Posts
---
Thanx for all the pix!! I might drive out to the Lexus Dealership today & check to see if there are any ISP rims on the cars out there. But then again I dont want to be tempted to test drive the IS-F! lol
07-25-17, 09:39 PM
Pole Position
Join Date: Feb 2017
Location: Ontario
Posts: 306
---
Bringing old post back to life.
ISP Mode (PT533-53061) 18 x 8.5 on all four corners. Chemically stripped and freshly powder coated in satin silver.
Since this is my DD these were mounted with very quiet, comfortable and smooth running Pirelli Cinturato P7.
I'd recommend them to anyone looking for a touring tires, they handle bumps, expansion joints, absorb the road shocks very well vs high performance tires.
Couldn't be happier with the look and comfort.
---
Last edited by primavera; 07-26-17 at

10:11 AM

.
07-26-17, 03:52 AM
Lexus Test Driver
Join Date: Aug 2014
Location: RVA
Posts: 1,234
---
Glad you like em! They look great brought back to life. Love mine as well.