Machine mount quad HID projector near completion
10-09-11, 11:01 AM
Lead Lap
Join Date: Mar 2009
Location: CA
Posts: 771
Thanks: 0
Thanked 0 Times in 0 Posts
---
After 5+ hours of install, here is the finish product
Passenger side DRL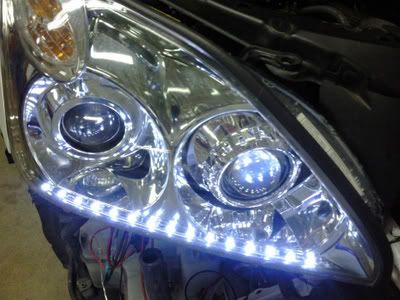 Driver side DRL
All 3 projectors on driver side + DRL
All 6 projectors are running on hyper ballast
-Low beam at 75Watt vs 35Watt factory
-2nd low beam (high beam ) at 65 Watt of HID vs factory halogen bulb
-Fog light also at 65 Watt vs previous upgrade of 35Watt cheap hid kit
-Factory DRL was disable following instructions found on the forum
-Factory AFS retained
10-10-11, 10:26 AM
Lead Lap
Join Date: Mar 2009
Location: CA
Posts: 771
Thanks: 0
Thanked 0 Times in 0 Posts
---
James, you can email the my friend see if he can do one for you, mind you it does take time to build and his labor cost is definitely not cheap. Not to mention hyper ballast is extra
10-11-11, 10:58 AM
Lead Lap
Join Date: Mar 2009
Location: CA
Posts: 771
Thanks: 0
Thanked 0 Times in 0 Posts
---
I hardly have to use the high beam because when all 6 projectors are on, it's very bright already, remember I have 205 watts of light per side ( 75+65+65)x2 , a total of 410watts
10-11-11, 11:45 PM
Lead Lap
Join Date: Mar 2009
Location: CA
Posts: 771
Thanks: 0
Thanked 0 Times in 0 Posts
---
Yes, all 4 projectors are on then fog lights that makes 6, high beam use for dark roads and to flash those idiots that try to high beam me despite I have the headlights professionally aimed.
10-11-11, 11:54 PM
Lexus Test Driver
Join Date: Jun 2010
Location: CA
Posts: 1,562
Thanks: 0
Thanked 0 Times in 0 Posts
---
Can you take a pic of the ground area near the cut off with all six then with just the usual four?
I would love to talk to the guy that did the work and work out something.