Front strut upper insulator
05-10-12, 06:29 AM
Lead Lap
Front strut upper insulator
---
Hey all, I am trying to collect struts and all the rubber peices I need to replace them. Spring seats and springs I'll re-use.

I think I have allmost everything I need, got struts, KYB strut mounts, lower spring seats front and rear. KYB rear strut mounts have the upper seat and bellows integrated.

Up front, the service manual shows a "upper insulator" which looks like the upper spring insulator combined with the strut bellows in one. The KYB strut mounts don't come with that part, and rockauto doesn't seem to have a part like that?

Do I need to buy that one from Lexus/Toyota? Car is a 2001 ES300.
05-10-12, 10:34 AM
---
Power6 you actually had the same question I was going to ask soon!! DEJA VU!? I have affixed a diagram to better assit you marking the item
05-10-12, 01:48 PM
---
When I change out the suspension components everything will be ordered regardless of wear just a piece of mind knowing nothing will make any noise down the road after a big job has been completed!... Rememeber, "CHEAP IS EXPENSIVE!"
---
Last edited by ViPeRs103; 05-10-12 at

01:59 PM

.
05-10-12, 01:55 PM
---
Notice how on this generic image of this strut bellow as it has no upper mushroom head protecting the shroud around the Coil Spring Seat Insulator however on the O.E.M it takes care of that problem eliminating the dirt from entering anywhere causing potential damage..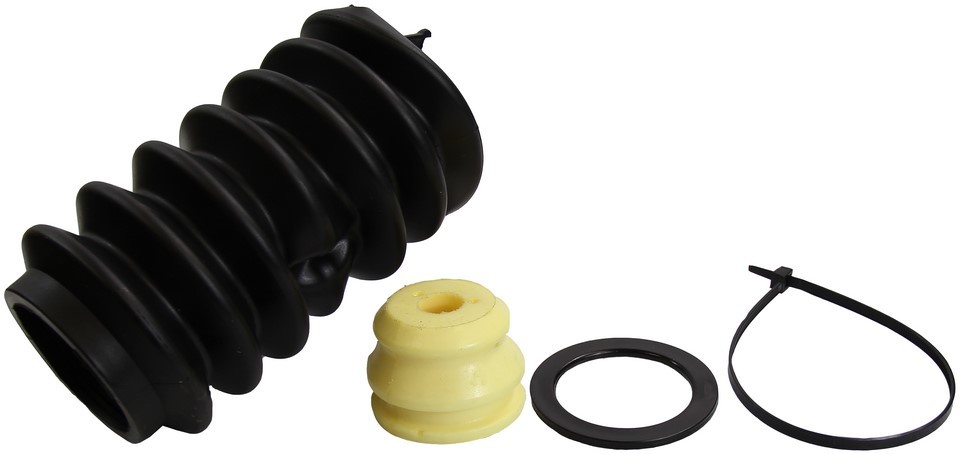 05-13-12, 07:44 PM
Lead Lap
---
Yeah I had seen that aftermarket part, like a standard dust cover and bumpstop, but the Toyota uses that upper spring seat integrated with the boot, so not sure what the aftermarket makers expect one to do.

I won't replace the springs, since they are not sagged. My reasoning is that Toyota has a number of different spring rates and free lengths for different models, while and aftermarket replacement is one rate and height that is "good enough" for the whole range, Camry ES300 whatever. In fact the struts will be like that too, but I am OK with the sportier Tokico blues.
01-13-14, 04:28 PM
Driver School Candidate
Join Date: Jan 2014
Location: CT
Posts: 2
Thanks: 0
Thanked 0 Times in 0 Posts
---
Does everyone have the part 48681A & B? I've searched and cannot find much on them. I replaced my struts with a quick-strut a little while ago and have noise. I never had these on the old struts when I replaced them (I bought the car with aftermarket struts already on it). Any help would be appreciated and sorry to bring this thread back from the dead.
-Dan
01-14-14, 04:38 PM
Lexus Test Driver
Join Date: Aug 2012
Location: Toronto, Canada
Posts: 1,582
Thanks: 0
---
Are you running KYB mounts? I heard that they are noisy, and not very good quality.
Too bad I read that after I busted $100 on a set for my upcoming ES330 suspension change.
01-15-14, 01:37 AM
Lead Lap
Join Date: Oct 2005
Location: pa
Posts: 764
Thanks: 0
01-15-14, 01:45 PM
Lead Lap
---
Yup I ended up later swapping out KYB for new OEM, noise problem solved! Buy OEM strut mounts people, you will end up with them anyways...
BTW I don't know what those parts are 48681A/B, were not on my car stock and did not put them on when I replaced struts. Looks like a sort of sheet metal strenghtener for the strut tower to go with the strut mount. But like I said my car does not have them that I can see an works fine.
Those aftermarket strut parts are your problem. It is a downside of the "quick strut" type all-in-one, all your stock quality stuff, springs/mounts/pads get replaced with low quality crap.
---
Last edited by Power6; 01-15-14 at

01:50 PM

.
01-16-14, 04:47 AM
Driver School Candidate
Join Date: Jan 2014
Location: CT
Posts: 2
Thanks: 0
Thanked 0 Times in 0 Posts
---
Thanks for the help on that random part. As far as the quick struts, I went with the Monroe brand. They offer a pretty good ride and haven't been fairly quite. I do get some noise but after hearing all the feedback, I'm sure it is the strut mounts annoying me.

The noise isn't too bad right now, more of a nuisance than anything. I have about 250K on my car so I am not sure if it is worth switching out the mounts at this point unless they completely go.