1990 q45?
01-27-14, 05:36 PM
Lexus Test Driver
1990 q45?
---
So I was just outside shoveling snow and a saw a neighbor who lives up the street from me drive by in one of the original Q45s:
I know that the Q45 was supposed to be Nissan's answer to the LS400, but while the LS was quite the big deal when it came out and was selling quite well, the Q45 seems like it was just a curiosity that simply faded away.
It got me thinking...
It strikes me as kind of odd, as I walk past that car every day to get the mail and never really notice it's there. Just out of curiosity I looked a few of them up to see how many of the older models are around, and there is apparently very few because I didn't find any for sale, even on Ebay!
I looked pictures of the interior up on Google, and it has one of the most oddball color combos I've ever seen, almost like the wood is a nasty aftermarket stick-on kit. I don't see how someone could of sat in one of those and chose it over a 1990 LS
Does anyone remember these when they were new and in the market for a car in this price range? And if so, what was the perception of them at the time compared to the original LS? (Kansas, that means you!) I've read that part of their problem was they had funny commercials that didn't even show the car, but all the times I have searched for those, I've had no luck finding any. I have a book called "The Lexus story" and alot of the Toyota executives at the time made alot of jokes about Infiniti's poor execution of certain things.
---
Last edited by YoshiMan; 01-27-14 at

05:43 PM

.
01-27-14, 06:57 PM
Lexus Champion
---
the president of our car crew, team supastar, owns a nissan president which is known stateside as an infiniti Q45. he has own three of them (chassis code: G50). these cars are very HUGE in the VIP culture in japan which i feel is one of the cars that started the whole VIP style (mercedes S class is another). it is highly under rated in my eyes, but poor electronics and motor combination made it less desirable as they aged. these cars came with adaptive suspension (hydrolic, with air bags), dual auto climate control, VCR tv, power reclining rear seats, HICAS, etc.
a nice VIP example
current pic of his Q45. what's unique about this one is that it's the only one stateside to have a long wheel base (1ft longer out back compared to a standard Q45). LS never had that option, ever!
rear
01-27-14, 10:41 PM
Lexus Test Driver
Join Date: Jan 2012
Location: CA
Posts: 832
Thanks: 0
---
I was in the market at that time, and bought a 1991 LS400 over the Q45. Those were my 2 "finalists".
My remembrances -
The Q45 had more power and a stiffer suspension, but the LS400 was far more refined.
For example, the Q45 CD control panel was an obvious add-on, placed in the center console. You had to open the armrest, and the panel was on an aftermarket-looking bracket at the forward edge. The LS400's was nicely integrated into the sound system.
The Q45 was subject to the "gas guzzler" tax, while the LS400 was not.
There were two upgrade models, the Q45t included TRAC, and the Q45a included active suspension. I saw very, very few "a"s in So. Cal. but a number of "t"s were on the road.
The Q45 ads were the source of much humor. You might try looking up "zen ad", the popular description at the time.
01-28-14, 07:59 AM
Lexus Test Driver
Join Date: Jun 2012
Location: florida
Posts: 1,145
Thanks: 0
Thanked 0 Times in 0 Posts
---
Overall I never really liked the car, but I did always like the fact that its RWD unlike most cars these days. A guy came into my work (discount tire) the other day and got some new wheels and tires on his 1st gen Q45. He saw my LS in the parking lot and asked who's it was. We got to talking for a minute and he told me that he wished he could have had one of those instead. He got his through his family so he had to hang on to it. I ended up taking home his factory wheels. lol (ugly wheels)
01-28-14, 10:06 AM
Lexus Test Driver
---
Ha ha! I found one: One has to admit it is kind of goofy:
This is the Lexus book I was talking about:
And one of the quotes talking about those commercials: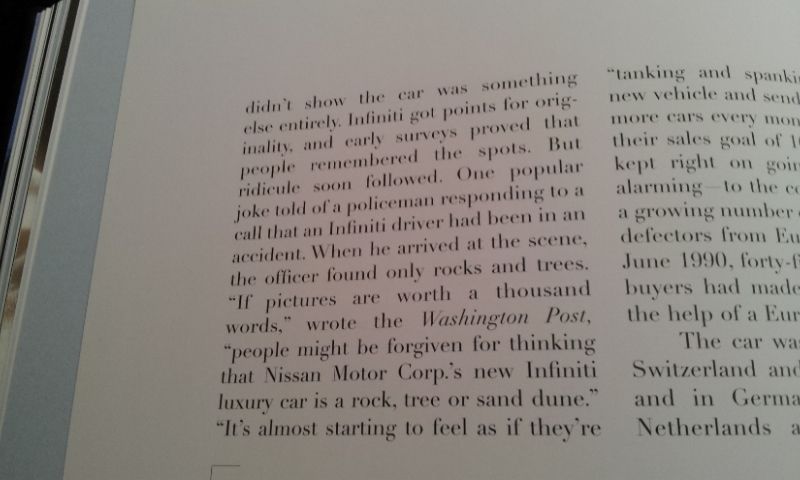 In fact, if you have the chance pick one of these books up, get one. it gives quite a few details of Lexus's early history, as well as the development of the LS400.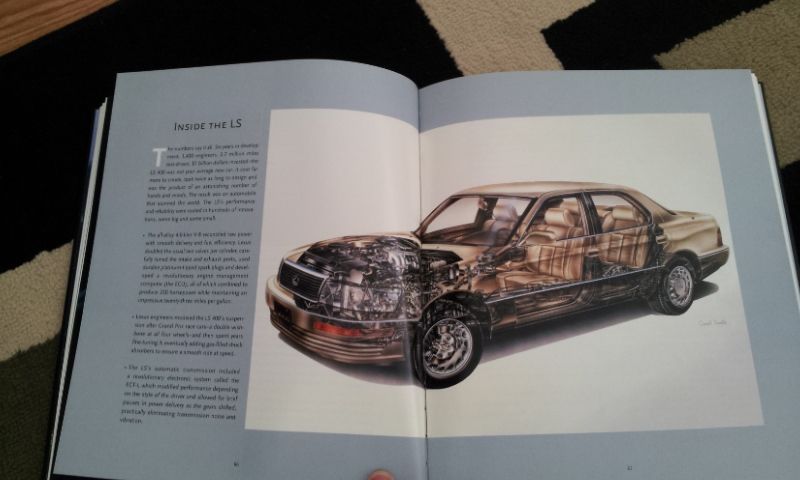 Heres a shot of some of the LS400 prototypes, imagine if they picked the one on the top left: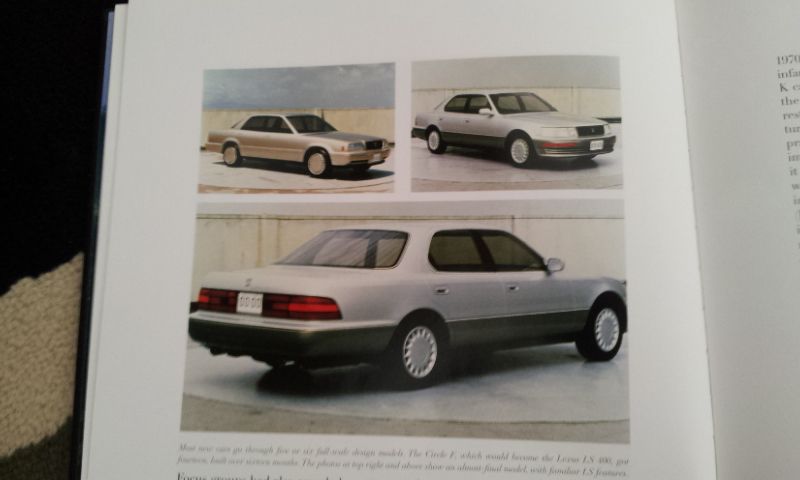 01-28-14, 01:35 PM
Lexus Test Driver
Join Date: Jun 2012
Location: florida
Posts: 1,145
Thanks: 0
Thanked 0 Times in 0 Posts
---
I have that same book! Got it from the Lexus dealer in Orlando at the meet last year. I love it, because it shows so much about our cars and how they came about.
01-28-14, 02:40 PM
Driver
Join Date: Apr 2007
Location: IL
Posts: 148
Thanks: 0
Thanked 0 Times in 0 Posts
---
I had one of these Q45 lst gen cars. They had poor reliability and costly repair parts. Also had faulty plastic valve guides that go bad. I would NOT recommend this series Q45 to anyone. There is no comparison to my '92 LS400. With Nissan, I'll just stick to my 300ZXs. Excellent sports cars with good reliability and fairly easy to work on.
01-28-14, 03:41 PM
Lexus Champion
---
these cars are butt ugly, parts are expensive and do not try to buy struts for some of the years...however the engines are somewhat good but they did have transmission issues. no comparison to the ls 400's..typical Nissan problematic cars
01-28-14, 04:52 PM
Lexus Champion
Join Date: Aug 2011
Location: Japan
Posts: 1,976
---
Toyota spent 8 years to develop LS400/Celsior, on the other hand Nissan spent only half of it for Q45 series. The market situation at the initial stage here in Japan was the Nissan's win but soon Toyota dominated the market. Very well engineered cars don't need sales men. The engineering cost is more important than the sales cost.

Nissan has been desperate to sell more but the market situation has been always for Toyota. Nissan only could sell 294 in 2009 and they decided to discontinue it.
01-28-14, 09:36 PM
Lexus Test Driver
---
You know now that i think about it, there was a time when I worked at Lexus back in 2006 that someone traded one of these in. I had to move it on the lot once, and All I can say is it was totally forgettable, being that i didn't even remember driving it when I started this thread.

There was a fancy placard under the hood that said the stated the engine size, the torque, and horsepower ratings, which were somewhere in the 278 range....but I was quite disappointed, because it sure didn't feel like it had even half of that!
01-29-14, 02:00 PM
Lexus Champion
Join Date: Mar 2009
Location: texas
Posts: 2,903
---
I had a 2000 Q45 for about 3 months, and went back to the LS400's, this was about 7 or 8 years ago.... but it was good looking....
01-29-14, 02:11 PM
Lexus Champion
Join Date: Mar 2009
Location: texas
Posts: 2,903
---