First winter ride
12-07-13, 11:39 AM
Driver School Candidate
Join Date: Oct 2013
Location: Sweden
Posts: 30
Thanks: 0
Thanked 0 Times in 0 Posts
First winter ride
---
We got the first real snow this week in my neck of the woods, at least the first this winter and the first since I got the LS. Naturally I couldn't resist taking "The Whale" for a spin.
I was not dissapointed - it still handles beautifully, gracefully and with confidence. The TRC was however very good to have, when I tried driving without it the car waved its tail a little too merrily.
This was with winter tires of course - Continental Viking Contact (no studs). Still it was very very slippery so you had to plan your driving ahead of time. Breaking distance was sometimes very long and the ABS system was thoroghly exercised.
Please note the lenght of the shadow - the pic is taken at 12.45. This is how high the sun ever gets nowadays in my area. I'm in the southern part of Sweden - up north its lower still. Sometimes never rises at all up there. If you live somewhere warm - be happy! This is not really a fun part of the year.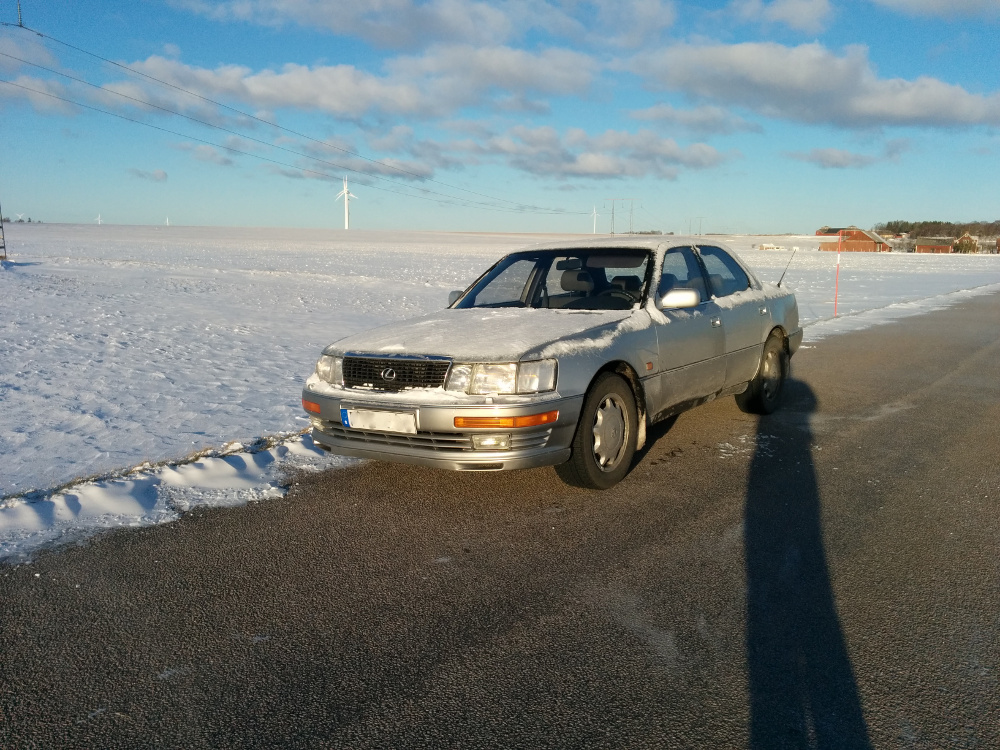 A little scenery from behind the wheel of the whale: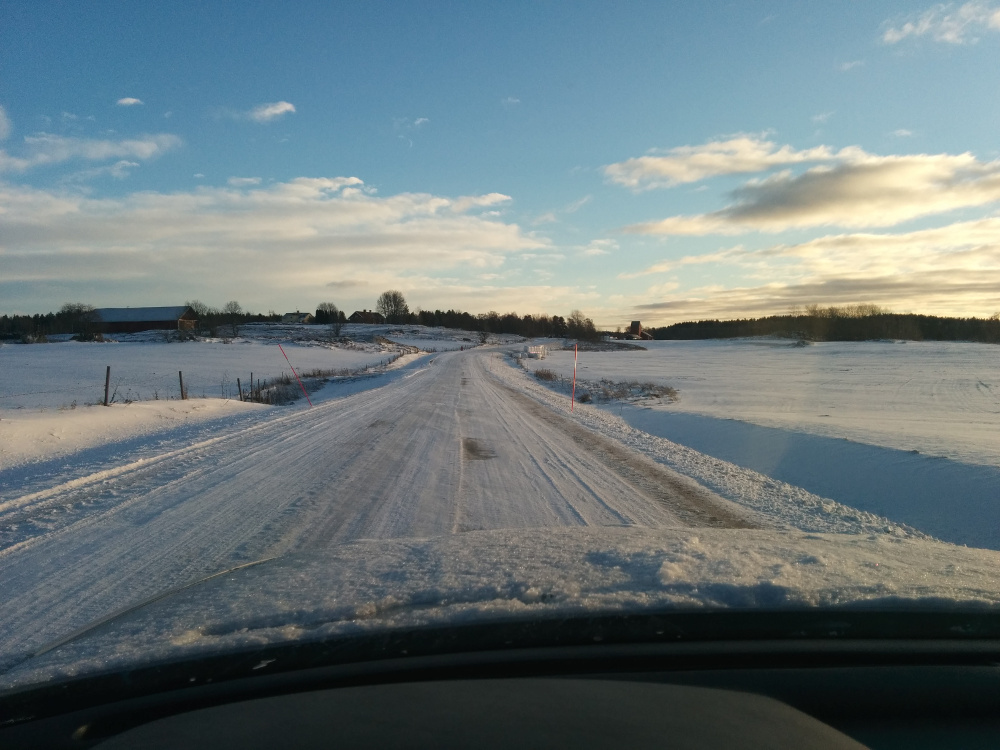 12-07-13, 12:29 PM
---
Tjänare från grannlandet!
I'm on the west coast of Finland and it seems that you have more snow than we here - at least for now.
Your experiences appear to be about the same as mine on Michelin X-Ice XI2:s. Car behaves in a very neutral manner but one needs to pay attention as once the studless tires loose the grip then that's about it. TRC is very handy system to have. No regrets on getting studless tires as the ride even on these winter tires is phenomenal.
12-07-13, 01:29 PM
Driver School Candidate
Join Date: Oct 2013
Location: Sweden
Posts: 30
Thanks: 0
Thanked 0 Times in 0 Posts
---
Tjänare!
Studs are actually banned on some city streets now, and the ban sems to be expanding. On pure ice, studs are probably a bit better, but on snow I actually feel like the studless are equally good. Age and general condition probably matters more than the studs.
The snow here comes from the storms from the west this time (Storm Xaver, or "Stormen Sven" in Sweden) and a sequel is planned for next week with more snow (15 cm / 6 inches here). In your part of Finland, do you often get storms from the west or are you struck by the siberian weather?
12-07-13, 01:43 PM
---
They are planning on banning the studded tires here too but it will take some time still before it will pass.

The local weather is somewhat of a combo of storms from the West, which bring 30 cm snow at once and then cold fronts from the East, which in turn bring cold periods of -25...-30 degrees Celsius for some time. And then everything changes at once again.

Usually I can start riding Harley in the beginning of April but it's still cold then.
12-07-13, 01:48 PM
Driver School Candidate
Join Date: Oct 2013
Location: Sweden
Posts: 30
Thanks: 0
Thanked 0 Times in 0 Posts
---
My summer ride is a Mercedes-Benz SLK. Last April I was riding with the top down, but with a knitted winter hat ("toppluva" in Swedish, "Touqe" for the canadians) and the thick winter jacket.
12-08-13, 08:54 AM
Pole Position
Join Date: May 2008
Location: Alberta
Posts: 265
Thanks: 0
Thanked 0 Times in 0 Posts
---
I drove mine through many Canadian winters, If its really bad and compacted snow that gets icey, might want to weight down the rear of the car, I had gotten stuck in simple icey intersections. The car really needs a limited slip differential for snow, but its virtually impossible to put one on this car!
Good snow tires make all the difference!
12-08-13, 09:17 AM
---
That SLK must be a great ride top up or down.
12-08-13, 05:50 PM
---
I miss living where it snows. The LS is so much fun in the snow.