A little Lexus love from South Carolina
11-07-10, 09:37 AM
Rookie
Join Date: Jul 2008
Location: South Carolina
Posts: 79
Likes: 0
Received 0 Likes on 0 Posts
A little Lexus love from South Carolina
---
It's true.
I'm Steven.
I've been a sucker for the LS400 for many years now. Primarily the UCF10/20. To me it is the definitive style of what a big-bodied luxury/VIP car should be; V8, well engineered, all the amenties. I told myself it was finally time to get one.
Beginning of September this year, I found this diamond in the rough on Craigslist. 259k on the ticker, fairy clean, ran like a champ. Just need some love. $1000. It was calling my name.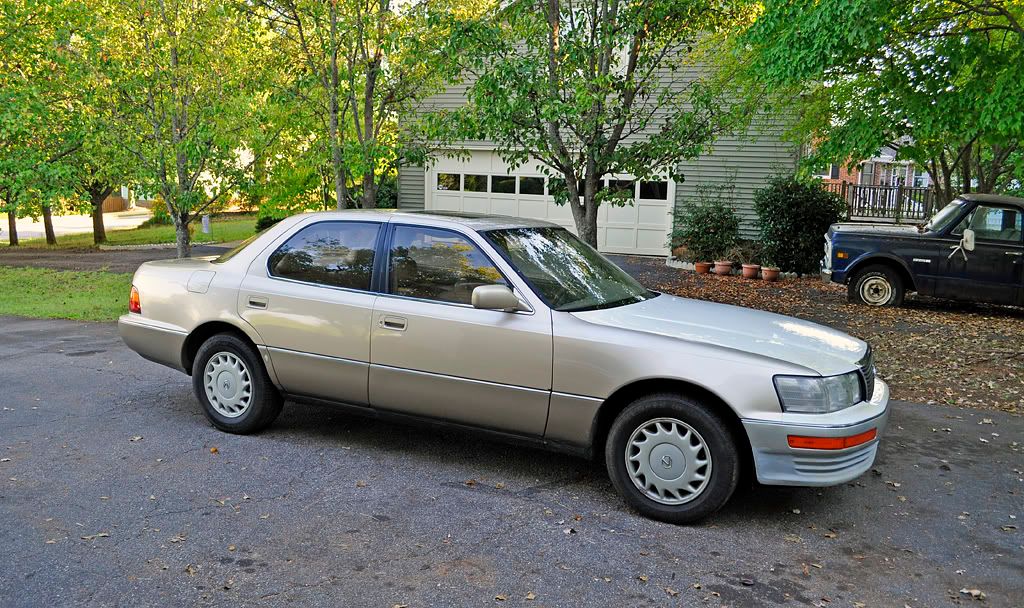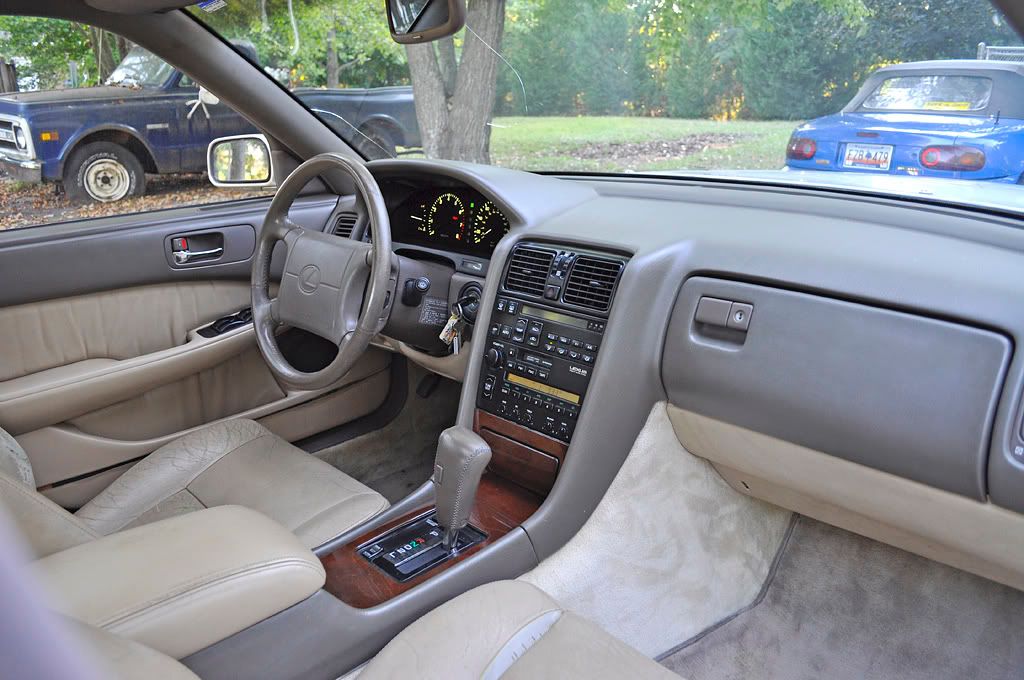 Brother's Miata in the background
Had some buddies spray the hood and bumper for me, washed her, threw some new cats on it, and she was good to go.
Mechanically, minor issues. Brakes need some grease and needing an alignment.
Worst of my issues is a CEL code 13. After doing my research (this site rocks btw), I installed new(er) camshaft position sensors. Didn't fix my issue. Seeing as the car starts and drives great, I'm sure it's not my crankshaft position sensor either (I read that the car won't start if its the crankshaft position sensor). I'm just gonna do a timing belt job as that seems to be leading culprit to that code (jumping a tooth, etc). Car is pinging and gas mileage could be better, so I know that's also a possible giveaway to the issue.
Nevertheless, she gets me to and from work in comfort.
But the height was killing me.
Megan Racing EZ Street coilovers came in last week.
EXACTLY what this car needed. I love the smooth ride of the stock suspension, but it felt too much like a boat. It rides EXACTLY the same now, just much more firm and precise around turns.
How she sits now:
Now that that's taken care of....
I'm a stance junkie. Love everything stance does to change a car's personality.
So I got some wheels.
ALT Wraith. 19x9.5 +10 (effective with spacer)
This is gonna be fun lol! Test fit was prior to coilovers
Saving up for tires right now. So far I have around $2000 invested in the car including the car, and that's what I'm going for. Super budgeted VIP styled daily. So far, this car has been perfect for the project.
With this car being my daily, I obviously have my "car."
This is Shaquita, my '94 300ZX. 5 years of blood, sweat, and tears. And I'm still not done.
That about wraps it up. I'm seriously attached to this car. No other car has done this to me since my 300ZX. My Lexus isn't perfect, but its everything I've been looking for. And to me, the car feels like a million bucks in every way.
Thanks for reading!
OH YEAH, while I've got your attention:
Had the strangest thing happen the other day. My positive battery ring was worn, so I replaced it. After hooking up the battery, my steering wheel tilt no longer goes all the way up. I mean it works, goes up and down, tilt-away memory works fine with the key, BUT it doesn't raise all the way up now (kinda stops half way). Thought?
11-07-10, 10:56 AM
Driver School Candidate
Join Date: Oct 2010
Location: Ohio
Posts: 48
Likes: 0
Received 0 Likes on 0 Posts
---
Very nice looking car. I can't really help with the steering wheel issue, but as for the pinging and gas mileage, i'd put some seafoam through it.
Here
is a great thread for it.
11-07-10, 02:22 PM
Rookie
Join Date: Jul 2008
Location: South Carolina
Posts: 79
Likes: 0
Received 0 Likes on 0 Posts
---
Ran Seafoam through the car as soon as it entered my driveway for the first time lol. I live by the stuff!

Helped a little (felt smoother), but I know there is a mechanical issue there for sure. Thanks for the advice.
11-07-10, 08:35 PM
Lexus Champion
Join Date: Jan 2007
Location: Sur Califas
Posts: 2,410
Likes: 0
Received 0 Likes on 0 Posts
---
seen pics of your 300zx before on the web, looks great. Glad to see you picked up a LS. How low do the megan ez coilovers go? I'm curious, coz for that price, its kinda hard to pass up on
11-07-10, 09:05 PM
Rookie
Join Date: Jul 2008
Location: South Carolina
Posts: 79
Likes: 0
Received 0 Likes on 0 Posts
---
Just to put it in perspective:
Once I installed the coils, I put ramps under the front wheels WITH 2x4 blocks on the ramps just to make sure the jack didn't get stuck.
The jack got stuck under the oil pan once I let it down. It was tucking rim.
They slam the hell out of the car needless to say. As mentioned, I LOVE how they ride; spring rates are definitely tame for daily driving.
11-13-10, 08:41 AM
Rookie
Join Date: Jul 2008
Location: South Carolina
Posts: 79
Likes: 0
Received 0 Likes on 0 Posts
---
With timing out of spec, I'm still managing a consistent 18-20mpg city, and about 22-24 hwy. I've got a minor sporatic sputter under heavy throttle, but keeping easy on the gas eliminates that issue for now.

I'm eager to see the difference once the timing is corrected.

Recent info on the suspension:

Had 5 people in the Lexus the other night driving about 30 minutes out of town. With 5 people (average to heavier-set), it still rode amazing. Rebound was still civil and smooth, and still managed to keep the car pretty level.
11-15-10, 08:37 PM
Rookie
Join Date: Jul 2008
Location: South Carolina
Posts: 79
Likes: 0
Received 0 Likes on 0 Posts
---
Recent test fit with the car lowered.
This is with stock camber specs in tact. Once I dial in the camber and pull the fenders, I'm confident in tucking these no problem.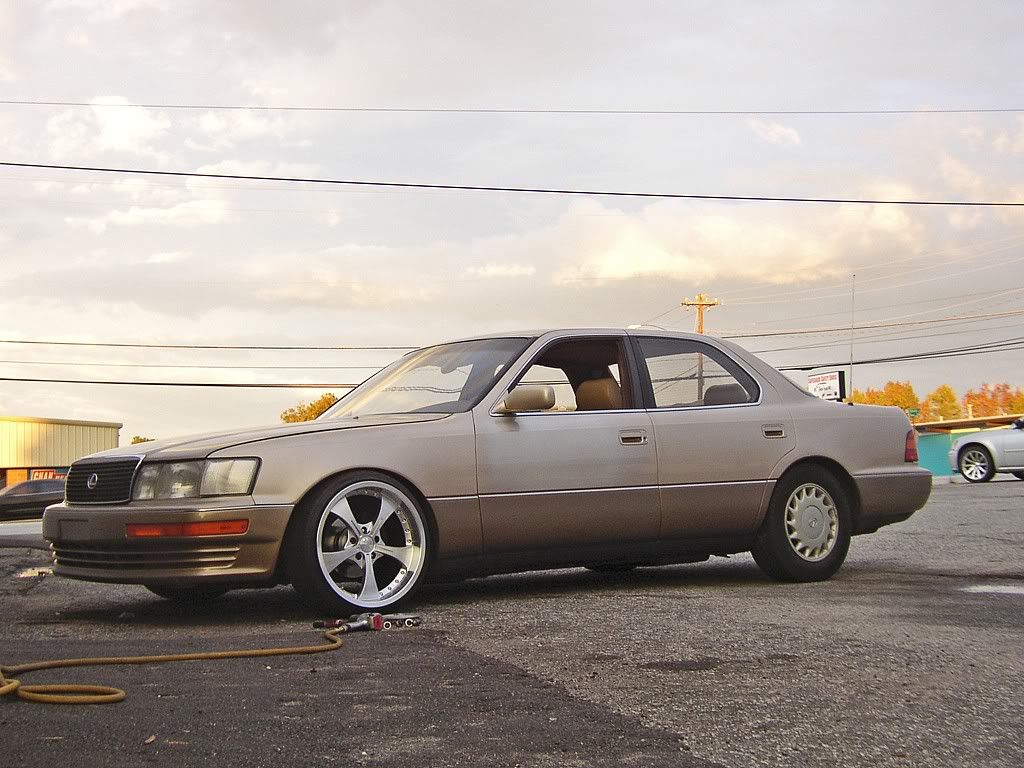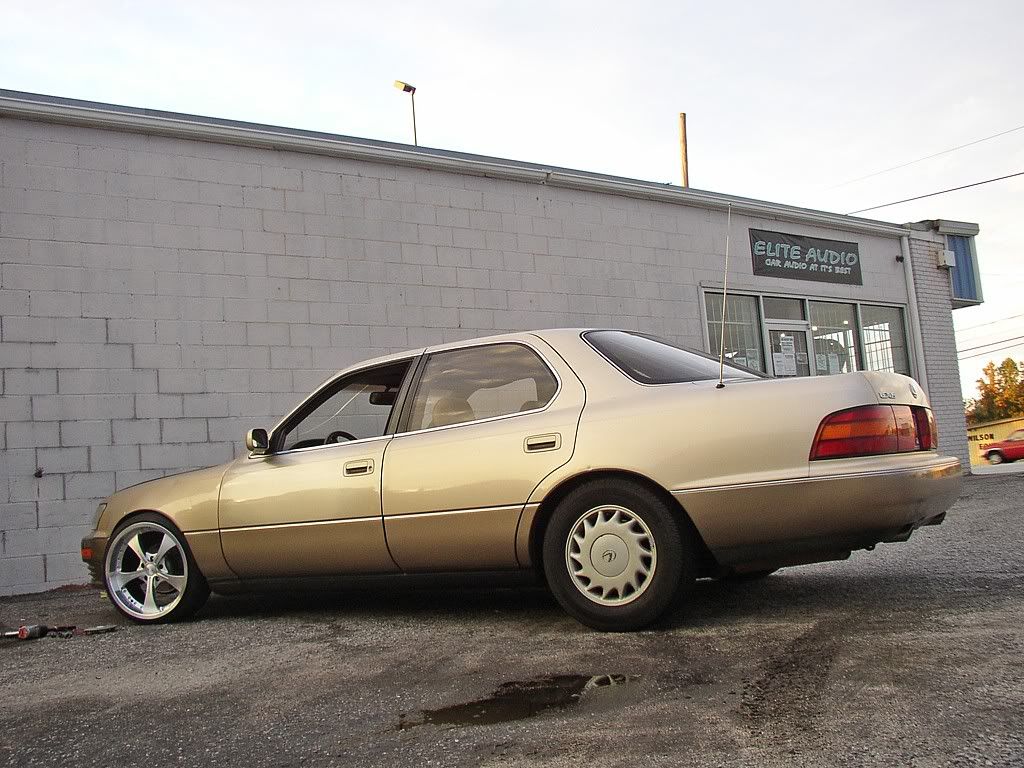 Can't wait to slam it!
12-15-10, 05:10 PM
Driver
Join Date: Dec 2007
Location: NC
Posts: 150
Likes: 0
Received 0 Likes on 0 Posts
---
Yoooo!

I remember you from INC way back in the day. I've always loved the Z.

I picked up an LS400 a few months ago too after getting rid of two SR'd 240's.

I love it man, drive it's wheels off!
12-15-10, 11:05 PM
---
good choice for a vip DD
keep the updates coming, you gonna get your buddies to respray that drivers door too?
whats up with your photos btw? they kinda look HDR-ish - great detail
12-16-10, 08:09 AM
Rookie
Join Date: Jul 2008
Location: South Carolina
Posts: 79
Likes: 0
Received 0 Likes on 0 Posts
---
MT Photo....small world! Congrats on the LS. Big plans for it?
gmacrae, no plans just yet to do anymore paint work. I've completely warped the front fenders from pulling them, and I kind of like her flaws. The hood doesn't sit exactly right, driver door doesn't match the car, and she needs small mechanical things fixed. But it's all character to me, and its made me really love this car. She starts in the morning and gets me to work. Good enough for now.
As for my photos, I just love photography. I'm no photographer, but I love to see what I can come up with using multiple exposures and Photoshop. Plain pictures are boring to look at, so why not add my little touch.
How she looks now: