1st Gen LS400 Owners - How much did you pay, How many miles, What condition?
06-02-11, 10:56 AM
---
Did Lexus dealer put a new engine in the car?
Originally Posted by
Hilux22RE
1991 LS400 With 153K Miles. Currently Primer Original Color was Dark Walnut Pearl. Tan Leather Interior. Traction Control, Coil Suspension, Had Gold Package with Chrome Rims. Had Gold Emblems Replaced With Black.

Got a copy of Lexus Maintenance and Lexus Replaced Engine At 80,000 In 2007.

Bought at $2100

Body 7/10 (Because of Paint)
Interior 8/10

Maintenance & Changes

Fixed RPM Guage
Spark Plugs
Motor Oil
Transmission Fluid
Fixed Exhaust Leak
Resonator Delete
Put 2007 Solara Rims
LED Interior
HID Headlights

More To Come.
06-02-11, 11:02 AM
Driver School Candidate
Join Date: Apr 2011
Location: CA
Posts: 26
Likes: 0
Received 0 Likes on 0 Posts
---
1991 LS400 w/ 215k mi
Asking price $2350
Purchase price $1900
Paint 8/10 (Except for front bumper fading. Spray canned it and looks good!)
Strong Motor, solid idle at 650rpm
Rebuilt tranny with only 2k mi (receipts)
AC compressor dead
P/S starting to whine
Control arm bushings shot
Leaking EGR pipe
Smoker car (bleh!)
Torn Leather
Done so far:
Strut Rod Bushings $280 (OEM, Parts only)
Sway bar and Steering Bushings $100 (OEM, parts only)
Antenna Mast $75(Oem, Parts Only)
Tranny Mount $75 (Oem, Parts only)
Coolant Temp Sensor ($20, Autozone)
Fuel filter ($12 Autozone)
06-02-11, 11:04 AM
06-03-11, 07:46 AM
Rookie
Join Date: Feb 2009
Location: Utah
Posts: 61
Likes: 0
Received 0 Likes on 0 Posts
---
Two years ago I paid $3500 for mine with 165k miles. This after searching the local classifieds and finding nothing under $4000. The paint and interior are in great condition and I have since replaced/repaired the following: Radio, plugs and wires, PS pump, lower control arms, air filter, serpentine belt, brake pads and tires. The car is awesome and runs and drives like a dream. All total I have spent approx $4100 doing all the labor myself and shopping the internet. Incidentally, this is the longest that I have ever owned a car, usually getting tired of them within a year.
06-03-11, 12:43 PM
Driver School Candidate
Join Date: Mar 2011
Location: Pa
Posts: 26
Likes: 0
Received 0 Likes on 0 Posts
---
4 years ago I got my first 93 for $800 off my mechanic was at 132k. with timing belt done and all the paperwork since 93 of every oil change and work done from lexus dealership. He wanted $9000 for it but he ended up blowing the motor in my car so he gave me the lexus for $800
(car is now at 178k miles)
paint still has that great shine would be perfect if I didn't have Ahole people key it
repairs that ive done
new timingbelt/water pump$600
rebuilt ecu and install $160
brakes and rotors $220
rebuilt/fixed gauge cluster$90
and fluids and filters
06-07-11, 02:54 PM
Pole Position
Join Date: Mar 2010
Location: la
Posts: 220
Likes: 0
---
My first ls400 $5000 19000 miles original
Inside excellent condition
outside fair condition gloss faded
Girl friend total it could've killed her.
I live it so much i brought another one for $1300 83000 miles
Inside crack seats
Outside faded paint
Need some work but i love it
06-07-11, 03:58 PM
Driver
Join Date: Feb 2009
Location: So Cal
Posts: 197
Likes: 0
Received 0 Likes on 0 Posts
---
1990 LS400 with 185,xxx miles - December 2008.
Manuf Build Date: 03/1990
Purchased from 2nd owner (owned by two elderly family members from the same household)
Exterior: 7/10
Interior: 7/10
Work/repairs: Knock sensors and starter within the first month.
Selling price: $1,800
Purchase price: $1,600 with delivery to location by tow truck (no extra driver)
Current mileage: 263,xxx & counting!
Overall response:
Very
satisfied with the build quality/reliability.
06-09-11, 11:33 AM
Driver School Candidate
Join Date: Jun 2011
Location: Michigan
Posts: 3
Likes: 0
Received 0 Likes on 0 Posts
---
Asking price on the car was 3500
the price i bought it for was 1900
it is a 1994 Lexus LS400
151k Miles timing belt done last year by Toyota
My first Lexus i bought this so i can still focus on working on my 1995 240sx
Here are a few pictures so far i love the car
so far all i belive needs replaced at this time is
front rotors(warped)
Ac recharge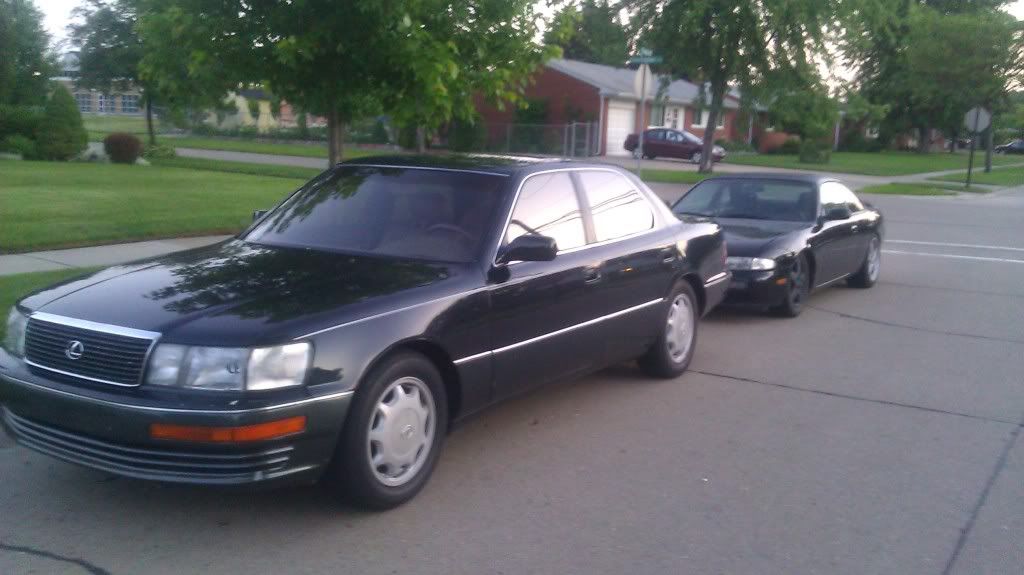 06-11-11, 01:19 PM
Driver School Candidate
Join Date: Jun 2011
Location: WA
Posts: 1
Likes: 0
Received 0 Likes on 0 Posts
---
1990 LS400 - purchased new in March 1990 for $41,000. Helped my mother test-drive and select it. Then I bought it off of her in 1999 for $8500 with 103K miles on it (what the dealer in Florida offered her as a trade-in) when she bought herself a new 1999 LS400.
06-13-11, 07:29 AM
Lexus Fanatic
---
1992 LS400
112,000 miles
$3,200
condition 7/10.(small wear on leather)

Maintenance done:
Oil change+ oil filter + fuel filter- $30ish
Air filter = $14
Hood shocks = $40
Power Antenna Mast = $13
New PS pump + labor =$430

Things that need to be done:
Timing Belt(it's cracked) = $$$ way too damn much
Climate Control display(don't we all)
New speakers + sub
06-21-11, 07:43 AM
---
1997 LS400 Coach Edition (83,xxx mi) Silver Jade Pearl
Purchased: $6,800
Location: Virginia

Condition
Paint: 8/10 One scratch under the drivers door handle. Upper rear bumper faded.
Interior: 9/10 Other than some scratches on the wood grain console, the interior is immaculate.
Drivability: 10/10 Seriously the smoothest riding and quitest car I have ever been in.

Maintenance Needed
Passenger Front Mirror Glass
Power Steering Pump
Front Brake HoseS (L & R)
Timing Belt Job
90K Service
Hood Struts (2)

Maintenance Done
None. I'm still piecing together everything so I can do it all at once. I have all the basic belt job stuff, but I'm going to go ahead and replace everything tune up wise including:
- Drive Belts
- PCV and grommet
- VC gaskets
- Cam Seals
- Fuel Filter
- Cap, Rotor, and Plugs
- Plug Wires
- Crank Seal

It may seem over board but the car is 14 years old, and since I'm tearing into it mechanically I might as well replace it all and be done with it.
06-21-11, 04:47 PM
Pole Position
Join Date: Mar 2010
Location: Nova Scotia
Posts: 208
Likes: 0
Received 0 Likes on 0 Posts
---
93 LS400 226,000km damage repaired and sat for awhile before I bought it. Climate control was unreadable and dash was flickery and PS was leaky suspension was worn and tires were weathered. Interior was 8/10 body 7/10 solid & undercoated underneath. Motor was strong and still is
1 year later 243,000km and the following tax incl.
Buy Car $2,825
1,000 watt Infinity/MTX Stereo $2,158
Wheels & Tires $1,765
Exhaust & O2 Sensors $1,355
Starter Alternator & Optima 900cca YT Battery $1,331
Shocks springs struts control arms $1,237
Power Steering $640
Tune-Ups $602
Chasing Power Issue/fuel filter $504
Brakes $454
Dash & Climate Control $405
Transmission flush $395
Undercoating $134
Air Conditioning Service $120
Misc $71
Hood Struts $55
Oil Change $88
Rear pinion seal $26
Total Invested with tax $14,166
Didn't see this coming - but I love this car I just drive it cuz I want to drive it - don't need a destination
---
Last edited by StevieA; 06-21-11 at

05:06 PM

.