Official IS-F Modification Thread
12-23-08, 11:36 PM
---
Hi Profile CC's IS-F
https://www.clublexus.com/forums/is-...s-f-debut.html
Originally Posted by
Robs IS250
After two months of modding and waiting for parts to come in/be installed, pics are finally ready for Hi Profile's IS-F. The car belongs to a close friend of mine that used to own 2 Lotus Elise's (modded) and finally decided to stay with one car and he didnt even tell me he got the IS-F he just showed up with it. He is the owner of Miss Saigan Bistro down here in miami (Dadeland Area-Highly Recommended) and has been coming to me for mods mods and more mods LOL.
I want to give a special thanks to Hi Profile's VP Jimmy from Auto Mech Customs down here in FL for all the body work, paint and installs. Robert from COR wheels. Luis Salazar from Carston Toyota/L-Tuned. Moe from SRT. and myself for getting everything for him =P
Here is the list of mods (more to come this week):
-20" COR 3 Piece Rims
-Matte Black face w/ StarFire Pearl Lip
-Lexon Front Lip
-Custom Painted Emblems (Black rear, Pearl white up front)
-Custom Cat-Back Exhaust
-SRT Intake
-JUN-TW roof/Trunk Spoilers
-Smoked Out Tails
-Custom Painted Engine Cover
-UltraSonic Blue Calipers
-Blacked Out Roof
-Black Grill/Fog Housing
-LED Interior/Puddle Lamps
-3k HID Fogs
-8k Low Beams (Not Pictured)
-5% Tints All Around
-Color Matched 10lb NOS bottle with Dual Purge
And Finally for the PICS: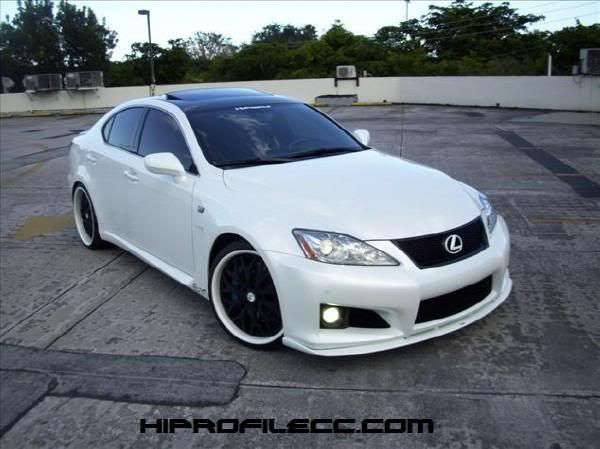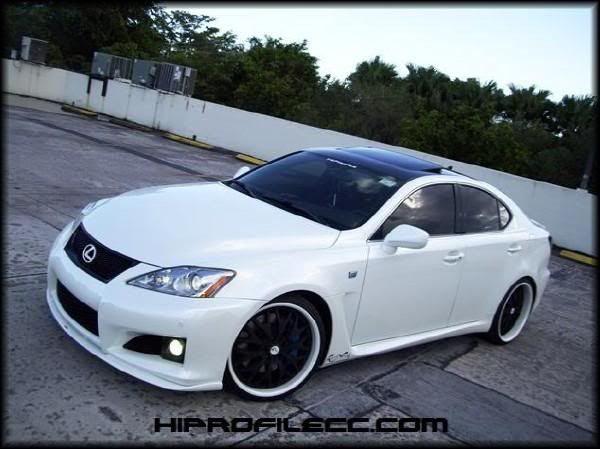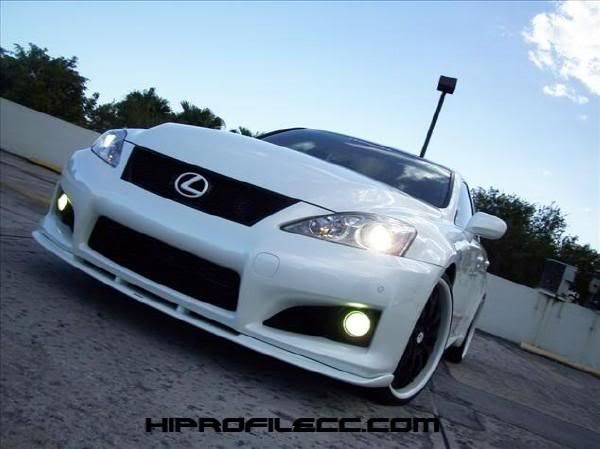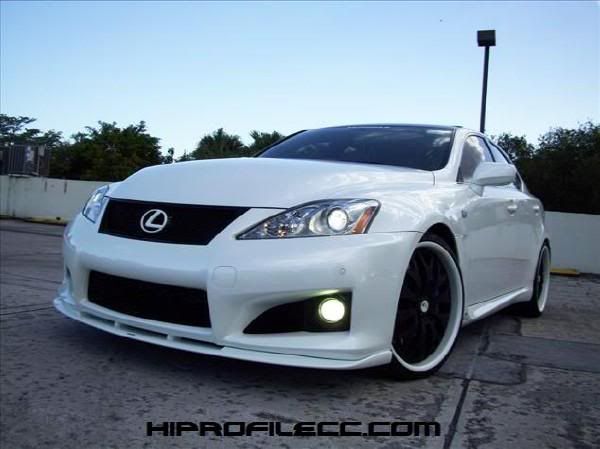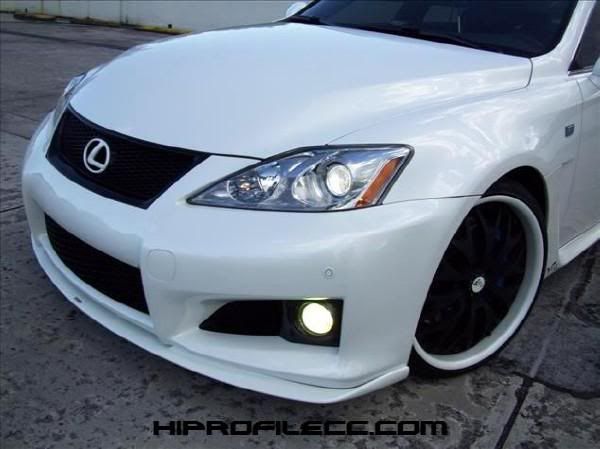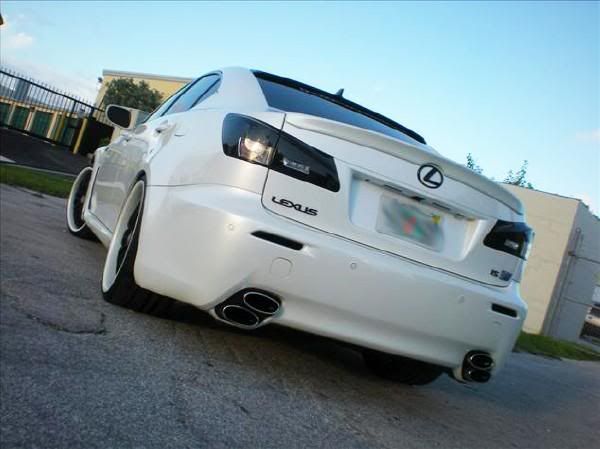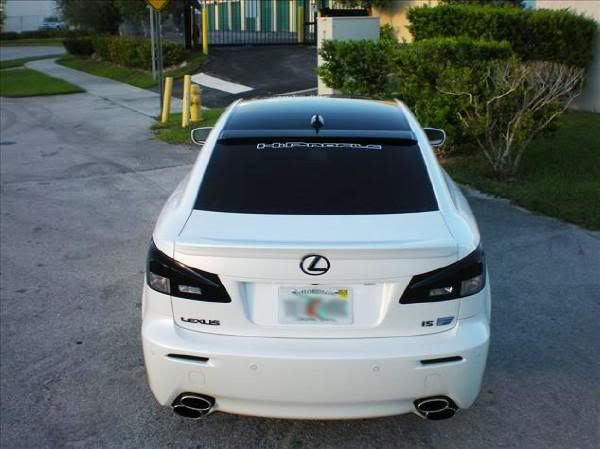 CAMERA ISNT OF THE BEST QUALITY LOL
Feel free to browse through Hi Profile's Website & myspace.
HiProfilecc.com
Myspace.com/HiProfile
The main site is under construction right now but the myspace is up n fully running.
Let me know what you guys think!
ENJOY!
12-23-08, 11:37 PM
---
Painted Rear Emblems (not OEM Black Pearl like Cathy's)
https://www.clublexus.com/forums/is-...r-emblems.html
Originally Posted by
primecut
I had some leftover Matte black paint from the front grille surrounds, so I decided to paint the rear emblems Matte black. I think overall it turned out pretty well, and it makes the "F" stand out more.
If you plan on doing this, I recommend that you find the thinnest double-sided tape possible for re-attaching the emblems, because the ones I used were thicker than OEM, so they are not completely flush with the bumper. The ones I used are also gray instead of black, so from the sides, the tape is a bit more visible. So just make sure you don't cut the tape too close to the edge of the emblems, otherwise they'll show and it'll be ugly.
One more thing. There are 2 prongs on the "Lexus", 2 on the L emblem, and 1 on the "I". There is none on the "S", so make sure you tape a template around the "S" so you can re-attach it perfectly in place.
Anyways, onto the pix. Enjoy!
12-23-08, 11:38 PM
---
Fox/Artisan IS-F Project Car for SEMA 2008
Originally Posted by
flipside909
Here are some pics of the Fox/Artisan IS-F Sema 2008 project car. The vehicle will be debuted at SEMA 2008 in Las Vegas alongside 3 other IS-F's from different aftermarket companies. These companies will be showcasing and developing new aftermarket parts for the IS-F. Artisan will be offering an exhaust, intake, pullies and a turbo kit for the IS-F. You will see the completed project car at this years SEMA show in November.
Thanks to member, turbochargers.com of LexusF.com
12-23-08, 11:39 PM
---
12-23-08, 11:40 PM
---
12-23-08, 11:41 PM
12-23-08, 11:42 PM
---
12-23-08, 11:45 PM
---
IS-F with 1 Piece Forged Volk Racing RE30 Formula Edition '08 with Toyo T1R tires
https://www.clublexus.com/forums/is-...t1r-tires.html
Originally Posted by
CrazyMPG
*Note these are some teaser shots, will try to get some better pictures because it was raining today* So anyways.....I got persuaded by a certain 2IS member to look at these rims...so I decided to get them, so I now have another set in addition to my HRE's
. I was lucky that mackinindustries had a set of these limited edition rims for the IS-F fitment in stock. I just put them on today Oct. 4, 2008 at VIP Status. Go see Clark for anything you need for rims and other stuff!
I am running 19x9's in the front with Toyo T1R 245/35/19 with +38 offset, and the rear is running 19x10's with Toyo T1R 275/30/19 with +35 offset. You can see from the pictures that the front rim weighs 19.8lbs while the rear weigh 20lbs even. The front tires weigh 24lbs, and the rear weigh 26lbs. Total weight for the front rims with are 43.8lbs and the rear is 46lbs. I believe these rims are lighter than my HRE C93's except the HRE's are a 3 piece design and the rear is 19x10.5.
https://www.clublexus.com/forums/sho...&highlight=HRE
I am happy with these rims and I just need a good set of coilovers to make this setup look sick! Well hope you enjoy and look forward to hearing your opinions.
Thanks for your time!
12-23-08, 11:46 PM
---
Painted My Front Grille
https://www.clublexus.com/forums/is-...nt-grille.html
Originally Posted by
primecut
Alright, so I posted a few days ago asking for help in removing the front grille, and no one responded
. Luckily I just decided to pull it harder and it came out!
I decided to paint my grille matte black to give the car a more aggressive look (And to start my blue/black theme for the car). Overall I'm very satisfied in the way it turned out, except that the clear coat I used gave the grille a rough texture. I might have to re-do it later down the line.
Anyways, here are the pix. I don't think anyone has done this on their F yet. Enjoy!
BTW - Please don't hate on that front plate..ha ha. I hated it as well, but I dodrive around LAX, so that'd be a fix-it ticket waiting to happen...
12-23-08, 11:48 PM
---
12-23-08, 11:50 PM
---
IS-F with 3 Piece Brushed Aluminum HRE C93 rims with Michelin Pilot Sport 2 tires
https://www.clublexus.com/forums/is-...t-2-tires.html
Originally Posted by
CrazyMPG
I finally took some pics of my car with the rims installed. I got them put up on June 20, 2008. The sizes for the front are 19x9 with 245/35/19 tires and 19x10.5 for the rear with 295/30/19 tires. As you can see the rear tires are pretty thick, but it looks very flush. I had to get my rear fenders shaved and Backyard Creations did it for me.
These rims are the HRE Competition series and HRE informed me that these are the lightest competition series rims they make. The front rim weighs 21.4lbs and the rear rim weighs 22.1lbs. The front tires weigh 23lbs, while the rear weigh 29lbs.
So the front weighs 44.4lbs and the rear weighs 51.1lbs compared to the stock rim weights of 50.6lbs for the front 19x8 and 54.4lbs for the rear 19x9. Now I just need to drop the front a little bit and it will look nice.
Enjoy everybody...or not...
12-23-08, 11:55 PM
12-23-08, 11:56 PM
---
New ISF Goodies from L-TunedParts.Com
https://www.clublexus.com/forums/is-...parts-com.html
Originally Posted by
Carson-Lex
Hey guys, alot of you have been sending PM's my way looking for some really nice stuff that's not avaialble in the states yet... (Cathafer)


These are new items being brought to you by L-TunedParts.com, with the help of the fantastic feedback we get form the CL members.

So I wanted to post up some of the things we have found so far that are unique, and very cool items. These items are already listed on out L-TunedParts.com site, but if any one has any questions feel free to shoot me a PM or call any time. 310-522-2383
Steering Wheels (some might have seen these before)
Sporty Aggressive Design
Check it out
HERE
Subtle OE Style
Check it out
HERE
Console Trim (to finish of the sides around the shifter)
Check it out
HERE
Silver Carbon and Leather ****
Check it out
HERE
Silver Carbon and Chrome ****
Check it out
HERE
12-23-08, 11:58 PM
---
5 Axis IS-F and Sunisa Kim
http://www.tunerzine.com/view_model/...on8-sunisa-kim
Originally Posted by
KayGee
12-23-08, 11:59 PM
---
FiveAxis IS-F
https://www.clublexus.com/forums/is-...d-threads.html
Originally Posted by
javyLSU
This car is unbelievably HOT. When I first saw it, it looks like the Batmobile - the matte black finish looks incredible, and the wheels match the gold accents on the car perfectly. The rear fender has been widened considerably, resulting in a VERY aggrressive stance - almost like a widebody kit. I tried to capture the essence of the Troy's project in my pictures, but it's hard to fully appreciate unless you see it in person.