Official 3rd Gen IS Tint Thread - add your pics here!
08-06-13, 11:08 PM
---
Well, you could go 80% or 90% and no one would notice. Lol!!
Sides/Back: 70%
Sunroof: 20%
-----------
I have 35% all around, well mostly.
08-06-13, 11:13 PM
---
How much does tint cost in general through the dealer, if you don't mind me asking?
08-07-13, 10:27 AM
---
08-07-13, 10:29 AM
08-07-13, 11:43 AM
Driver School Candidate
Join Date: Jul 2013
Location: GA
Posts: 24
Thanks: 0
Thanked 0 Times in 0 Posts
---
I went with 25% all around and I love the look. It's nice and dark but doesn't draw too much unwanted attention. The owner of the tint shop I went to tried to steer me away from my original request for 20%, I'm glad I listened as I am very pleased with the result.
08-07-13, 11:46 AM
---
I did 18% carbon tint all around a little more than regular tint but last longer and is three times as thick as regular tint heres a pic its with an iphone 5 camera. BTW at night time and even in day they are dark really dark becuase of the dark red and black interior......
08-07-13, 03:30 PM
---
18% looks like limo tint.
08-07-13, 10:02 PM
---
Tints are not additive by multiplicative -- hence if you use a 35% Tint over a 70% tint = .35 X .70 = .25 or 25% equivalent tint overall.
If you wanted a 35% overall you would've have needed to add 50% over the 70% tint.
08-08-13, 09:44 PM
---
Below is the stock glass for the 2nd gen IS250/350. Does anyone have access to the 3rd gen IS250/350 glass specs? I'm assuming it's the same w/ 70% tint --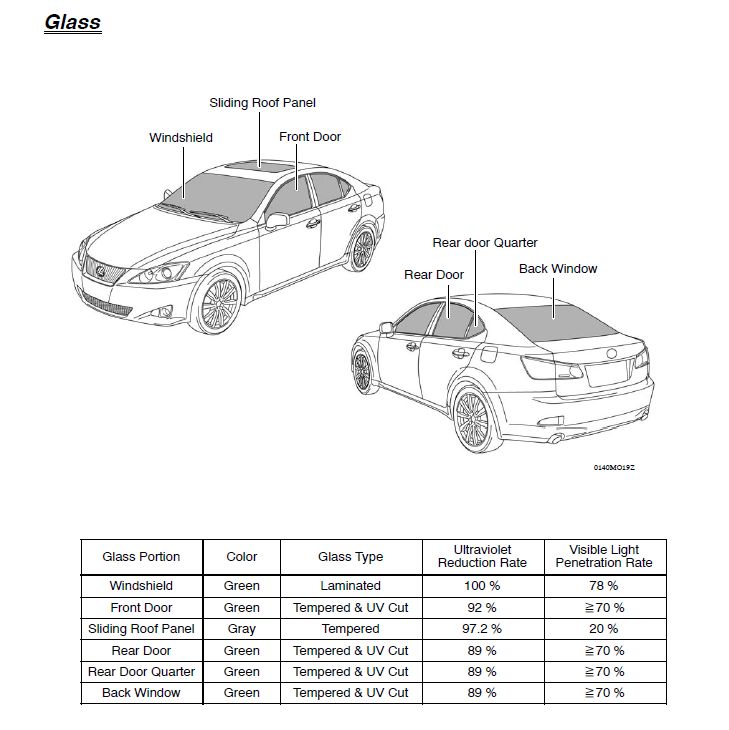 ---
Last edited by JerryWest; 08-08-13 at

09:52 PM

.
08-09-13, 01:46 AM
Rookie
Join Date: May 2013
Location: on
Posts: 53
Thanks: 0
Thanked 0 Times in 0 Posts
---
i got 15% on the front windows and sunroof and 5% on all the back windows aswell as a 5% strip on the front windshield.

My dealer wanted $400 plus tax but would not go below 35%.

I have a good contact for tint's and got an amazing price for tints plus a clear bra on the front end. Got everything done for $475 cash
08-09-13, 10:16 AM
Lexus Champion
Join Date: Feb 2006
Location: San Diego, CA
Posts: 2,553
Thanks: 0
Thanked 0 Times in 0 Posts
---
Originally Posted by
mmims2000
I'm going with 20% on the rear and backs, and 35% on the fronts. I've done this set-up before on two previous cars, and I think it always looks great. I live in Cali, and would be hesitant to go any darker on the front windows. My 3IS is obsidian/rioja red.. I will post pics next week after the tint is installed :-)
That's what I have on mine. The only time I had an issue with the law is when I was at the airport picking someone up. Cop said "do you want to tear the tints off now or should I write you a ticket" I asked for the ticket, but he lightened up and let the matter slide.
08-09-13, 12:04 PM
Pole Position
Join Date: Feb 2012
Location: Florida, Paris
Posts: 288
Thanks: 0
Thanked 0 Times in 0 Posts
---
15% all around looks the best on white or black cars.
08-09-13, 02:43 PM
Driver School Candidate
Join Date: Aug 2013
Location: On
Posts: 37
Thanks: 0
Thanked 0 Times in 0 Posts
---
My dealer had a special and the tint is going to be no charge (my car is coming in next week). They said they normally do15%. Judging by the pictures above 15% will be pretty dark? Am I wrong? I've never had my windows tinted before and have no experience with this. I want them dark but not so dark they look almost solid black. My car is atomic silver should I not go with maybe 25%? If I understand correctly the larger the number the more light the tint will allow through, correct?