Akio Toyoda's Personal Century GRMN
11-13-18, 10:54 AM
Akio Toyoda's Personal Century GRMN
---
Akio Toyoda's Personal Century GRMN
By Jakob Hansen
The Century has a new look, and it's not what you expected.
11-13-18, 03:24 PM
Lexus Champion
---
see, akio toyoda has shown himself to have good taste and appreciate fine design, so why has he taken away all our sports cars!?!
not too long ago toyota had 3-4 at once in the US lineup, and now, there's not a single one! even honda came out with a new type r, and they actually bothered to make it themselves.
this century is awesome though, i'd love to be rolling around in that
11-13-18, 05:02 PM
11-13-18, 05:21 PM
Lexus Champion
11-13-18, 05:50 PM
11-14-18, 06:55 AM
---
Eeeeek the front end and headlights reminded me of the Chrysler 300M. Anyways, the styling would have been considered bland and boring as a Lexus and that will never fly with Akio.
11-14-18, 10:25 AM
11-14-18, 03:28 PM
Lexus Champion
---
i guess there's only one way to find out, but i think the century might not do too terribly in the US (too terribly is a relative term, i wouldn't expect the sales to be class leasing or anything)
i feel people might like the differentness / rarity of it, and idk what's more luxurious than having a microphone in the back seat to more easily speak to your chauffeur! and being able to fully extend your legs onto the seat in front while getting a heated massage is as good as it gets
01-10-19, 07:41 PM
Forum Administrator
Join Date: Feb 2001
Location: North Carolina
Posts: 28,490
---
https://jalopnik.com/toyota-ceo-show...ntu-1831623266

Justin T. Westbrook
Yesterday 10:05pm
Filed to: TOYOTA CENTURY GRMN
125.7K
211
5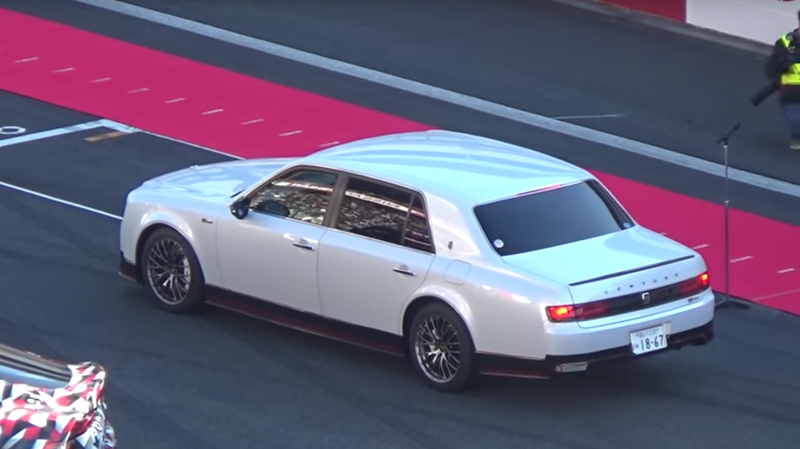 Screenshot: yashichi87able (
YouTube
) The new
Toyota Century
is what the Lincoln Continental wishes it could be. And CEO Akio Toyoda's awesome one-off
Century GRMN
is so sporty, and so incredible, and so cool, and I have so much respect for the Toyota boss showing up to a company track event in it.
It's very easy to get lulled into a false mindset that Toyota is boring, and then the Japanese automaker goes and displays its Gazoo Racing lineup, topped off with Toyoda showing up in the new Century GRMN:
The Century GRMN was introduced as a one-off version of the automaker's super-luxury car, though Toyota is supposedly gauging possible customer interest for building more.
It's still not confirmed exactly how much Gazoo has changed on the car beyond the obvious cosmetic touches, like the dope wheels and red stripe along the rocker panel, a new grille and a cute little lip spoiler at the back. The regular Century gets a hybrid V8 setup good for 376 horsepower. You would think they would have bragged about it if they actually added any more power to this one, so sadly it's also probably
just
376 HP.
The other cars in the clip include a Gazoo Racing version of the upcoming new Supra, Toyota TS050 endurance racer, Prius GT300 and what appears to be the Lexus LC 500 Super GT racer.
The Century is still the coolest of the bunch. Race the Century, Toyota. Find a way.