MM Full-Review: 2017 Cadillac XT5
09-12-16, 02:36 PM
Lexus Fanatic
Join Date: Oct 2003
Location: Virginia/D.C. suburbs
Posts: 69,548
MM Full-Review: 2017 Cadillac XT5
---
By request, a review of the all-new 2017 Cadillac XT5 mid-size Crossover SUV.
IN A NUTSHELL: A major improvement over the dated SRX.....but some things cost extra that should not. .
CLOSEST AMERICAN-MARKET COMPETITORS: Lincoln MKX, Audi Q5, BMW X5, Mercedes GLE, Volvo XC90, Acura MDX, Lexus RX350, Land Rover LR4, Buick Envision.
http://www.cadillac.com/crossovers-s...crossover.html
OVERVIEW:
Luxury-class, car-based, crossover SUVs, particularly in the compact to mid-size class, represent what is arguably the fastest-growing segment of the American auto market, though, of course, we have also seen a number of new sub-compact SUVs hit the market lately as well, such as the Honda HR-V and Mazda CX-3. And, of course, more of each class are also on the way, as we will soon see all-new entries in the sub-compact class from Toyota, Hyundai, and Kia, a and all-new compact model from Cadillac (XT3?), another, larger model from Cadillac (XT7?) to fill the gaps between mid-sizers and the huge Escalade, and, the Chinese-built Buick Envision, which has already arrived. With all of those projects, and the recently-introduced CT6 large sedan, the midnight oil really seems to be burning in the Cadillac design offices (I doubt if they have an unemployment problem right now LOL). And, of course, for now, we have the recently-introduced replacement for Cadillac's long-running SRX mid-size luxury SUV....the XT5, subject of this review. (I would have done the review right at the XT5's intro, of course, but a severe knee-injury and surgery prevented that).
I was not a fan of the previous Cadillac SRX at all. The first-generation model, introduced in 2004, was little more than a first-generation CTS with a wagon body, AWD, and some additional ground clearance. It shared the original CTS's unimpressive interior, poor fit/finish, and general lack of comfort. (at Cadillac's marketing-request, I sat on a focus group for the original CTS and commented, back then, that I thought the interior was excessively cheap by luxury-car standards and needed a lot of additional work). The second-generation SRX, introduced in 2010, was, like the Second-Generation CTS itself, a major improvement in interior quality and overall fit/finish, but IMO the body-styling was awkward and had several chisel-angles, front and rear, that looked out of place. Even though I was not impressed with the second-generation SRX looks, though, there is no denying it was a success in the marketplace....Cadillac sold them in some pretty good numbers. But, by now, even that hot-selling design was getting rather long in the tooth, and Cadillac saw a clear need to replace it, particularly with the direct challenge posed by Lincoln's new Second-Generation MKX last summer, and the latest (Fourth-Generation) version of the even hotter-selling Lexus RX a few months ago. Cadillac, of course, does not currently have a competitor for the smaller Lincoln MKC and Lexus NX, but one is (supposedly) on the way late next year. So, the long-standing SRX is being put out to pasture, and the all-new XT5, which has been the subject of a fair amount of interest by the auto press, is out of the barn to replace it.
For 2017, the XT5 is available in four different trim versions....XT5, Luxury, Premium Luxury, and Platinum. All versions come with the ubiquitous Cadillac non-turbo 3.6L V6 with 310 HP and 271 ft-lbs. of torque....reasonably strong by today's standards, but with a peaky torque curve, as you'll see below. Hooked to the 3.6L is the standard and only transmission....an 8-speed automatic with a new and probably unneeded electronic shift lever (however, the shifter works better than I expected.....more on that below). IMO, Cadillac is to be commended for this, as the tendency today is to use 2.0L turbo powerplants for everything from compact to full-size vehicles (even on Cadillac's own CT6 flagship LOL). The N/A 3.6L, of course, avoids both the four's unrefinememt and the needless complexity of turbos. All-Wheel-Drive (AWD) is standard on the Premium, not available on the base version which is Front-Wheel-Drive only (a marketing error, IMO), and optional on the other versions. The base version, IMO, also lacks some standard features which IMO should be either standard or optional on vehicles in this class.....I won't list them all here; see the web-site for the details.
http://www.cadillac.com/crossovers-s...equipment.html
Base prices range from $39,990 for the base XT5 to $63,495 for the Platinum....which is quite a spread. (Check the latest prices on the web-site's Build-Your-Own feature, because it seems a price-adjustment is in the works just as I am writing this). The Platinum version, especially, is quite a chunk of cash. Last summer, I tested a then-new top-line Lincoln MKX (the XT5's closest American-badged competitor) that listed for around 60K...and I got a number of comments (which I expected) about how high that price was for something in that class. Ironically, the XT5 Platinum starts at a even higher price than that, not including freight and options. We'll wait and see, but I don't think that the Platinum is going to be a big seller unless GM drops the price a little. Nor will the base version, IMO, be a particularly big seller, as it has a starting price, with freight, of some 40K, but still lacks some features that should probably be standard in this class. GM also needs to leave some room in the pricing structure for the upcoming XT7 (if that project gets approved and into production), which will size and price in between the XT5 and the next-generation Escalade. The base-level XT5, even though it lacks AWD, does in fact undercut the pricing of its somewhat downscale Buick Envision brother, which is built on the same platform. Buick seems to have been caught off-guard by this, and promises a lower-priced Envision next year, to follow the initial ones this year.
For the XT5 review, as usual, I static-inspected several different versions, and, for the test-drive itself, chose a white FWD Luxury version. I chose that one for two reasons. First, it had a rather attractive list price (49K) compared to other XT5s on the lot (some of which ran 60K or more), and, Second, not everyone in this area buys AWD SUVs......some FWD ones still manage to sell, though I probably go for AWD myself in this class of vehicle. I was definitely more pleased with the XT5 than I was the previous SRX, but a couple flaws remain. Details coming up.
MODEL REVIEWED: 2017 Cadillac XT5 FWD Luxury
BASE PRICE: $44,895
OPTIONS:
Cue Information/ Media Control (A device that basically announces to you, in a female voice, where you are and what is available in the area): $1025
Crystal White Tri-coat Paint: $995 (a rip-off)
Driver Awareness Package: $770
Compact Spare Tire: $350 (another rip-off)
Wheel Locks: $75
DESTINATION/FREIGHT: $995 (not bad...about average for this size vehicle)
LIST PRICE AS REVIEWED: $49,105
DRIVETRAIN: FWD, Transversely-mounted non-turbo 3.6L V6, 310 HP @ 6600 RPM, Torque 271 Ft-lbs. @ 5000 RPM (a rather peaky torque-curve), 8-speed automatic transmission with electronic shift-lever.
EPA MILEAGE RATING: 19 City, 27 Highway, 22 Combined
EXTERIOR COLOR: Crystal White Tri-coat
INTERIOR: Jet Black
PLUSSES:
Well-chosen engine/drivetrain for this vehicle.
Drivetrain generally seamless, except for engine start/stop system.
Reasonably good riding comfort and sound insulation.
Markedly better styling (IMO) than its predecessor SRX.
Huge improvement in interior materials over the SRX.
Generally good hardware inside.
Top-level interiors quite stunning.
Well-done paint jobs.
Extremely well-finished cargo area.
Avoids 4-cylinder turbo as base engine.
Superb underhood layout by luxury-vehicle standards.
Easy-To-Reach underhood components.
Speedometer well-labelled in 10 MPH increments, not 20.
MINUSES:
Base version lacks many items expected in this class....and some are not available even as options.
Mediocre handling/steering response.
Numb steering feel.
Engine start/stop system not quite seamless.
Only seven exterior paint colors (IMO) not enough for this class of vehicle.
ALL of the exterior colors, except silver, are extra cost.
Awkward location for the (?) First-Aid Kit.
$350 for a temporary spare tire is annoying.
CUE system better, but still annoying and complex.
Rear seats don't recline enough for tall persons..
Seats (slightly) too firmly-padded for my tastes.
Electronic shifter has a crisp feel/action, but difficult to shift accurately.
Potentially unreliable in the long-term, if past models are any clue.
EXTERIOR:
Overall, the exterior is a marked difference from the former SRX's styling. I already stated, above, that I wasn't a fan of the SRX's looks, so I won't dwell on that here. The XT5 keeps the vertical/chisel theme, front and rear, in its overall styling, but does it in a way that seems more handsome than before. The somewhat garish-looking cheese-grate grill of the SRX has been replaced with amore muted, but still bright-chrome, trapezoid-shaped grill with horizontal chrome bars. The only exterior touch that I thought was awkward was the CT6-like chrome (tear-drooping) broken-line that drops down vertically from the headlights. My guess is that Cadillac will probably eliminate that in an XT5 mid-generation facelift within couple of years. Other than that, though, it's a generally handsome vehicle that definitely fits into the current Cadillac family, style-wise.
Exterior workmanship seemed generally quite good, though the sheet metal, like that on most new vehicles, is quite thin to save weight....you can easily push the side-panels in with one finger. The doors themselves close with a fairly solid thunk, but, like also with some Lincoln products, lack a precise feel to the latches. Most of the exterior trim and hardware fit and operated quite well, though the thick plastic half-pull door handles had a somewhat wobbly feel/operation. All of the XT5 models I looked at, regardless of price or trim level, came with Michelin all-season tires...a tire brand known for high quality.
Cadillac, on the XT5, tends to rip the buyer off in the paint department. First, only seven exterior colors are available (which IMO is not enough for a luxury-class vehicle). Second, they ALL cost extra ($495-$995). except for the silver. Come on, guys....there are more honest ways to make a profit than this, even in the auto business. Still, the colors themselves are not bad-looking, and, if I were buying one, I'd probably cough up the extra $$$$$ not to be stuck with silver. And the paint jobs themselves are quite well-done, even in black, where there is very little if any orange-peel texture.
All in all, though, a nice job on the exterior...but do something about that paint-marketing.
UNDERHOOD:
Open up the relatively lightweight hood (it's hard to tell if the hood is aluminum or lightweight steel), and one nice large gas strut, mounted on the right, holds it up for you....no screwing around with a manual prop-rod. A nice, VERY thick insulation pad (I could have used it as a mattress LOL) covers the underside of the hood. The transversely-mounted 3.6L V6 fits in generally well, and the entire underhood layout is quite good by the usual unaccomodating luxury-car standards......the best I've seen in awhile on a vehicle of this class. A plastic top-engine cover does block some access to upper-engine components, but it is not as large as some I've seen, and there is some room to reach engine components down the front or sides. The battery is off to the right, uncovered and readily accessible, and all dipsticks, filler-caps, and fluid reservoirs are relatively easy to reach and use. Lexus, Mercedes, and some other competing brands that routinely play Hide-And-Go-Seek with everything under the hood need to take a good look here at how Cadillac did it with the XT5.
INTERIOR:
Although styling is subjective, I personally liked the way Cadillac basically styled the XT5's interior. The dash is more or less styled along the same lines of the CT6 flagship sedan, but uses a more convincing-looking matte-wood trim (some of the best-looking wood I've seen). As with the CT6, the four-spoke steering wheel is a little awkward-looking (I generally prefer three spokes), but it uses the same nice wood spoke-trim, a nice leather rim-covering, and the buttons/controls on the wheel are very well-integrated. (I actually prefer the wood on the spokes, rather than on the steering-wheel rim like in some luxury-class vehicles, because, on the rim, the wood can get nicked or marred by things like watches and rings on one's fingers...on the spokes, it is more protected). Some trim-versions use a nice, solid, well-applied grained-aluminum trim on the dash and doors, though it doesn't look quite as sharp as the wood or carbon-fiber. I thought the most stunning interior, though, was the two-tone tan/black with matte-wood trim and suede-leather covering on the dash and headliner...that one will really open some eyes at the country club. Almost all of the hardware seemed well-done and reasonably solid....even some of the traditionally cheap things in many vehicles like compartment latches/lids. The gauges were all well-done, clear, and easy to read. The electronically back-lit, analog-style speedometer gets a rare five-stars here, because, in some trim versions (not all), it is marked in 10-MPH (10, 20, 30, etc...) increments instead of 20 MPH (20, 40, 60, etc....), which is much easer to read at a glance. I don't know why, but it is rare to find 10-MPH increment speedometers nowadays, though they were once universal. The newest CUE system has been redesigned to be somewhat less complex and frustrating than in previous versions...they succeeded, but not by much. The stereo sound is pretty much what you'd expect in tis class of vehicle.
But the interior-designers goofed in several areas as well. First, the base XT5 version, especially, lacks a number of features that are petty much expected in a vehicle of this class, such as heated seats and steering wheel......that's probably one reason Cadillac can sell the base version for 40K. I won't list all the omissions here (there are more than just a lack of heated components), but you can find them on the XT5's website, which I included. The dip in the ceiling around the edges of the sunroof housing significantly affects headroom in back (the middle of the housing doesn't dip down as much)...which is made more pronounced by the fact that the rear seats don't recline far enough (only a couple of degrees of angle) to add much headroom for tall persons. It's not bad for average-sized persons, but noticeable for people my size. In front, though, one can adjust the front-seat cushion way down low if desired, to clear the ceiling. The rear seats, like the front, do adjust fore and aft to adjust legroom. The seat leather seemed of a nice quality, but I found the seats a little flat and not particularly well-padded....the newest Lincoln competitors do a somewhat better job of seat-padding in that department. Base XT5 versions don't use true leather at all, but a synthetic substitute......but I'm sure the cows prefer that LOL. Legroom in back, off course, depended on where you had the front seats adjusted, but in general, was adequate for most normal-sized people...as stated above, the rear seats do (manually) adjust fore and aft.
In short, a nice attractive interior overall.....but the base version gives up too many standard features, and the seats need a little more cush for the tush.
CARGO COMPARTMENT/TRUNK:
Open up the rear lift-gate (which, depending on trim-version, ranges from manual to power to power/hands-free feature), and the rear cargo area is not huge for an SUV this size, but is extremely well-finished. Still, it is too small to try and fit in a third-row seat.....one will probably have to wait for the larger, upcoming XT7 for that. Thick, soft, plush-feeling carpet covers the floorboard and both walls. A standard, shade-type pull-cover keeps luggage and cargo from prying eyes outside. Adjustable, solid-feeling cargo-hook bases slide back and forth, from front to rear, in dual tracks, on either side of the central floorboard. A temporary spare tire, and tools for it, cost $350...a classic ripoff, as I stated above. (the Cadillac saleslady, who was super-nice, stressed that a spare tire would probably never be needed with the Road Assistance Program, but I wasn't convinced. With tow-truck drivers, you are often at their mercy....I myself have had to change flats a number of times over the years, even with my latest Verano.
Things seemed pretty awkward, though, under the center floorboard, on XT5s without the temporary-spare option. The black styrofoam multi-compartment under the floorboard, which usually pulls up and out on most vehicles, seemed rigidly attached. Bolted onto the center of the compartment, with a large round screw-off cover and long, narrow bolt, was what appeared to be a first-aid kit, but was unmarked.....it would be relatively difficult to unbolt and extract in an emergency. Neither could I find even a Fix-a-Flat compressed-air-bottle, though a so-called "Road Emergency" tool-kit is also listed as a option. Good Golly...talk about cost-cutting.....that's as bad as the way they market the paint jobs LOL. But, in all fairness, some of the cost-cutting there is negated by the thick excellent carpeting all over the compartment....the luggage riding back there will be as comfortable as the passengers in the cabin.
ON THE ROAD:
Start up the ubiquitous GM/Cadillac 3.6L V6, and the engine comes to life with near-Lexus refinement in smoothness and quietness. This is an excellent power plant for this vehicle, especially when the vehicle is relatively lightly loaded. Cadillac (wisely) resisted the temptation to use its 2.0 turbo four as the base power plant, like some other competitors have done. Power level is adequate for most normal driving, though the maximum 271 ft-lbs. of torque come at a rather high and peaky 5000 RPM. A start/stop system shuts off the engine (once it has fully warmed up) at stop lights and stop signs.....it is not the clunkiest one I've seen by any means, but still doesn't operate quite as seamlessly as a vehicle in this class would probably merit.
The 8-speed auto-manual transmission shifts seamlessly, but the electronic shifter-stick on the console, is another example of auto manufacturers trying to fixing something that wasn't broken. The shift-stick snaps and glides forward, back, and to the side with a smooth and seamless click (which is more than I can say for similar devices in many BMWs), but its actual function is quite annoying, and the transmission shift-indicator sometimes lags for several seconds, and sometimes shoots very rapidly past the gear you want. I practiced with it for quite some time, when I first started the engine, and sometimes got it right, and sometimes was completely lost. If you buy or lease an XT5, you will almost certainly be spending some time in the Owners' Manual and actual practice on how to use this frustrating device. I don't understand this growing obsession with electronic shifters......a simple fore/aft lever usually works just fine. IMO, even Lincoln's dash push-buttons for the transmission are preferable to this. For the record, the CT6, Cadillac's new sedan flagship, DOES use a more or less traditional shift-lever, though with a big T-handle.
Chassis/suspension-wise, ride-comfort over bumps is reasonably comfortable, though it should be noted that I test-drove a lower-line XT5 with the 18" wheels and higher-profile tires.....higher-line versions with larger 20" wheels and lower-profile tires can be expected to ride somewhat more stiffly. Steering response was rather slow, with some body roll, but was not too bad by mid-sized SUV standards. Feel in the electric power-steering itself was about as numb as the novocaine my dentist uses....there was virtually no feedback at all. Road/tire and wind noise were generally well-muted, though, surprisingly, not any noticeably more quiet than my Verano at half the price....again, of course, that was with the XT5's 18" wheels/tires. The brakes are generally effective, though the brake pedal location, slightly higher and some distance away from the gas pedal, wasn't quite ideal for my big Men's-Size-15 clodhopper being free of a hang-up going from gas to brake....however, I've seen lots worse.
THE VERDICT:
Well, OK......I've criticized this vehicle in several areas (most of which I feel is justified). But, coming down to brass tacks, it's a huge improvement over its SRX precedessors, which I never liked. The XT5 has a smooth, refined, adequately-powerful drivetrain........which would be even nicer without the engine start/stop system and that silly electronic joy-stick. It rides comfortably, at least with the base suspension and wheels/tires. It is styled nicely, avoiding the SRX's cheesy looks and awkward chisel-angles. Interior trim materials and hardware seem (mostly) worthy of something with the Cadillac nameplate, even in lower-line versions, though the top-line Platinum trim level, not surprisingly, has the plushest-looking interior. The 10-MPH-interval speedometer on some trim-levels is a nice touch that is not often seen nowadays. Its closest competitor is probably the Lincoln MKX, which it generally stacks up very well against, though, according to Consumer Reports, long-term reliability for both it and the Lincoln could be a question mark. But, in his class, if reliability is paramount, and you can get past the Lexus RX350's controversial spindle-grille and floating-roof design (a number of shoppers can't), that may (?) ultimately be the way to go.
And, as always......Happy car-shopping.
MM
---
Last edited by mmarshall; 09-12-16 at

03:22 PM

.
09-12-16, 02:41 PM
Lexus Fanatic
Join Date: Oct 2003
Location: Virginia/D.C. suburbs
Posts: 69,548
---
Once again, I'm having image-posting problems. They will follow ASAP.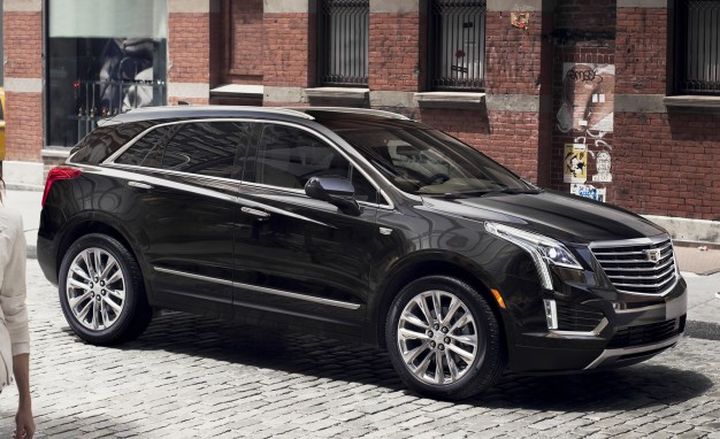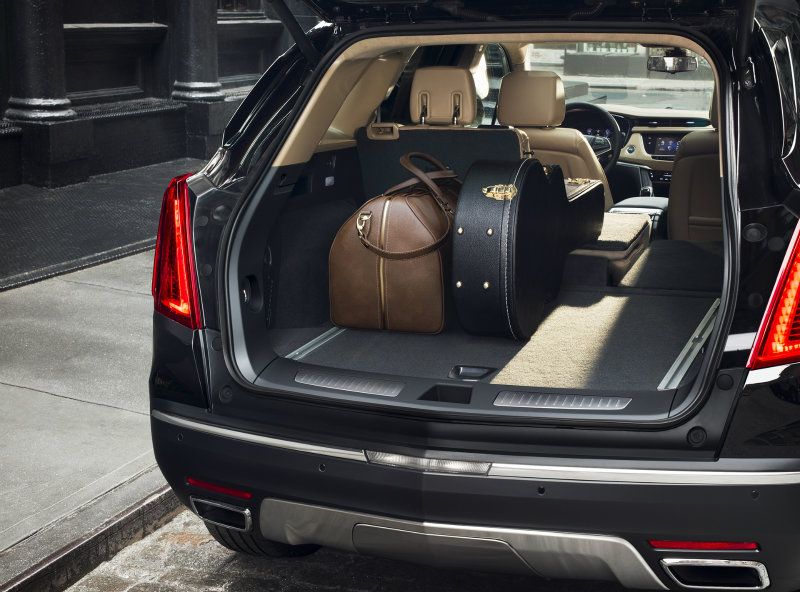 ---
Last edited by mmarshall; 09-12-16 at

04:03 PM

.
09-12-16, 02:50 PM
Lexus Fanatic
Join Date: Nov 2013
Location: WA
Posts: 5,641
---
Thanks for the write up. We had a second gen SRX as a rental in Hawaii a couple years back and really enjoyed it, other than the small cargo compartment.
On a side note, I believe you have an error in your mileage rating:
EPA MILEAGE RATING: 19 City, 22 Highway, 27 Combined
I am sure you meant 19 city/ 27 highway/ 22 combined, no?
09-12-16, 02:53 PM
Lexus Fanatic
Join Date: Oct 2003
Location: Virginia/D.C. suburbs
Posts: 69,548
---
Originally Posted by
JDR76
Thanks for the write up. We had a second gen SRX as a rental in Hawaii a couple years back and really enjoyed it, other than the small cargo compartment.

On a side note, I believe you have an error in your mileage rating:



I am sure you meant 19 city/ 27 highway/ 22 combined, no?
Thanks.....I'll correct that.
09-12-16, 03:03 PM
---
09-12-16, 03:10 PM
Lexus Fanatic
Join Date: Oct 2003
Location: Virginia/D.C. suburbs
Posts: 69,548
---
---
Last edited by mmarshall; 09-12-16 at

04:27 PM

.
09-12-16, 08:08 PM
Lexus Fanatic
Join Date: May 2012
Location: MD
Posts: 22,861
---
Originally Posted by
mmarshall
Jill...I'm simply being honest. It's not a matter of "feeling", but of fact. Actual experience with these nameplates shows that the RX350, in most cases, is likely to be more reliable, especially in the long-term, than either the Cadillac or the Lincoln....that's a given. Auto reviews are not the places to try and sweep things under the rug. Reliabilty is a critical issue for a number of car buyers...obviously not everyone, but for many. The RX's grille, though, seems to be turning off some people. Even A-One reliability, though, may not be enough to overcome the perception that the RX is wearing a Halloween mask LOL.....though the RX has a long sales-history of huge numbers, and it still remains to be seen how much the latest spindle-grille version will affect those sales.
Except for the fact that RX sales are doing just fine.
Not an RX fan, but I wouldn't choose an XT5 either.
09-12-16, 08:21 PM
Lexus Fanatic
Join Date: Oct 2003
Location: Virginia/D.C. suburbs
Posts: 69,548
---
Not an RX fan, but I wouldn't choose an XT5 either.
For buyers not swayed by the RX's potential superior reliability, given the choice between the XT5 and the MDX, for many people the Lincoln would probably make more sense, despite the XT5's nice interior and silky drivetrain. The most significant difference between the two is the MDX's transmission buttons on the dash, which are clear, concise, and easy to use compared to the frustrating, computer-controlled joy-stick in the XT5.
09-12-16, 08:27 PM
---
in the pics the shifter is in the usual spot?
also, looks like a bmw shifter!
09-12-16, 08:28 PM
Lexus Fanatic
Join Date: May 2012
Location: MD
Posts: 22,861
---
Perhaps. Perhaps not.
For buyers not swayed by the RX's potential superior reliability, given the choice between the XT5 and the MDX, for many people the Lincoln would probably make more sense, despite the XT5's nice interior and silky drivetrain. The most significant difference between the two is the MDX's transmission buttons on the dash, which are clear, concise, and easy to use compared to the frustrating, computer-controlled joy-stick in the XT5.
The MDX I would consider because of the third row, although it's small. The only vehicle in that list I would consider.
09-12-16, 08:28 PM
---
judging by the pics that interior looks horrible to me.
and you gave under hood 5 stars but to me it looks like a cheap econobox under there.
09-12-16, 08:42 PM
Lexus Fanatic
Join Date: Oct 2003
Location: Virginia/D.C. suburbs
Posts: 69,548
---
With all due respect, bit (and this is not meant to be rude)........just stop and think a minute.
That's exactly
WHY
I gave it 5 stars underhood....
BECAUSE
they did it simply, with easy accessibility, just like a compact econobox. Vehicle owners, IMO, are not served by the typical Lexus/Mercedes method of playing hide-and-go-seek under the hood, covering everything up with panels.
And, as I mentioned in the review, the big, super-thick insulation pad on the underside of the hood is anything
BUT
cheap.......I could probably use it as a mattress LOL.
I also disagree with your opinion of the interior, but respect that opinion.......styling and looks, at least to a extent, are subjective. I find it a great improvement over the SRX predecessors, especial in the quality of the trim. Where the interior
does
fall a little short, especially on base versions, is the lack of some comfort and convenience features that are more or less expected for the price.
---
Last edited by mmarshall; 09-12-16 at

08:54 PM

.
09-13-16, 08:22 AM
Lead Lap
Join Date: May 2015
Location: West Coast
Posts: 775
Thanks: 0
Thanked 0 Times in 0 Posts
---
09-14-16, 06:05 AM
Lexus Fanatic
Join Date: Oct 2003
Location: Virginia/D.C. suburbs
Posts: 69,548
---
Next planned full-review, per request: 2017 Lincoln Continental.
09-14-16, 07:26 AM