CA FS: TEIN Super Street Coilovers w/ EDFC (used: 500 miles)
02-03-13, 04:46 PM
Driver School Candidate
Join Date: Aug 2007
Location: Californian
Posts: 42
Likes: 0
Received 0 Likes on 0 Posts
FS: TEIN Super Street Coilovers w/ EDFC (used: 500 miles)
---
These coilovers are slightly used off an IS-F demo car. They have 500 miles on them max, if even that. They will come complete with front and rear OE hats, so you will not have to break up your factory suspension to install these. The EDFC kit is complete with controller, all cables, and all 4 motors. Prefer not to split up the EDFC from the coilovers.
Custom front upper camber arms are also available at an extra cost of $400. These do a way better job than the SPC ones.
Applications: IS250, IS350, IS-F
Condition: 9/10
Asking $1,000.00 shipped / $950.00 picked up.
Location: So. Cali 626/562 - you're welcome to pick them up or check them out
Thanks for you looking......Hugh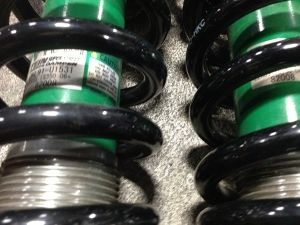 02-05-13, 01:17 AM
Driver School Candidate
Join Date: Aug 2007
Location: Californian
Posts: 42
Likes: 0
Received 0 Likes on 0 Posts