CA 19'' Work Varianza F2s
01-12-10, 05:04 PM
Driver School Candidate
Join Date: Jun 2009
Location: ca
Posts: 19
Thanks: 0
Thanked 0 Times in 0 Posts
19'' Work Varianza F2s
---
Wheels are 19x9+30 19x10+24 O disk all around.
Wheels do have curb rash, front right wheel has the most out of all the wheels. Its hard to capture it in pictures since i dont have a very good camera. The rears are really clean with very little rash, only on top of lips due to the stretch tires and normal DD wear and tare.
asking 1500 without tires located in socal.
(gtrefever is my sn over at g35driver.com)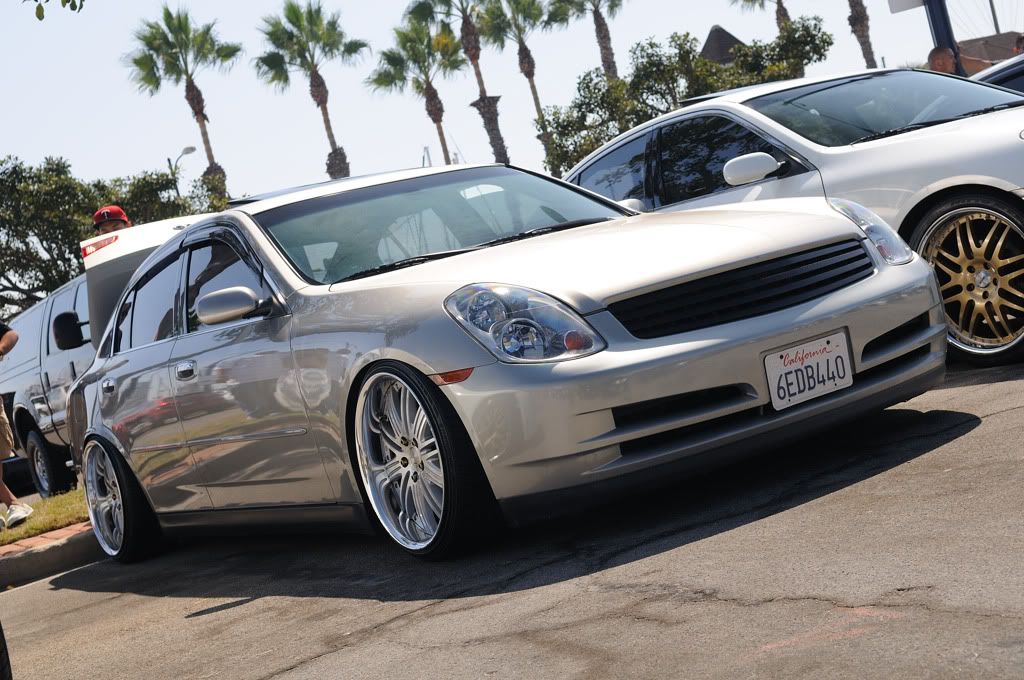 update more pics of rash 1/16/2010
front driver side
rear driver side
rear passenger
front passenger (worse rash out of all 4)
---
Last edited by sandiegoG3; 01-16-10 at

03:02 PM

.
01-12-10, 05:11 PM
Driver School Candidate
Join Date: Jun 2009
Location: ca
Posts: 19
Thanks: 0
Thanked 0 Times in 0 Posts
---
i know i need vouches, should have one soon.
01-12-10, 06:29 PM
Driver School Candidate
Join Date: Jun 2009
Location: ca
Posts: 19
Thanks: 0
Thanked 0 Times in 0 Posts
---
Thanks guys. hopefully these sell quick
01-13-10, 05:21 PM
Driver School Candidate
Join Date: Jun 2009
Location: ca
Posts: 19
Thanks: 0
Thanked 0 Times in 0 Posts
---
01-14-10, 09:31 PM
Driver School Candidate
Join Date: Jun 2009
Location: ca
Posts: 19
Thanks: 0
Thanked 0 Times in 0 Posts
---
im not sure, im not running any tpms.

as for trades unless you have anything near these specs ( 19x9 0 to -5 /19x10 0 -5)
01-15-10, 12:50 AM
Driver School Candidate
Join Date: Jul 2009
Location: Japan
Posts: 31
Thanks: 0
Thanked 0 Times in 0 Posts
---
I can vouch as well. A fellow G35Driver and SDGer
01-16-10, 11:28 AM
Driver School Candidate
Join Date: Jun 2009
Location: ca
Posts: 19
Thanks: 0
Thanked 0 Times in 0 Posts
---
01-16-10, 03:02 PM
Driver School Candidate
Join Date: Jun 2009
Location: ca
Posts: 19
Thanks: 0
Thanked 0 Times in 0 Posts
---
updates with new pics on post 1
01-17-10, 01:50 PM
Driver School Candidate
Join Date: Jun 2009
Location: ca
Posts: 19
Thanks: 0
Thanked 0 Times in 0 Posts
---
01-19-10, 09:10 AM
Driver School Candidate
Join Date: Jun 2009
Location: ca
Posts: 19
Thanks: 0
Thanked 0 Times in 0 Posts
---