My first DIY for the LS430...Here comes the BOOM...
05-27-14, 08:18 PM
---
No you can't use the existing power wire. It needs to be connected directly to the battery but believe me, that's the easy part. All pieces just snap on and off from the back seat to the front dash along the door sills. The ground connects to any boot you find in the trunk (there are plenty). The line out convertor (LOC) connects right to the existing 4 subwoofer wires and you can get a switched connection (turns the amp on when car is on) from a fuse box in the trunk under the lift up panel on the left side of the trunk.
The hardest part of the whole process is getting the back seat and rear shelf cover off (which you need to do to change or repair the sub anyway). Install it all and tune the LOC and amp (good easy to follow instructions on crutchfield.com site) and you have some good sounding (and feeling) bass. The amp I used was cheap, guaranteed for 3 years and comes with a remote that I ran while I ran my power wire and installed it under the dash so I could adjust the sub volume (if needed) easily.
05-27-14, 08:23 PM
---
I'm likely going to cut the sub opening a little and try a 10" sub. There's plenty of room (I don't have a UL model) in the rear deck to opening it up for a 10" sub. I wish I would have taken it apart before buying the sub because I would have bought a 10" sub to start. Don't get me wrong the 8" has plenty of boom. I just like experimenting.
---
Last edited by Brewmyown; 05-27-14 at

08:50 PM

.
01-30-15, 12:10 AM
Driver School Candidate
Join Date: Dec 2014
Location: CA
Posts: 6
Thanks: 0
Thanked 0 Times in 0 Posts
---
Thanks to this thread, I installed a Polk Audio db840DVC sub, and it works. Wired in series, for 8ohm resistance. Getting some rattle when I crank it up, so I'm going to pull it back out when I have some free time to try and dampen the vibrations. Seems to be hitting the mounting brackets when the cone makes big movements.
I really advise taking some pictures of the stock sub with the brackets attached before you detach the sub. The brackets are not fully symmetrical, and the wire connections have to be on the same side as the original. I ended up having to pull the Polk back out to get the brackets right.
Also, I had to buy a pry tool to get the rear deck clips out because they were in so tight.
Nice to have some bass again!!!!
03-19-15, 02:47 PM
Driver School Candidate
Join Date: Jun 2013
Location: wa
Posts: 10
Thanks: 0
Thanked 0 Times in 0 Posts
---
Originally Posted by
RomanTPA
So if 8ohm will work... here is good cheap replacement, and its $40 right now

Kicker 10C88
Comp 8" 8-ohm subwoofer
power requirements look like this will be good to work with factory amp without putting much more stress on it
Size 8 -inch
Impedance
8 ohms
Cone Material Injected Polypropylene
Surround Material Ribbed foam
Free-Air Yes
Dual Voice Coil No
Sensitivity 85.6 dB at 1 volt
Frequency Response 30 - 500 Hz
RMS Power Range (Watts)
50-100
Peak Power Handling (Watts) 200
Top Mount Depth (inches) 4 1/16
<<<YOU CAN GET IT HERE>>>
I hope this helps for all of you that complain about either:
a.) cant find good price
b.) cant find 8ohm sub
c.) cant find free air/infinite baffle
d.) cant find a cheap free air 8" sub
Hey there do you know if there is another option for a replacement sub as the Kicker 10c88 is no longer available.
03-20-15, 01:35 PM
Driver
Join Date: Mar 2014
Location: WA
Posts: 102
Thanks: 0
Thanked 0 Times in 0 Posts
---
09-09-15, 07:55 PM
Driver
Join Date: Oct 2009
Location: Quebec
Posts: 150
Thanks: 0
---
Originally Posted by
honasbone
For what it's worth, I replaced the foam surround on the stock sub and added dynamat the rear deck. I then move the fader to the rear a couple notches. Plenty of bass now. Too much bass on some rap songs actually (not the fault of the stereo - the fault of the record producer/sound engineer that decided to make a loud album). Makes for a balanced music experience with all other genres though. Not sure if you've considered that route yet or if it works for your situation. Thought I'd put it out there in case it helps some.
I just replaced the foam as well - 23$ plus shipping - Sounds great so far.
I had lower the bass to the max until this fix. Now back to normal. While cranking the volume a bit to test the refurbished sub, I noticed another shut/cracked speaker in the rear/passenger side door.
One thing fixed just to find out another one was bad - Dammit!
09-08-16, 09:12 PM
Driver School Candidate
Join Date: Aug 2016
Location: Alabama
Posts: 43
Thanks: 0
Thanked 0 Times in 0 Posts
11-02-16, 04:16 PM
Lexus Test Driver
Join Date: Oct 2010
Location: CA
Posts: 1,174
---
Local Sac (CA) area stereo shop does a lot of Lex sub woofer replacements. Highly recommended by local Lex dealer. I took the car over expecting him to do the remove the seats routine. Nope. Cut it out. He does all this way and tells me reinstall is secure.
It's been sent out to be refoamed, new voice coil and cone. Checked all the other speakers. No problems. I now actually hear the music (no more cracking popping sub woofer) and ML does sound nice. Should be great w/ the "new" sub woofer. Total price is 250.
01-23-17, 11:40 AM
Thanks for this tip. Worked great.
---
Originally Posted by
mikemareen
Here are some pics:
Just remove the grille and use some clear 3M silicon glue from home depot, just seal out the outer circle of the foam surround. Every Levinson subwoofer is going to have this problem sooner or later, the surround is poorly attached to the plastic ring. Weather and normal usage will easily detach the foam from the plastic ring.
It's quick, cheap and works great! sounds as good as new!!! save yourself time and 400 bucks for a brand new woofer!
and btw, the subwoofer is 2ohm (just as I thought) , NOT 16 OHM LIKE SOME OTHER FOO'S SUGGESTED. You can use a readily available dual 4 ohm subwoofer wired in parallel to give u a 2 ohm load. Just make sure it fits and efficient enough to be loud with around 40 watts.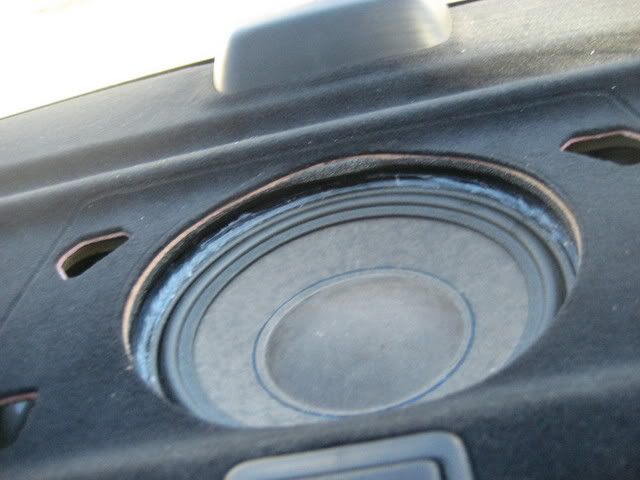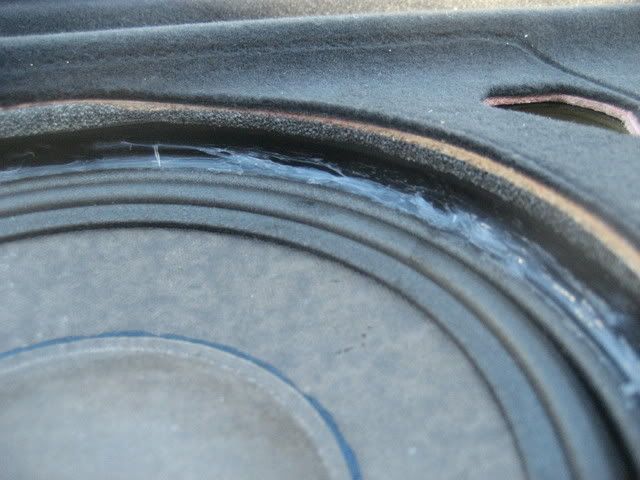 Thanks for this tip. Just bought a 2002 LS430 with the same issue. Used clear silicone like describe and waited 24hrs. Works great now
without that awe full buzz and rattle it had before.
03-08-17, 04:37 PM
Driver School Candidate
Join Date: Dec 2015
Location: MA
Posts: 2
Thanks: 0
Thanked 0 Times in 0 Posts
---
So it looks like it may be possible to swap in a new replacement sub woofer with out removing the back seat. Instead a dremel is used to enlarge the existing holes on the back deck to make access to the sub woofer possible. Has anyone tried this? Is it really as easy as claimed?
I discovered this possibility from a detailed YouTube video that shows how to access the sub woofer using the common method of going through the back seat....
But in the comments for this video poster cgfive227 states...
"I did this yesterday and it took me 15min? Why did you go through all of that? It has 4 BIG HOLES right next to the bolts just use a Dremel rotor and do a bigger clean cut to reach the bolts! It's stupid simple and the speaker and the holes that where ALREADY there from factory are covered!!! The car is 10+ years old, this is the first time the speaker has been looked at who cares if he holes are a little bigger no one will know for another 10 years! AND it does not effects outdoor or quality cause it already had big holes! All this extra stuff is nonsense and a waist cause IT'S COVERED and already HAS BIG HOLES! Again took me 10 min!?"