vsc. Abs no radio no keyless no dome light randonly
01-19-14, 04:20 PM
Lead Lap
vsc. Abs no radio no keyless no dome light randonly
---
drving on the highway my radio and cig lighter go off, and notice the ignition key light, keyless locks and dome light and the green light which shows your lights are on. All stop working. Then little bit later the radio starts flickering on and off. Abs and vac stay on.
So its not a blown fuse, more likely poor ground somewhere (i checked fuses).
aby idea where this connection might be for all these things to go haywire?
01-19-14, 06:51 PM
Moderator
Join Date: May 2003
Location: California
Posts: 18,036
---
My thoughts:

1. Alternator but that one is usually indicated by <engine> ,<brake> and <battery> .
2. The salted roads and or in combination with some wire chewing critter has been having lunch on your wiring harness.

Check the neg and positive cables connecting to the battery, including the terminals for a good connection.
01-19-14, 08:12 PM
Lead Lap
---
Those are fine. Alterbator charing at 13.9 at idle, new battery at 12.8. Also qhen car was sitting park just now, something would randomly turn on and off erraticaly. sounded like a rotating sound. Could hear the replay click on then this component whirring. Unplugged battery for now.
Heres the video
01-19-14, 09:44 PM
Lead Lap
---
It seems that all the componentsthat sre going out are tied to the same ground "ig" from the favtory wiring manual. All share common ground at the right hand instrument panel brace.
01-19-14, 09:55 PM
Lead Lap
---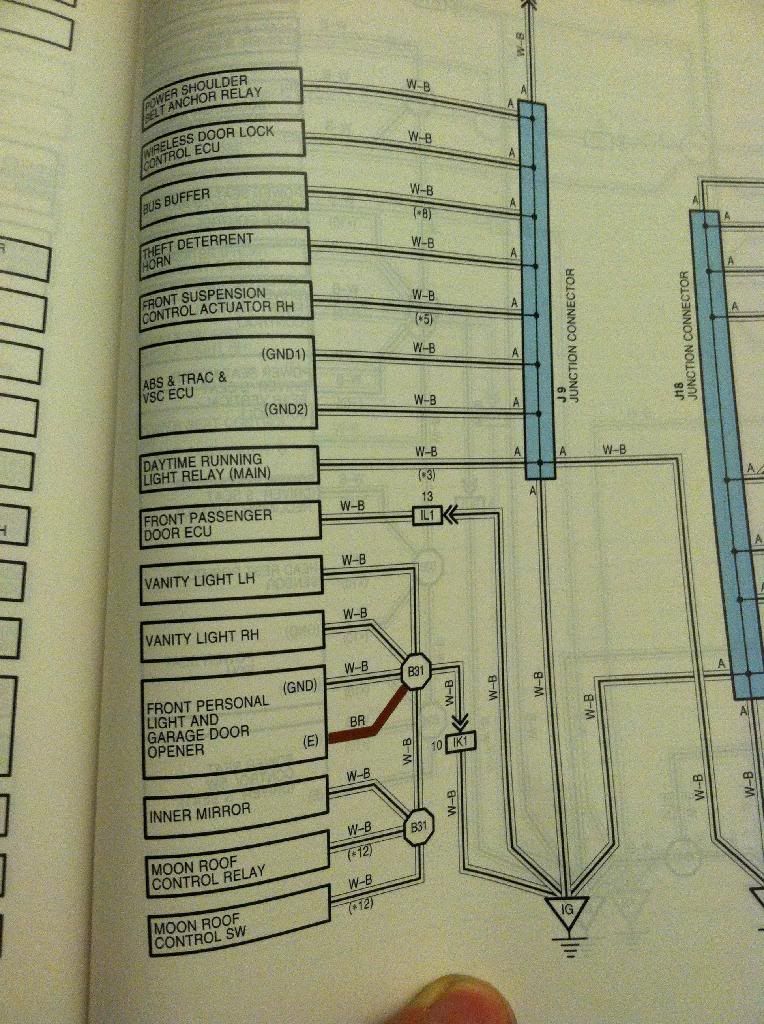 all the things that go in and out conne t to ig and if.
Most likely something on ig ground which is behind the radio. 2 days ago i pulled the center console top off to look at the seater heat switches, and pull up the cable to the airride cotrolled in the cig lighter (takes power from old cig lighter), i probably yanked on something.
Hopefully its not a bad body ecu, but i doubt it sonce te trunk relase keyless still works, and its on another fround (bn)
01-20-14, 04:13 PM
Lead Lap
---
That whirring sound in the engine bay is the abs pump by the whole abs controller.
It turns on with key off.
Turns off whith key on. does a little check, then toggles on and off randomly. pulled the blue abs relay that turned it pff. vanity lights, keyless etc still not working
01-20-14, 04:34 PM
Lead Lap
---
All these ecus and relays and a ground for them is located behind the glovebox/passwnger dash corner. reallly dont want tp take this apart. any ideS what could be the culprit or how to diagnose the specific problem?
01-20-14, 08:44 PM
Lead Lap
---
i dont think its just the abs ecu since the vanity lights, cig lighter and radio are all flickering in and out. strange that the ABS motor turns on as soon as you turn the ignition on.
how do you remove the glovebox to get access to the ground and ECUs behind there
??
01-21-14, 07:20 PM
Lead Lap
---
guys im at a total loss. all fuses fine, all grounds fine, all connections fine. I seriously dont understand. I do not understand why the abs motor turns on bytiself with key off. and i dont get why i cant get power to keyless, cug lighter, radio, vanity lights..
01-21-14, 08:33 PM
Moderator
Join Date: May 2003
Location: California
Posts: 18,036
---
Pull the ignition cylinder and check the contacts. I'm not familiar with the LS's ignition key cylinder so I can only guess that is may be of similar build as the door cylinder which is a soft phenolic. The contact material may have smeared causing it to short.

My other thought is the fender harness.
01-22-14, 04:51 AM
---
Don't give up. It's a bit early for you to say, "I don't understand."
Without seeing the car, I only can advise you just a little but I find some common issues there in your description. The radio and the cig lighter are the common line connected to the "ACC" line of the "ignition switch" and it is connected to the "AM1" line and then to the fuse "40A AM1". This is a single line. It is just natural to have a common problem at the radio and the cig lighter.
Did you check whole this line including not only the fuse but also each connecting points and the switch using a small resistance meter?
Why don't you start your trouble shooting at here?
01-22-14, 07:13 AM
Lead Lap
---
RA40, woudl this harness be in the driver or passenger fender? I ride low, and with these winter tires being slightly bigger than my summer setup, im wondering if i chaffed something (i dont have inner fenders). I checked the driver side but everything looked fine.

Thank you Yamae and RA40 for your input. I shall trace down the AM1 line and do a continuity check whever I can stick my big fingers into.

What is most perplexing to me is why the ABS motor stays running with the key off, then turns off with key on. Any thoughts on that?

One final question. On the interior fuse box under the lower dash area, there is the fusebox and 3 connectors. One of them is a blue connector which i believe is the cowl wire? Looking at the pinout, it should have 4 wires to it, pin 1,2,3 and 4 i think. This is connector 1E.
Pin 1 says its supposed to be a ground, a white w/grey wire going to it. Most perplexing-there is a solid grey wire that seems a littel too long to be factory, hanging in the area, and you can see it was ripped off. But there is no metal lock pin within the plastic connector on pin 1, which is weird since this is a ground point if im reading the schematic correctly. I stripped the wire and pushed it into the connector but no dice.

Obviosuly its a little tough to imagine what im talking about, i will get pics and run some more tests when im off work tonight.

The abs has me stumped and a littel worried frankly. The other stuff im sure is just a loose wire somewhere.
01-22-14, 08:43 AM
---
I only can give you some more hint about the relationship between the ABS and the radio/cig lighter. The "AM1" line and the "IG1" for the ABS are next each other at the ignition switch. The ABS computer gets part of the 12V energy from the "IG1" which is the next contact of the "AM1" at inside of the ignition switch. Now you can feel something that you should not be giving up.
Suppose there's some foreign metal object at those two, what will happen?
I'm worrying about that it is causing a semi short circuit or something unusual and causing your problem.
As
RA40
wrote, it may be a good idea to check the ignition switch using a circuit tester precisely. I mean to measure between the regular passage of the current as well as the passage where there should be no connection/current going through.
Don't give up troubleshooting. I always enjoy doing it because there is no trouble that has no cause. Sometimes the answer is too simple to find but sometimes too difficult to enjoy. But the more difficult, the bigger the joy when finding it.
---
Last edited by Yamae; 01-22-14 at

08:47 AM

.
01-22-14, 10:44 AM
Lead Lap
---
Thank you Yamae. I agree with the joy of fixing something difficult, but man i hate car wiring lol. Always the toughest places to get to! and i always break clips takign interiors apart
01-22-14, 11:18 AM
Lead Lap
---
http://www.ebay.com/itm/AIRTEX-1S6322-Ignition-Starter-Switch-/261380838346?fits=Year%3A2000%7CModel%3ALS400&hash=item3cdb8313ca&vxp=mtr
if i find the switch is defective, is this what I need?