DIY: Install an auxiliary port in your SC
07-09-11, 09:05 AM
Rookie
Join Date: Jul 2004
Location: Canada
Posts: 67
Likes: 0
Liked 0 Times in 0 Posts
---
Maybe he's busy?
Dunno. Here's the link to his website. He replied to me within a day and a half of me sending a request:
http://factoryradioservice.com/
Specific link to the Nakamichi deck mod:
http://factoryradioservice.com/lexus...nput-p-52.html
And the costs to implement in your car:
Lexus SC400/SC300 Cassette Radio with AUX input
Internal AUX Modification to front
Style No. LE008A

Switching from iPod to radio or radio to iPod will be as easy as removing the AUX cable!

To modify your radio as shown in this picture, please fill out and print the Repair Request Form and sent it with your unit. Please be sure to note the style number! This model's internal AUX modification will be $60 + $15 Shipping and Handling in the US.

If you prefer, we can modify this model to have an External AUX Jack to be mounted to any part of your console (Style No. LE008B). This modification will not change your radio's faceplate, but you will need to mount the AUX jack. This model's external AUX modification will be $60 + $15 Shipping and Handling in the US.
08-10-11, 07:16 PM
Driver School Candidate
Join Date: Jul 2011
Location: 1
Posts: 3
Likes: 0
Liked 0 Times in 0 Posts
---
Hey guys,

I have a 91 with the tape deck (its a Japanese import if that helps identify it), how to I tell what model it is to know if it has the three prong plug before pulling everything out? Desperately want an aux in but haven't been able to find anything about using the cd changer line etc so this seems like a good route.
08-11-11, 03:56 PM
---
Honestly, i couldn't tell you. If you were to take some time out from your day and just check it, and report back here if it's doable, that'd be appreciated. It'd be nice to keep tabs on all the factory radios that this works for.
08-31-11, 06:18 AM
Rookie
Join Date: Jul 2004
Location: Canada
Posts: 67
Likes: 0
Liked 0 Times in 0 Posts
---
FYI -
I had the guy at
http://factoryradioservice.com/
install an auxilary jack in my SC400 Nakamichi head unit. Cost me $60 + shipping, but it works pefectly. All you do is put the radio on, and then plug the AUX cable into the port on the front of the HU (or into the cable he'll install from the back of the HU if you prefer), and then plug the other end of the cable into your MP3 player - and BAM, MP3s off your radio.
Awesome!
09-14-11, 02:29 PM
---
Well, yes, you don't need to use the exact components i listed. But the reason for servo cable is that it's a direct plug in. And then that AUX jack from radioshack has 3 easily solderable points and a threaded body, so it's very easy to mount on the rear of the radio housing.
09-21-11, 02:39 AM
Driver School Candidate
Join Date: Jul 2011
Location: 1
Posts: 3
Likes: 0
Liked 0 Times in 0 Posts
---
10-06-11, 01:19 AM
Moderator
---
I just did this modification today and it worked out perfectly! My tape deck is broken so I have to use my CD player function to get a dead channel to play through but it operates just the same way.
UPDATED:
When I used a standard stereo cable for the aux connection I would get a buzzing feedback signal in the sound system whenever I plugged in my iPhone charger. I would also get a high pitched static whine noise when the engine revved. Unplugging the charger made it go away. This thread describes the same issues and recommends using a ground loop isolator for the audio connection:
https://www.clublexus.com/forums/is-...er-outlet.html
Radio Shack has these for $16. You can get any ground loop isolator you want. They all perform the same function.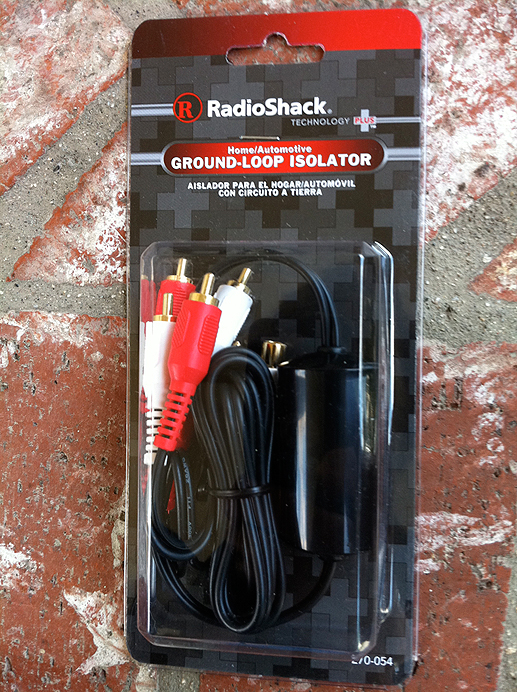 And make sure you have whatever adapter accessories you need to go back to a standard 1/8" connection. Some other GLI models are 1/8" on both ends. The Radio Shack model is dual RCA. The gold double-ended connector shown here was actually the wrong size-- bought it by accident. I found a spare one in my toolbox.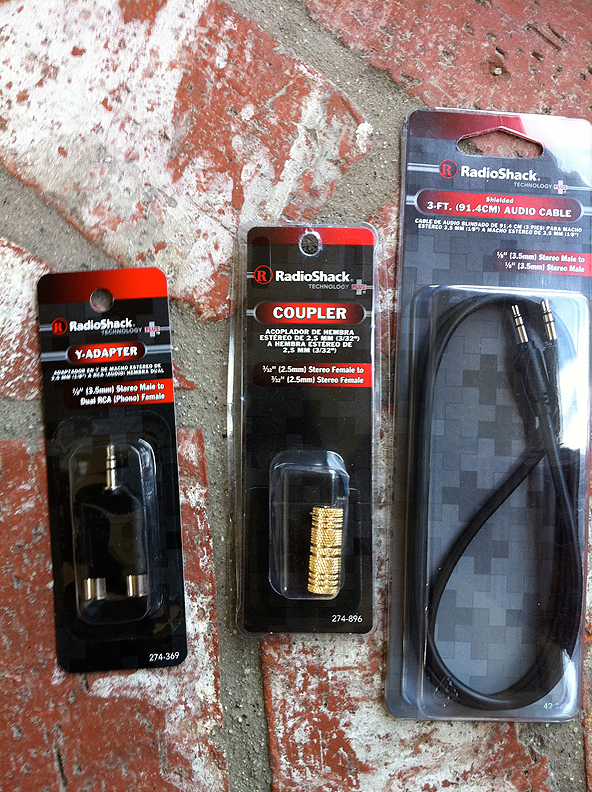 And here it is installed in the console. I stuffed it just under where the cupholder goes.
Now your audio should sound perfect and crystal clear regardless of whether you are charging your iPod/iPhone/whatever.
I also found this other ground loop isolator model that offers stereo sound and charging out to a standard iPod/iPhone dock connector. I am trying to find out if the pinouts work for iPhones.
http://www.pyleaudio.com/sku/PLDN36I...io-Line-Driver
http://www.amazon.com/New-PYLE-PLDN3...=1FCX8331JJLWD
---
Last edited by KahnBB6; 10-06-11 at

04:37 PM

.
10-17-11, 08:27 AM
Driver School Candidate
Join Date: Sep 2011
Location: Riga
Posts: 32
Likes: 0
Liked 0 Times in 0 Posts
---
Hey guys and girls!
Today I bought everything to hook everything up... but I can't find those connectors?
I saw that someone had the same problem, but how it was solved, can anyone help?
10-22-11, 06:41 PM
---
KahnBB6, thanks so much for that! I'll edit my first post to inform people about that.

S14DST, sorry it didn't work out. If you provide more info about your car and what radio you have, whether it's a Pioneer or Nak system, would really help out.

I really need to compile all the years that this mod works on....i'll get to that shortly.
10-22-11, 07:06 PM
Moderator
---
Pieisgude, thank you for discovering this mod in the first place! It's such an easy way to give an otherwise decent stereo system new life. Plus, no need to put a flashy, thief-friendly headunit in the dash just to use an iPod connection