DIY: AUX to Stock Stereo
10-09-10, 07:26 PM
Pole Position
DIY: AUX to Stock Stereo
---
First of all, thank you PureDrifter for making a DIY and having a lot of good info on there.
https://www.clublexus.com/forums/lex...em-stereo.html
Now, what does this DIY do?
-Well have you ever been pissed off because your cd changer doesn't work? Well I definitely have. Then you get sooooo excited because one day your cd changer miracoulously works and as soon as you hit a bump on the road, this appears, "ERR"! And to top it all off, your cassette player doesn't work, and you're forever stuck with the stupid radio. Unless you want to buy and install a nice pretty deck, but what if you're broke or you don't want to mess with the stock system that dramatically, then what do you do?
-Well that is why I did this, because I know there's a lot of people out there that are in the same boat as I am. I know there are probably other "similar" DIY's out there, but I wanted to make one specific and straight to the point for the SC's.
-The point is to salvage the wiring from the rusted cd changer and wire up an AUX input for your music cravings.
Disclaimer before we begin...
-Doing this will create a connection where it is always open. If you are in FM mode and connect your iPod and play it, you WILL hear your iPod, since the head unit has no control over your iPod to turn it off, like it does to your cd changer. Just turn off your iPod when your done listening to it and you'll be fine.
Now to get on with business, PureDrifter's DIY is a little bit more complicated, well at least more work, since both the new AUX input and the cd changer work.
What I did is this...
I took his original diagram...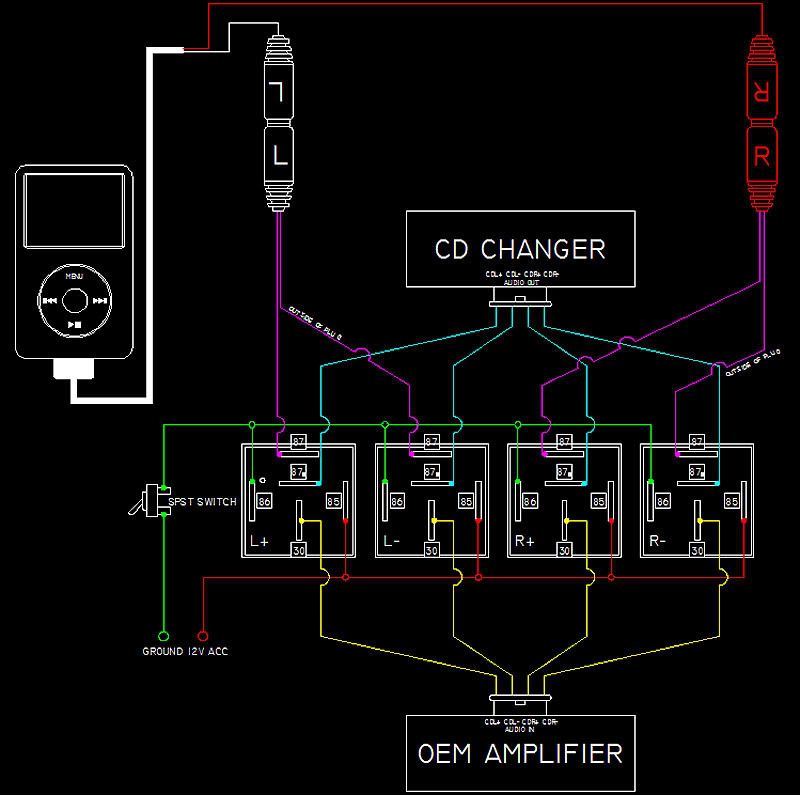 ...and wired it this way...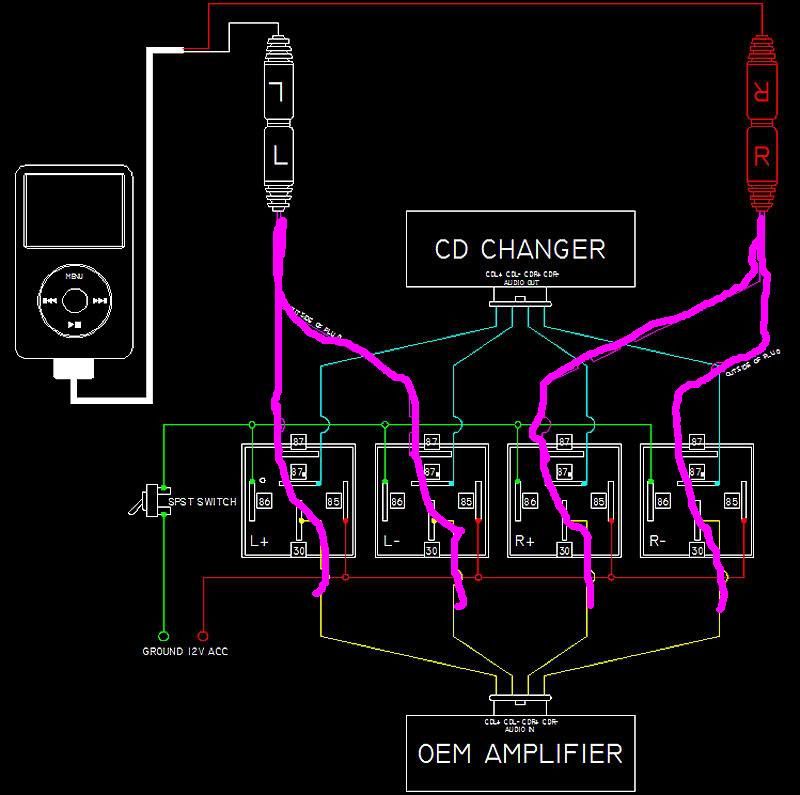 To answer a few questions off the bat that may appear...
1. Will the sub still work?
-Yes, in fact I think it gives it better sound due to the better quality music running directly into the system
2. How long will this take?
-About an hour from start to finish, even for a beginner
3. Is this reversible?
-Of course, but why would you want to?
4. Do I NEED to have the stock cd changer?
-Yes, or else you won't have a mode or channel to play your music through. The cd changer just needs to turn on and that's it.
5. I just did this and barely hear the music coming from my iPod, why?
-Make sure your iPod's volume is turned all the way up.
What materials do we need?
-RCA to speaker cables
-RCA female couplers (X2)
-RCA to iPod connector or stereo jack, I went with the regular stereo jack for versatility with all music devices
-Soldering gun
-Heat shrink tubbing
-Phillips screw driver
-Wrench with a 6" extension and a 10mm socket
-Wire cutters and strippers
-Regular CD to salvage
Step 1:
Remove all trim...First the shift boot. Just get a good grip on it and pull up. Then the cup holder tray, also get a good grip on it and pull up, give it a good tug. This will expose these 6 Phillip head screws. 1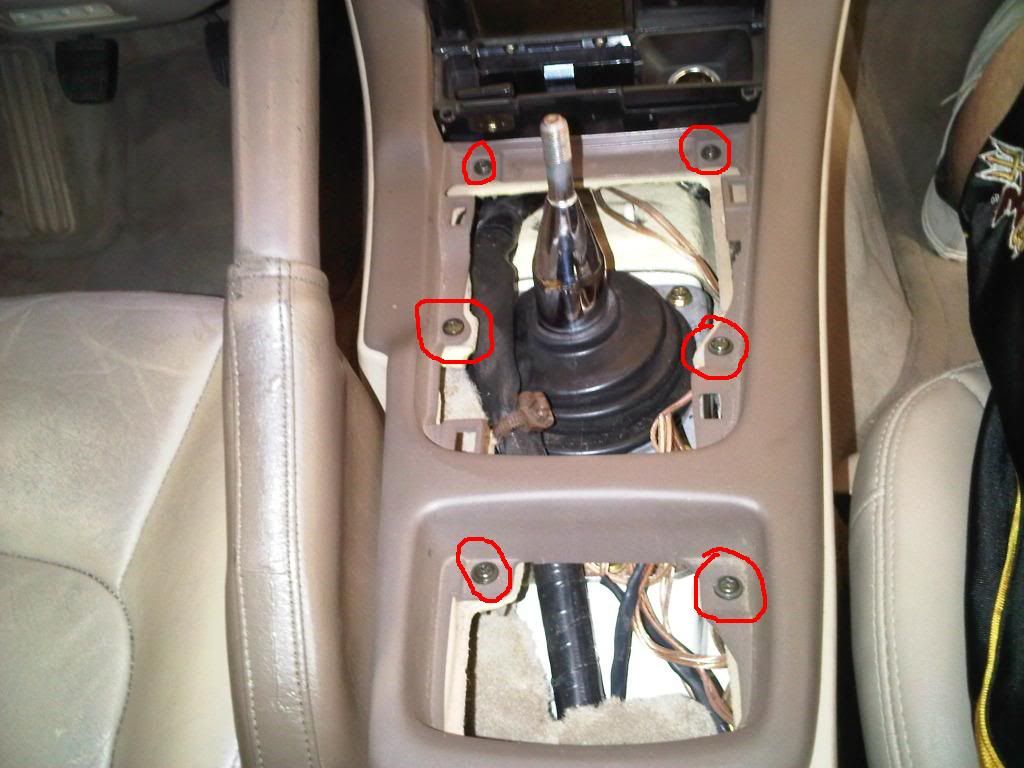 Don't yank the bezel all the way off. Make sure you get these clips off as well. 2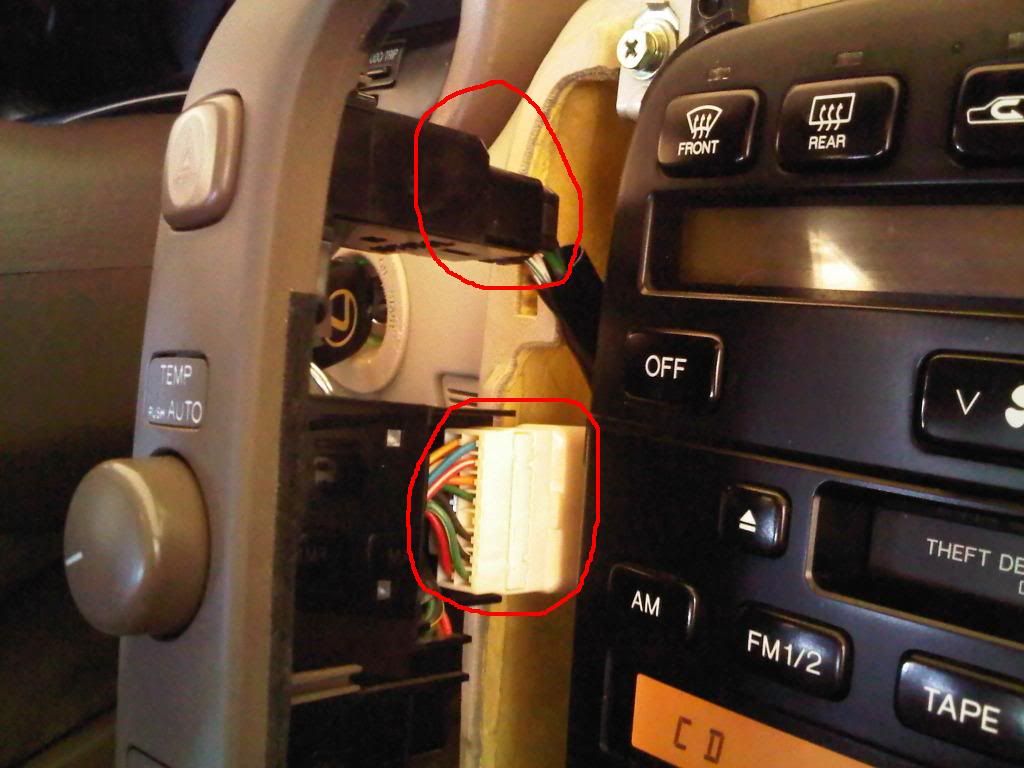 Also, don't forget about this cigarette lighter clip. 3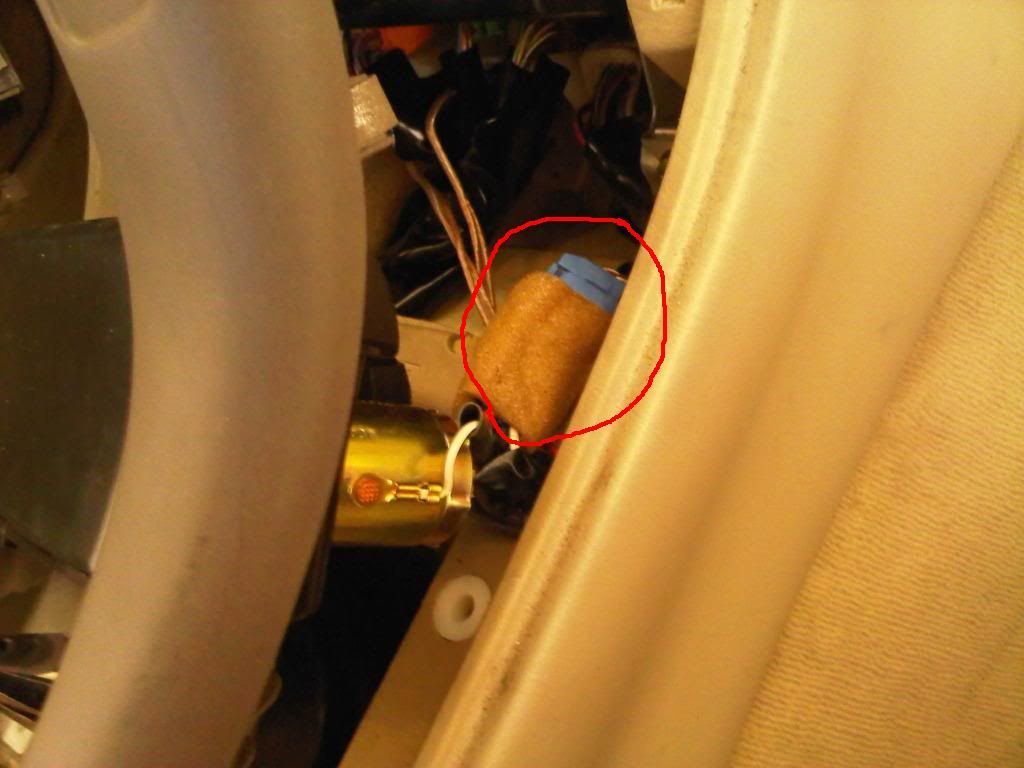 Now you should be exposed to 5 plugs under the stereo 4 Phillips screws and 2 10mm screws. Remove all of this, and make sure you get the plugs out of the way just for more wiggle room. 4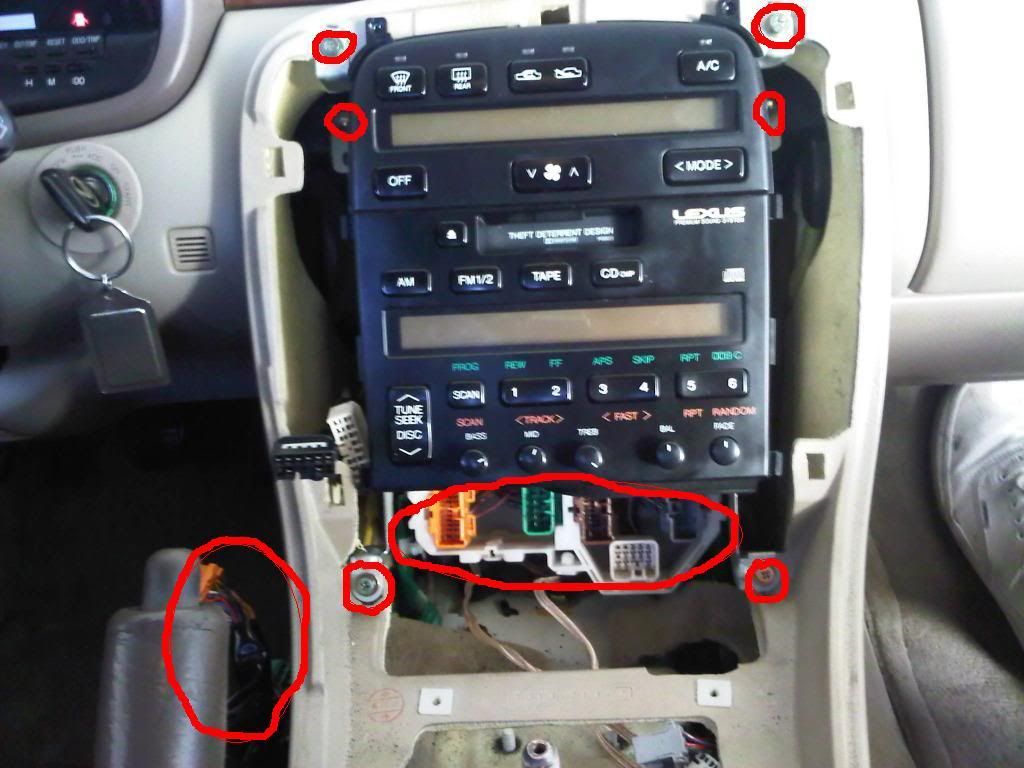 Now remove all the plugs, except for one, behind the stereo and climate control. The antenna cables just pull out. 5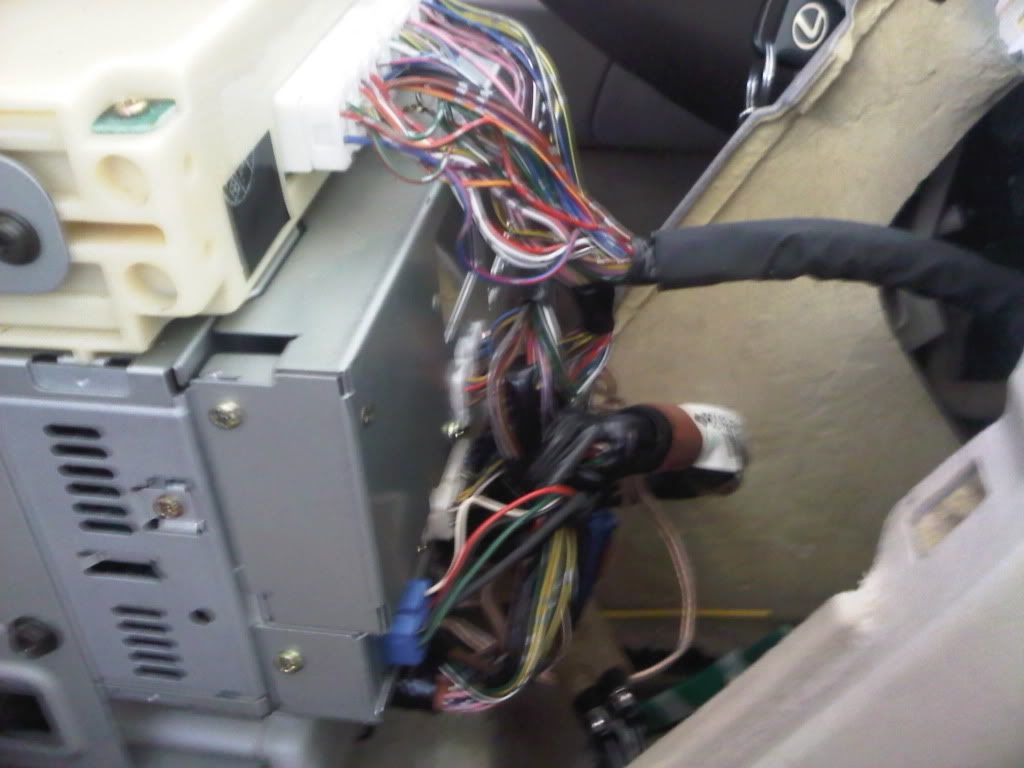 This is the plug that we are going to use. 6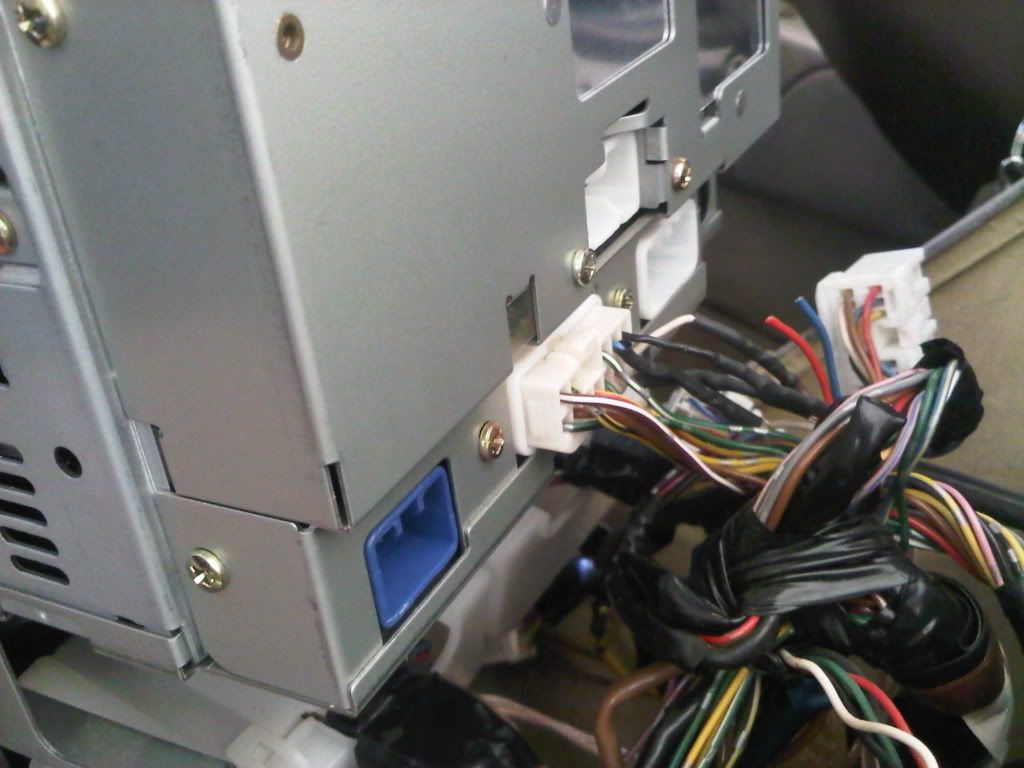 The last 4 wires are the ones we are interested in. Colors are Red, White, Blue, and Black.
CD R- = B1 Black
CD L- = B2 Blue
CD R+ = B5 White
CD L+ = B6 Red
Cut and solder the speaker side of the RCA to speaker cables to those on the plug, respectively to the appropriate polarity. 7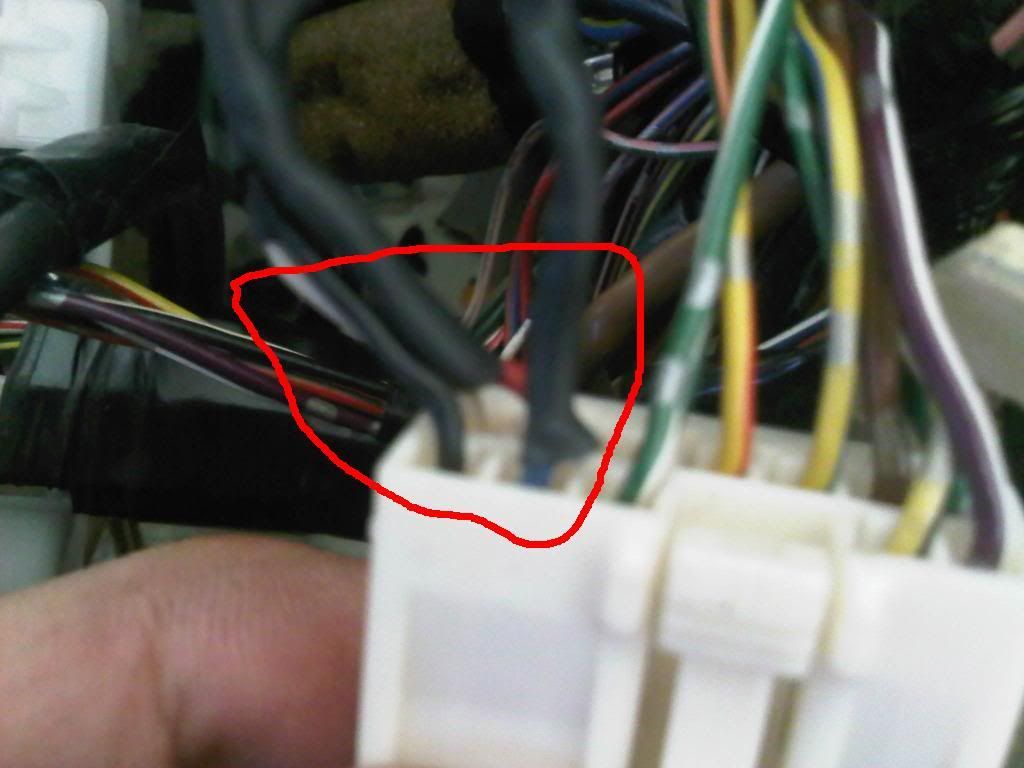 Run the RCA side down towards the center console. 8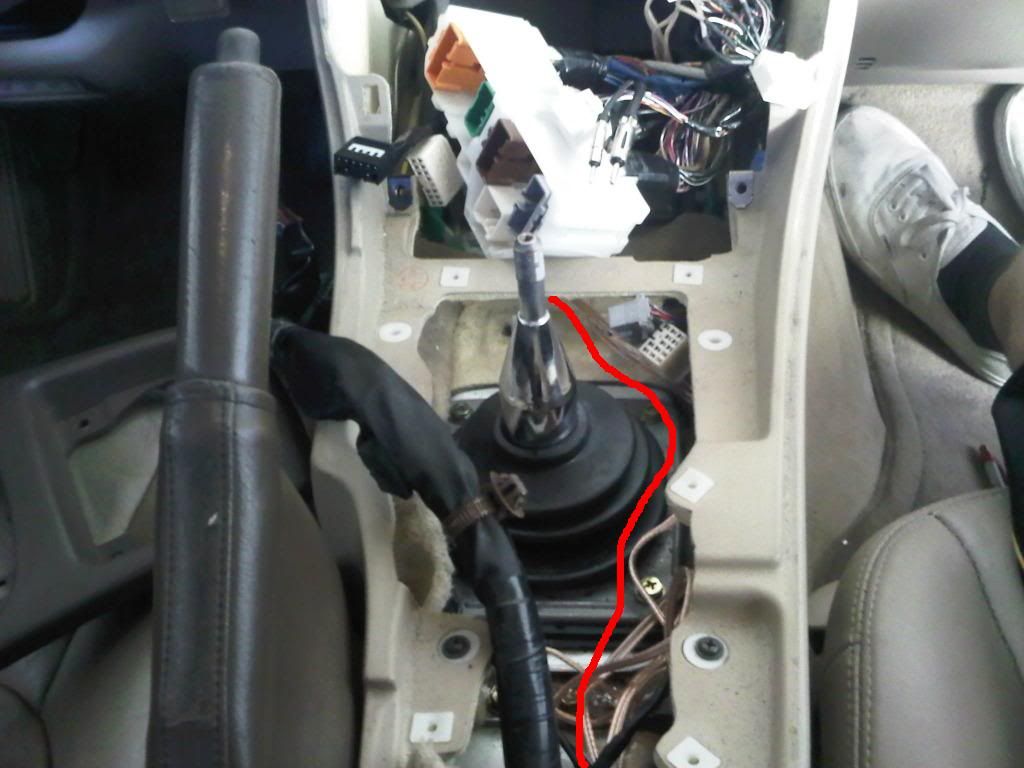 Remove the center console. Remove the small rug inside to expose 3 10mm screws and 2 Phillip head screws. 9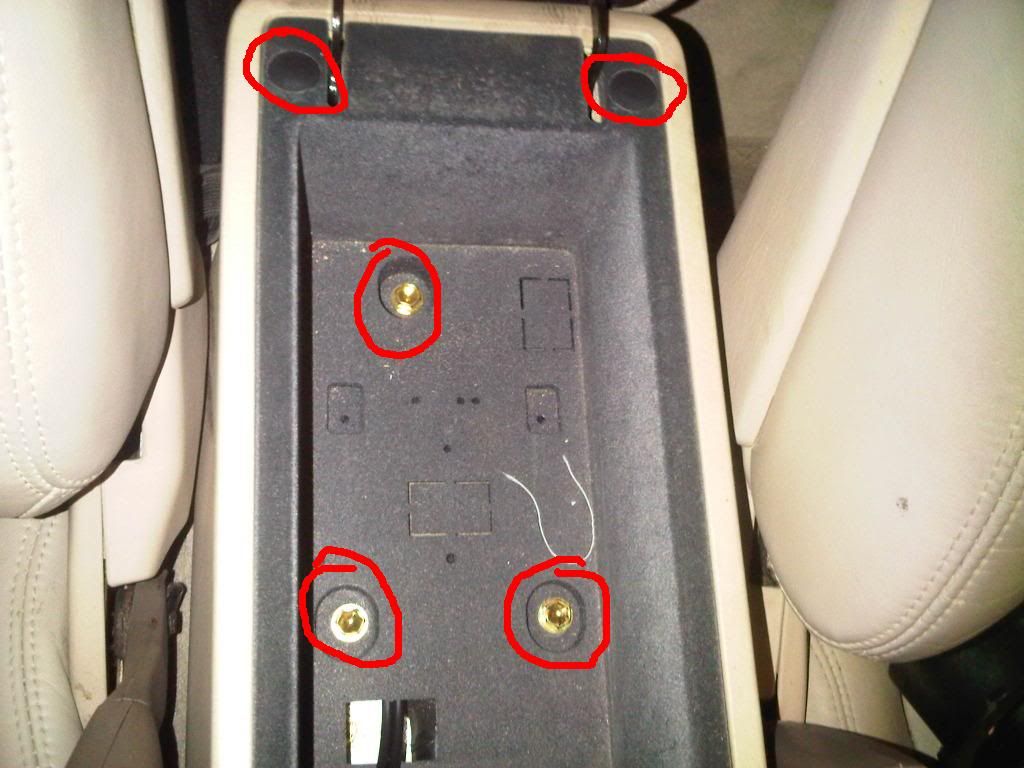 Now on the center console I punched a hole to run the wiring through there, as you can see. 10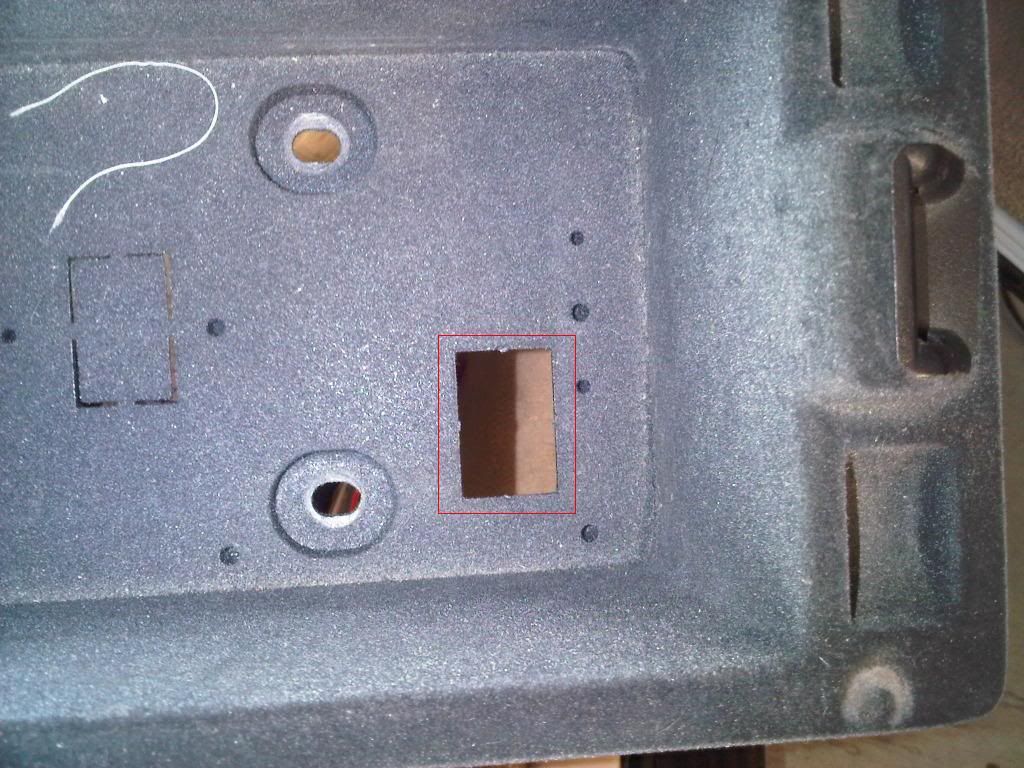 Now you are able to attach the couplers to the RCA male side. 11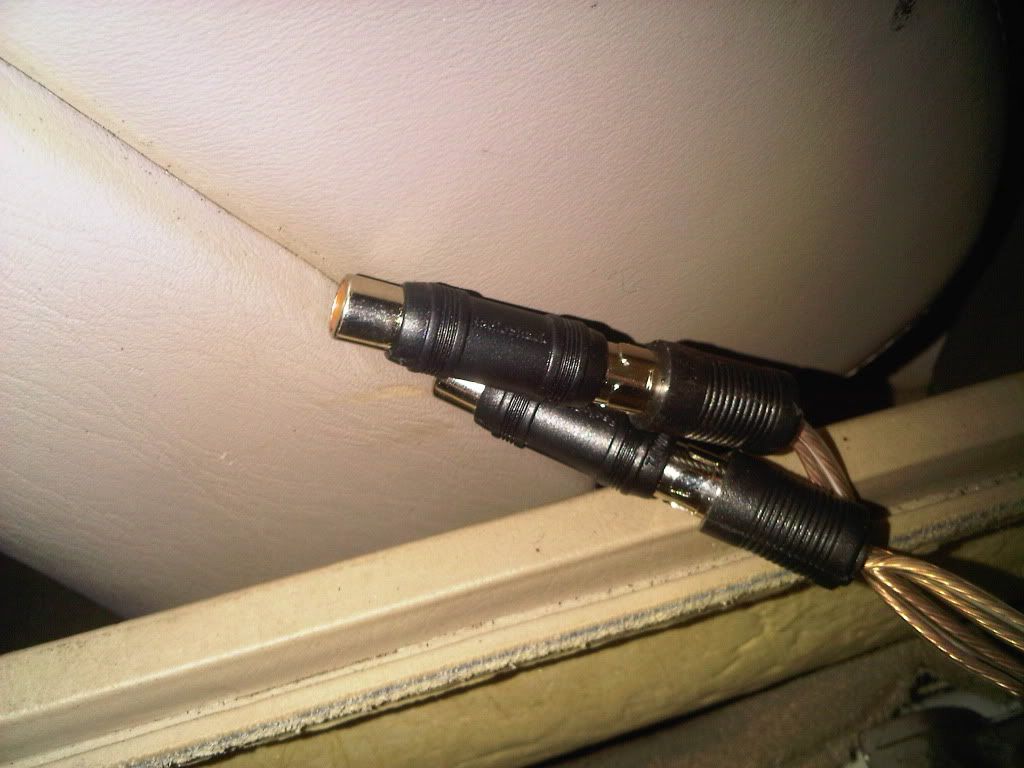 Then you can connect the final cable, the RCA to stereo jack or iPod connection. 12
Run the wiring through the whole in the center console, put everything back together. You are 97.4% complete. The last piece of work consists of being in the trunk.
Get a cd you don't mind messing up and scratch the heck out of it until you are positive your cd changer can't read it anymore. Put it in, and the goal is to get this message when trying to play your cd. 13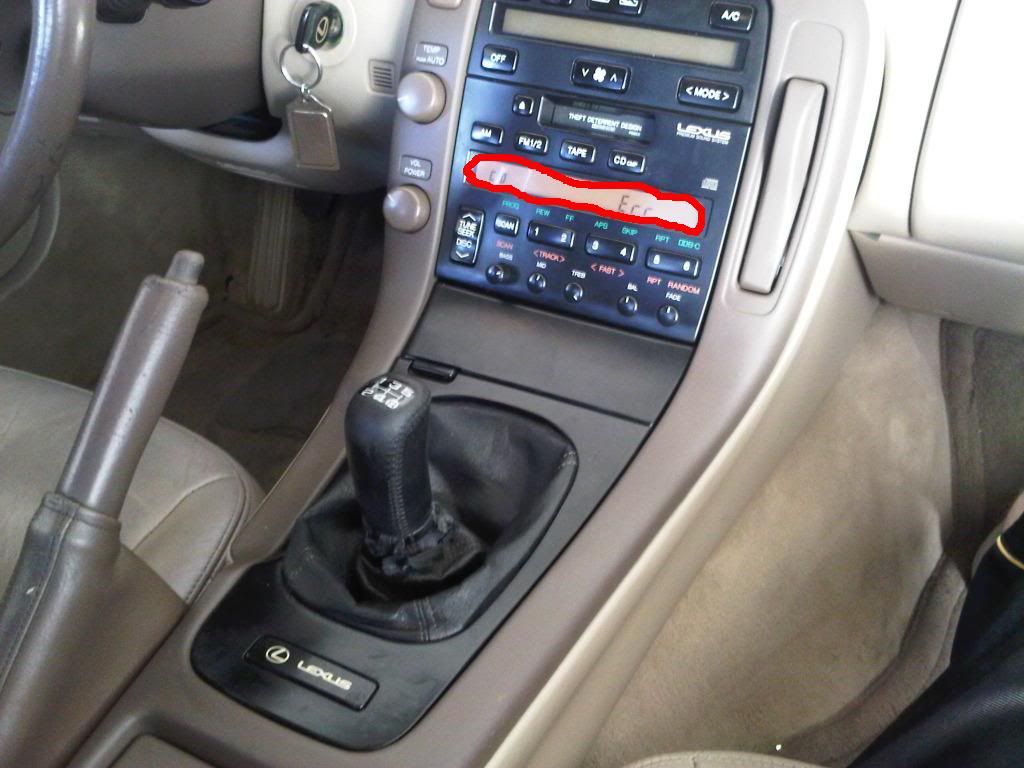 You are now finished. Connect your iPod or whatever you use, put your volume on the device all the way up, and enjoy your music!
---
Last edited by outlaw0209; 10-11-10 at

12:38 PM

.
10-10-10, 01:09 AM
Pole Position
---
10-10-10, 06:43 PM
---
hey i just did your DIY and for some reason my CD button does not work. Nor does the tape. Any ideas?
duhh i gotta put the cd mag in there
finished it and it sounds great, just a little fuzzy sound but when i turn up the volume it goes away. my bass kicks now
thanks once again
---
Last edited by abounly; 10-11-10 at

12:53 AM

.
10-10-10, 11:14 PM
Lexus Champion
Join Date: Feb 2004
Location: Southern California
Posts: 1,937
Likes: 0
---
Nice writeup. Have u tried using a 30-pin to RCA iPod cable instead of the RCA to 3.5mm one? U may get a cleaner sound from it and be able to charge your iPod from just one cable.
---
Last edited by rgarjr; 10-11-10 at

12:30 AM

.
10-12-10, 11:04 PM
10-13-10, 01:14 AM
BahHumBug
10-13-10, 08:35 AM
---
Ah i see, well i could agree with you, but i never use my CD player
I thought when you mention that you didnt like it that way cause you can short circuit! But it has been working fine for me. I was planning on getting a sub but now i dont need it!
10-13-10, 09:22 AM
Pole Position
---
The main reason I did it this way instead of your way PureDrifter is because I plan on gutting out the cd changer and putting my fuse box there in the future when I do my 1jz swap. The other reason why is because my cd changer didn't work worth crap lol.
I also used the amplified output for for more versatility rather than just having an iPod as an option. Also because I was impatient and wanted to hear it right away and that's the only cable available to me locally. Didn't feel like waiting for the iPod cable to be shipped, although I already ordered it to see if there's any gain of music quality from that cable.
I was going to do it your way PureDrifter, but my cd player is useless and never plan on using it again
10-22-10, 12:12 PM
Driver School Candidate
Join Date: May 2010
Location: TX
Posts: 13
Likes: 0
Liked 0 Times in 0 Posts
---
i just did this mod a couple of days ago, works great. The main difference i had with mine is because i already had rca cables that plugged into the cd changer i just bought the female couplers and hooked up my rca to stereo jack and it works fine..no soldering FTW
10-24-10, 02:47 PM
Pole Position
---
No, the way I did it, makes the cd player useless. Reason being is that you would cut the cd players output signal to put the aux connection instead.
In order to keep the functionality of the cd changer, PureDrifter's write up is more appropiate. My way is more like saying, "Screw you cd changer you never work so I'm never going to use you again".