How To: Build and Hardwire an Auxillary Input to OEM Stereo
03-27-07, 11:39 AM
---
I don't wanna break ***** or anything but this how-to looks familiar to one posted quite some time ago. For those of you who are waiting for pictures on how to complete the project there are more than enough instructions in the thread below.
"Adding audio input to SC430 for MP3 or satellite radio ..."
https://www.clublexus.com/forums/sho...d.php?t=120322
---
Last edited by Hohlraum; 03-27-07 at

12:00 PM

.
03-27-07, 03:24 PM
BahHumBug
---
i have seen that tutorial and it is similar but i firmly believe that a switch does NOT provide enough isolation for the inputs. i tried a similar switch (only on 1 side, didnt have a 4pdt switch on hand) and could still faintly hear the cd changer coming through the ipod signal.
the no.1 reason im using relays is that each channel is switched individually, with no possibility for any crossover/contamination of the input signals.
ps. tut. is on hold for a day since photobucket wont let me load pics
04-08-07, 02:39 PM
Lexus Test Driver
Join Date: Oct 2001
Location: New York
Posts: 1,015
Likes: 0
Liked 0 Times in 0 Posts
---
where do the 4 bare wires connect to? did i read correctly that the red wires connect to the speaker line side on the amp and the black wires connect to the cd changer side??

Im confused on that part.
04-08-07, 10:28 PM
---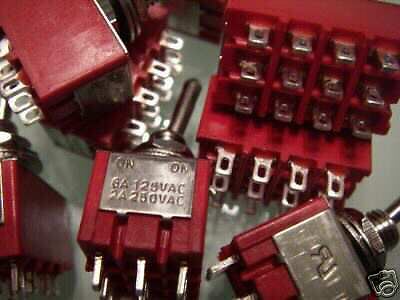 I basically got this switch. On the bottom i had the CD changer, the middle you wire the HU, and on the top i wired wires to this piece here:
And after that you are basically done.
But thats what i did to avoid using relays, the principle is the same though.