LED Light Bar In Lower Bumper
07-04-14, 05:49 PM
Driver School Candidate
Join Date: Jun 2014
Location: Texas
Posts: 8
Thanks: 0
Thanked 0 Times in 0 Posts
---
Halfway done, the bar is installed, all I have left is the wiring and to go buy a nicer switch than what came with it; similar to SFFD103's.
I hooked up the light for kicks and it's blindingly bright, very impressed.
Summary:
As for the overall appearance, I do like it, you really can't see it unless you're far away because it's up higher - but it doesn't affect the beam which is exactly what I was looking for. The bar is 21", mount to mount it's 24". Because of the way the plastic inner pieces are there's no room for a bigger bar. I mounted it to the bumper reinforcement using two #14 1 1/4 self-tapping metal screws and lock washers, I can't get the thing to move.
There was a plug held in place by a bracket that was in the way, I removed the bracket and zip tied the plug where it was - can anyone tell me what that goes to? Seems like a sensor of some sort? You can see it on the left side on the mounting bracket.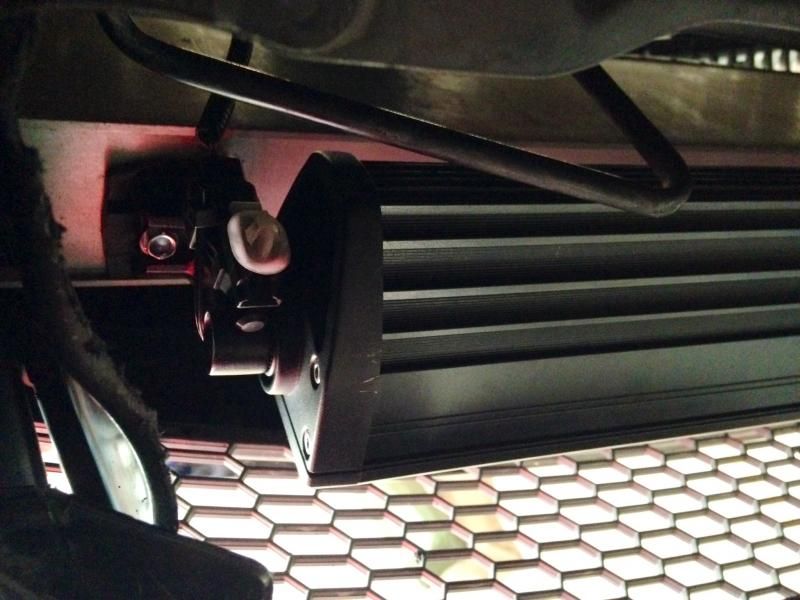 Here is the finish product:
I'll snap more pictures with the light on sometime this weekend and I'll get a video at night.
06-05-17, 09:03 AM
---
I'm really digging these light bars. The deer here are insane and any extra light on the side of the road would be über helpful.
I'd love to see some night shots from inside looking out.
06-05-17, 09:10 AM
06-05-17, 09:20 AM
---
Awesome. Thanks!
By the way, what size light bar did you end up going with?
The sides of the roads here are tree lined and so I'd have to go with a bar that is more
floodlight than spotlight.
06-05-17, 09:34 AM
---
I got a 22 inch bar, it fits pretty tight behind the grill. It looks more like flood light then a spot light.
---
Last edited by Jose5; 06-05-17 at

09:35 AM

. Reason: spelling
06-05-17, 11:52 AM
---
I think the light bars like that should be banned on vehicles. Had someone in an SUV come down the road at me using one, had his low beams and his fog lights on, but also had a bar under the bumper that was so bright it was like a miniature sun was coming at me.. I nearly came to a complete stop because I could not see the road in front of me because his lights were so blindingly bright. You might think it looks cool, but when you have one of them coming at you in the middle of the night ... really sucks
06-05-17, 09:35 PM