Welcome to Club Lexus! HS owner roll call & member introduction thread, POST HERE
11-17-09, 01:30 PM
Driver School Candidate
Join Date: Mar 2006
Location: SC
Posts: 19
Likes: 0
Received 0 Likes on 0 Posts
---
New to the forum but not new to Lexus. My wife and I just bought a HS last week. The dealership only had 1 left in a gold color neither of us was fond of. I have always thought you can't go wrong with black and currently own a 07 IS350 (Love that car). We were told there were 3 available black HS's in the US. I got the phone call yesterday ours will arrive early next week. Needless to say my wife and I are both excited.

We literally drove almost every hybrid available now (Prius, Camry, Fusion, etc). At the end of the day the Lexus gave us what we wanted. I am anxious to see the real MPG's and we will get some pictures posted. Look forward to hearing from other owners.

Thanks guys.
11-23-09, 10:42 PM
---
Welcome to the Club fellow owners!
Here in SoCal there are definitely quite a few HS purchases, I saw 2 yesterday, and one each the prior two days--so far most have dealer plates.
11-23-09, 11:44 PM
Lexus Connoisseur
---
11-24-09, 01:22 PM
Lexus Connoisseur
11-24-09, 03:15 PM
Lexus Connoisseur
---
During the GX460 Press Event last week in San Diego, we spotted this new Starfire HS250h parked alongside a Maserati Quattroporte at secret photo spots Agent001 of Autospies took me to. This location is a very exclusive compound in the area.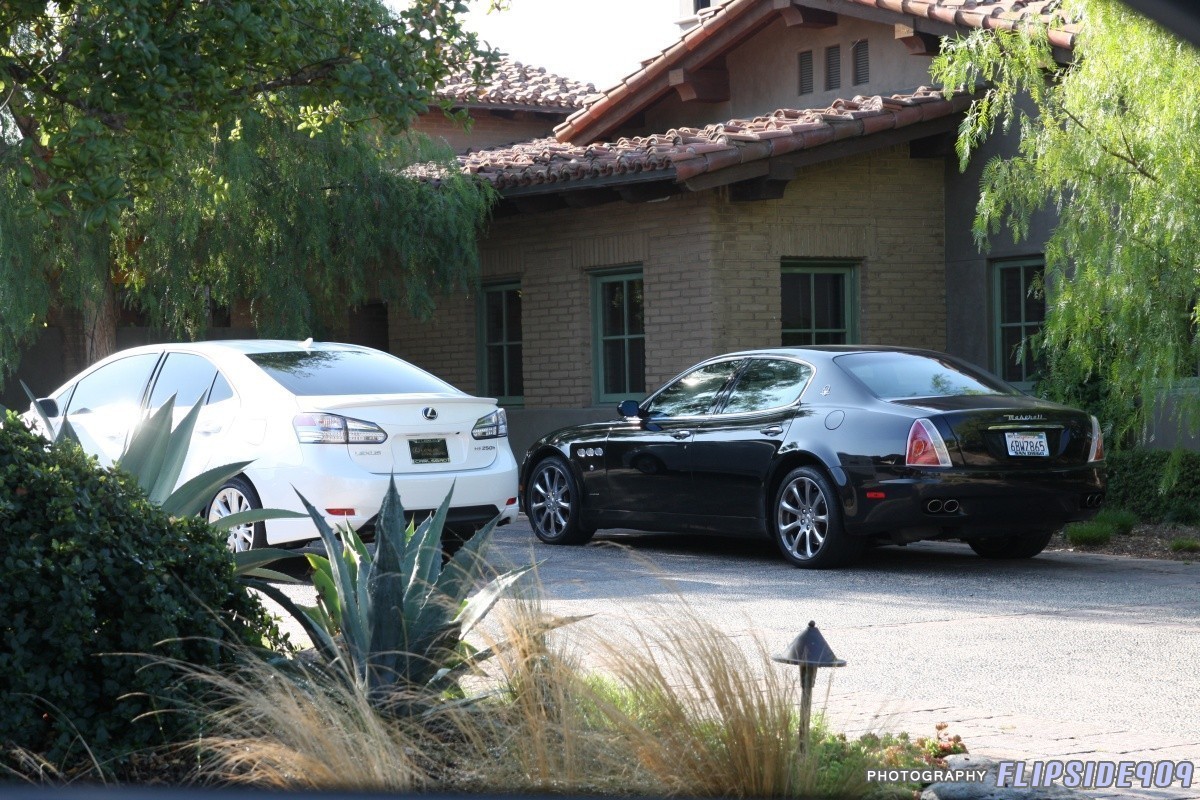 11-25-09, 06:23 PM
Driver School Candidate
Join Date: Nov 2009
Location: CA
Posts: 29
Likes: 0
My New HS250H
---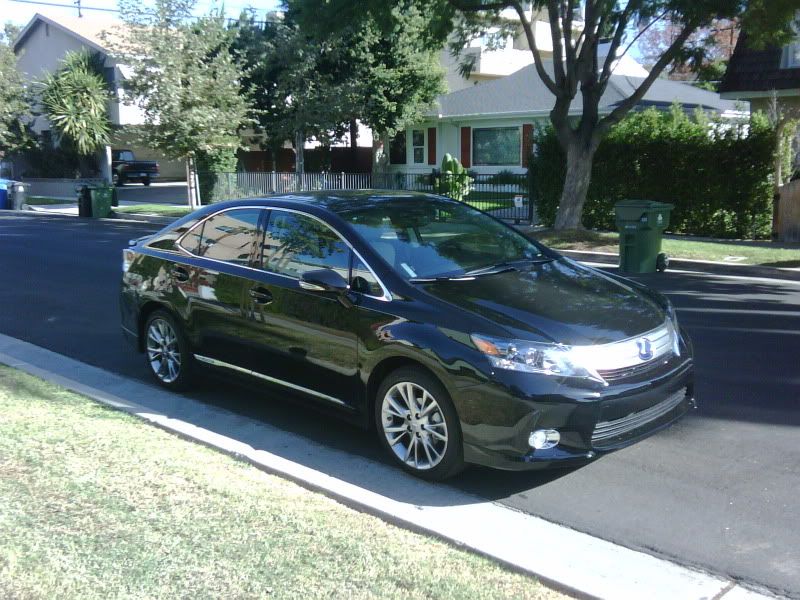 Got mine a few weeks ago. Black. Navigation. Sports Package with rear spoiler, sports tuned suspension 18 inch wheels, low profile tires, and the Lexus name lights up in the door jam or threshhold. Love the car - getting 33.3 mpg - mostly city driving.
12-01-09, 11:51 AM
Driver School Candidate
Join Date: Aug 2007
Location: CA
Posts: 8
Likes: 0
Received 0 Likes on 0 Posts
Got our HS last week
---
We got our HS last week. We're getting about 39mpg after about 110 miles of combined city/hwy driving.

Starfire Pearl (white) with Beige/Black 2-tone interior
Base, Navigation, heated seats, backup monitor, wood trim, rear spoiler

There seemed to be plenty of inventory in N. Cal for the HS. We had quite a few to choose from. Back in fall '99, when we were trying to buy our '00 RX300, the waiting list was too long and the price was too high locally. We ended buying our RX in So Cal from Longo Lexus and had it trucked to us here in N Cal. Interestingly, this time around, So Cal pricing and availability weren't better than we could get locally. It seems that people are indeed right that HS is selling extremely well in So Cal.
---
Last edited by cardalums; 12-01-09 at

11:56 AM

.
12-01-09, 04:30 PM
Registered User
Join Date: Nov 2009
Location: mt
Posts: 7
Likes: 0
Received 0 Likes on 0 Posts
Picked mine up On November 25
---
Good Evening.
I picked up my HS250H last week. I had ordered one about 4 weeks prior, but the dealer erred on the paperwork and what arrived was wrong. I found almost what I wanted at a more distant dealer (wrong interior) and went with it because I didn't want to wait another 4-6 weeks. Now, I'm actually glad, since I've changed my mind and think this was the right choice anyway.

Smokey Mica Granite with black leather interior and walnut trim. Nav and advanced tech package.

I'd post a picture, but we have construction on the roads around my house and it already needs a bath. (sigh)
12-03-09, 06:16 AM
Driver School Candidate
Join Date: Mar 2006
Location: SC
Posts: 19
Likes: 0
Received 0 Likes on 0 Posts
---
Our HS finally arrived this past weekend. Due to holiday traveling we did not get to pick it up until Monday. So far we have been very pleased. We are only averaging 30mpg but have less than 100 miles on the car. I am sure that it not a fair assessment. Truth is we have not had a real chance to play with all the bells and whistles on the car but are looking forward to it this weekend.
I took a few quick pictures but thanks to the monsoon like weather here it is already dirty. The color is Obsidian "black" with the premium package and 18in alloys. The only options we are missing is the radar cruise, the heads up, and the box that monitors the driver. None of these were that important to my wife and I. Other than that she's loaded out.
https://www.clublexus.com/forums/att...1&d=1259848853
https://www.clublexus.com/forums/att...1&d=1259848853