Welcome to Club Lexus! 2GS owner roll call & member introduction thread, POST HERE
12-20-01, 07:45 AM
Official Welcome Wagon
Join Date: Feb 2001
Location: Lextropolis
Posts: 78
Thanks: 0
Welcome to Club Lexus! 2GS owner roll call & member introduction thread, POST HERE
---
Members,

When you get your Second Gen GS, please introduce yourself and your vehicle here!

Tell us some details about your new Lexus including whether its a GS300 / 400 / 430 and;

1. Exterior Color
2. Interior color choice
3. Major Options or special packages (Sport Design, etc)
4. Audio Options (Nakamich/Mark Levinson or Pioneer)
5. Any modifications
6. Anything you want to mention (others considered, previous Lex owner, etc)
7. If you are INTERNATIONAL, state which city/country your representing!
8. Post pics or links to your car (you can upload pics in our gallery)

and congratulations from Club Lexus!
---
Last edited by DaveGS4; 02-19-14 at

02:31 PM

.
02-20-14, 11:19 PM
---
I'm still new to the site, Going to chime in here.
My name is Kc, I drive a 2002 Dark Grey Metallic Mica Pearl Lexus GS300 Sports design. Grey leather interior, not sure on the Audio yet. Modifications so far are;
Junction Produce Pillows and Neck Pads.
Meagan Coilovers, Front Upper Control arms, rear camber kit
19" Weds Kranze Borphes Wheels. 10" wide rear, 9" front. +13 with spacers. 5mm front, 15mm rear.
This is my first Lexus and I'm very happy with it. Solid car. Had the car for a while, but just joined the Forums!
03-02-14, 11:10 AM
---
My names Chris I own a 99 gs300 it's burnt orange stock tan and Grey interior completely aftermarket audio Sony double din RE 6.5 components and tweeters Sony gs100 and gs400 amps two 12's all zero gage and big 3 done 220 amp alternator...ruff racing 20's all around 20x9 front 20x10.5 rear...running 225/30/20's front 245/30/20's rear stock 2jzge vvti stock exhaust pics coming
03-04-14, 02:11 AM
Driver School Candidate
Join Date: Jan 2014
Location: Coleraine, UK
Posts: 14
Thanks: 0
Thanked 0 Times in 0 Posts
---
Hey all, my name is Erwin, I am from Northern Ireland & I have an 01 GS430 Sport.
Car is silver with black leather intereior.
Car came standard with Bilstein Suspension, TTE Lip & Grill, Boot Spoiler,18" OZ alloys, Satnav Audio System.

At the minute, I am in the process of making her my own.
I have removed the rear spoiler, fitted BC Racing coilovers, turned the chrome into black chrome.
I have 20" wheels ordered for her & hopefully she will be all built up ready to go again soon.

Plan to change the audio system at some stage.
03-04-14, 11:45 PM
Driver School Candidate
Join Date: Jan 2013
Location: az
Posts: 4
Thanks: 0
Thanked 0 Times in 0 Posts
New to the forum
---
Hello, my name is Benson and Ijust picked up a 2003 Graphite Grey Pearl GS300 Sport Design with saddle interior, seat warmers, window sticker with price right at $44k, and immaculate owners manual and first aid kit, regular head unit and 139k miles on the odometer. This car came out of Chicago and I live in AZ, so it was a restless 4 days till it got delivered. Always liked these cars. Ive been stationed in Okinawa Japan for the past 3 years, and took rides in a buddies 1jz Toyota Cresta and GTE Aristo v300, sometimes catching a few Skyline 2.5t's off guard with the Cresta and V300 sleeper status. Ever since then, i had to get one.

Here is my plan for it:

I want to lower it on 18" CCW Classics,
Turbo the GE it and try to stay around 350-400 hp,
keep and build 5 speed auto
mild stereo system......and that may be it.

Currently own a white 2008 GMC Sierra
Owned a 2003 wicked white Evo
Owned a 1995 northstar white Turbo Eclipse
Owned a 1995 green AWD Eagle talon rally car
03-06-14, 07:15 PM
Driver School Candidate
Join Date: Mar 2014
Location: Wisconsin
Posts: 34
Thanks: 0
Thanked 0 Times in 0 Posts
New Member
---
New Lexus GS300 owner. Never owned a lexus before this is my second vehicle, my first vehicle was a 2000 honda civic coupe which I got when I was 18, after 4 years of owning I was really wanting a luxury sedan and was mainly interested in is300 and tsx's but they were all out of my price range. One day I stumbled upon a really clean 2001 GS300 and decided it was for me because it had the interior color I wanted, maintenance history, and price range. Here's some onfo about it.
1. Silver
2. Black
4. Mark Levinson with navigation and aftermarket installed Grom AND-2 adapter module
5. No modifications yet besides audio module. Ordered BC Racing coilovers and will be removing muffler and replacing with straight pipe and slant cut exhaust tips.
6. I've always been a honda person because that was my first car, I actually worked at russ darrow honda for a year as a lube tech and didn't know anything else really, all my friends have hondas, acuras and one bought a volvo. I just got sick of everyone in the honda scene and weren't very supportive in forums and always bashed each other especially when people had automatics. So far after viewing multiple forums on here everyone seems nice and helpful so I'm excited to be part of a great group.
7. Waukesha, Wisconsin
Here are some pictures including my old honda civic!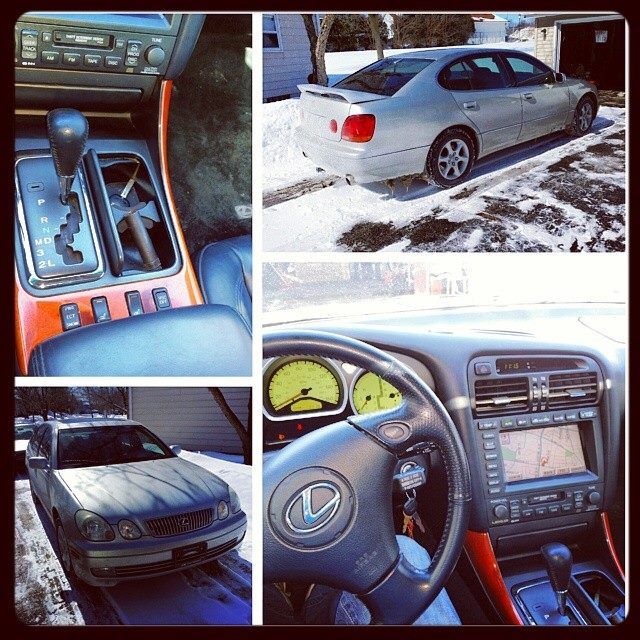 03-06-14, 10:01 PM
Driver School Candidate
Join Date: Mar 2014
Location: KY
Posts: 1
Thanks: 0
Thanked 0 Times in 0 Posts
New Guy
---
2001 GS
White
Tan Interior
All Stock
It likes turns
Owned for a while
Less than 100K miles
---
Last edited by LateralGs; 03-06-14 at

10:05 PM

. Reason: adding something that seemed appropriate
03-07-14, 09:33 PM
Driver School Candidate
Join Date: Feb 2014
Location: MD
Posts: 7
Thanks: 0
Thanked 0 Times in 0 Posts
New to CL
---
Hello Club Lexus!
My name is Erwin and I'm from MD and I just picked my first Lexus car ever a 99 GS400. I am absolutely loving the car. For a car that's 15 years old and has 117K on it, it does not show its age. I picked it up from a good friend of mine, who had moved on. When he let me drive the car I was instantly sold on it.
1. Exterior Color - White
2. Interior color choice - Originally it was tan. Replaced the dash, carpet, some door panels black. My friend did not finish up the rest of the interior black. So it has a black and tan kind of feel.
3. Major Options or special packages (Sport Design, etc) - Not sure
4. Audio Options (Nakamich/Mark Levinson or Pioneer) - None
5. Any modifications - Tein lowering springs, Tein front strut bar, RMM engine cover, slotted/cross-drilled brake rotors, stainless steel brake lines, LED tail lights, daizen bushings, Sport Design floor mats, Yellow Foglights, Eclipse head unit, JL sub. Awaiting my SRT Hi-Flow intake with ECU. 15mm spacers all around.
Sorry I only have this photo of the car. I have not had the chance to take many yet. Enjoy!.
03-10-14, 11:44 AM
Driver School Candidate
Join Date: Nov 2013
Location: SC
Posts: 4
Thanks: 0
Thanked 0 Times in 0 Posts
---
Hi CL,

My Name is Jeremy, I'm in Greenville SC, in a 2000 GS300

1. Exterior Color - Black
2. Interior color - Tan
3. Major Options or special packages (Sport Design, etc) - Nothing
4. Audio Options (Nakamich/Mark Levinson or Pioneer) - Formerly Pioneer
5. Any modifications - Some Wheels & a Kenwood Radio.
6. Anything you want to mention - New to the Lexus Scene, so far so good. I am impressed with the Toyota build quality.

Thanks for having a great forum. I've already been able to do a lot of trouble shooting because of this resource.
03-13-14, 07:04 PM
Driver School Candidate
Join Date: Mar 2014
Location: Utah
Posts: 2
Thanks: 0
Thanked 0 Times in 0 Posts
---
Greetings from a longtime Toyota owner but first-time Lexus owner. I live in Utah -- Salt Lake City area.
I just bought a '98 GS 400 back on February 28. She's got 146,000 miles, gold exterior, tan interior (also my preference, to answer the OP), Nakamichi audio, 6-CD changer. (I thought all that was stock, but maybe I'm wrong.) The previous owner replaced the stock rims for some 7-spoke chrome-looking rims that actually fit the car nicely, IMO. Otherwise, no engine/performance mods of any kind -- unless you call a K&N air filter a mod!
Anyway, I'm very pleased with her so far. I actually broke her in on a 1700-mile (there & back again) road trip to eastern New Mexico the Monday after I bought her.
I think I was grinning the entire time during that trip.
As for her quirks and imperfections, here they are in random order:
1. The steering wheel doesn't automatically lower into driving position when you start up. You have to manually do that. (The wheel does automatically raise up when you shut down.)
2. The radio display LCD doesn't really display properly, except what's on the far-left (track number, radio preset number, etc.).
2a....FWIW, this car was in Arizona from 1998 to ~2010, and I think it got pretty fried by the heat. I think that's why the previous owner had to replace the stock rims -- they were leaking air, probably because they became warped. Just an assumption -- I hope it's not something worse than that. The gentleman I bought it from seemed an upstanding, conservative fellow -- not the type to rally this car or otherwise abuse it.
3. The leather on the driver's seat is still intact, but it's quite worn. There's a puncture wound (pencil/pen?) on the butt-part of the seat, but it's otherwise in surprisingly passable condition. I'll be looking on this forum for leather-conditioning tips.
4. The transmission -- please, please tell me the transmission isn't failing. I don't know if it's the transmission's programming, or if I need to replace the fluid, or if it's just the nature of the beast; but it seems to hesitate going from 2nd to 3rd gear, particularly when the car is still "cold." (I'm planning to search around this forum regarding this.)
Anyway, that's me. Glad to be here as a new owner.