Blacked out Junction Produce GS430..
05-23-10, 06:43 PM
Lexus Champion
Join Date: Apr 2003
Location: Florida
Posts: 2,765
Thanks: 0
Thanked 0 Times in 0 Posts
Blacked out Junction Produce GS430..
---
first off, i know some of you guys wont like this solid black look.. but it came out pretty good and unique
MODS
Junction Produce Front Bumper
Junction Produce Side skirts
Junction Produce Rear Bumper
Junction Produce 3 Peice Spoiler
Junction Produce Roof Spoiler
Junction Produce Grill (blacked out)
Junction Produce Fogs (blacked out)
blacked out headlights
blacked out taillights
debadged car
20x9 and 20x10 Traffic Star custom 2 tone, color matched center and flat black lips and barrels
All chrome moldings were painted and matched to car.
inside is pretty stock for time being,
black suded headliner and all pillars,
black suede door inserts
2 7" tvs
black suede visors
custom stereo system with 4 12"s subs
all custom door speakers
TInted windows (3%)
tinted windshield (35 with 3% strip)
custom borla exhaust system
next on list, is
Tein Coils
Interior overhall to black
Basic Bolt ons like intake
BBK kit on all 4 corners
here are a few pics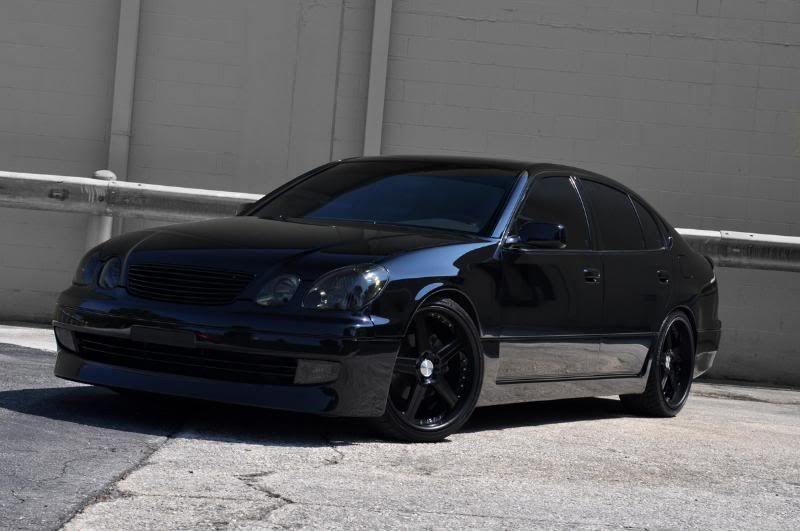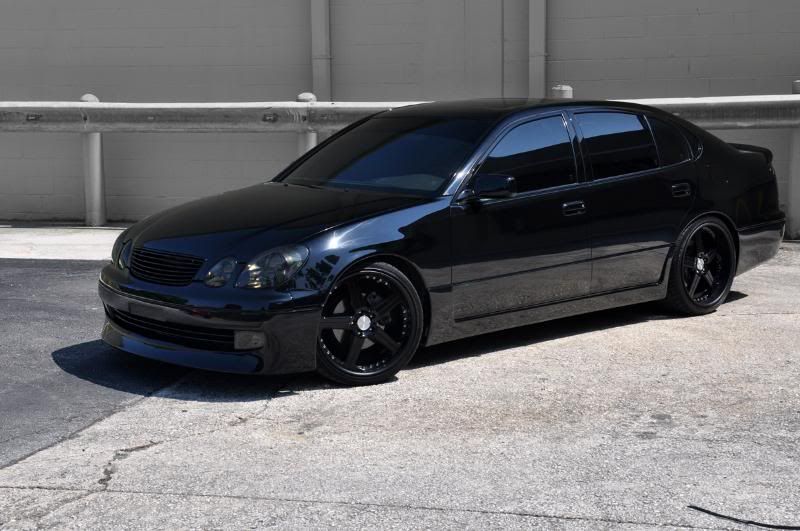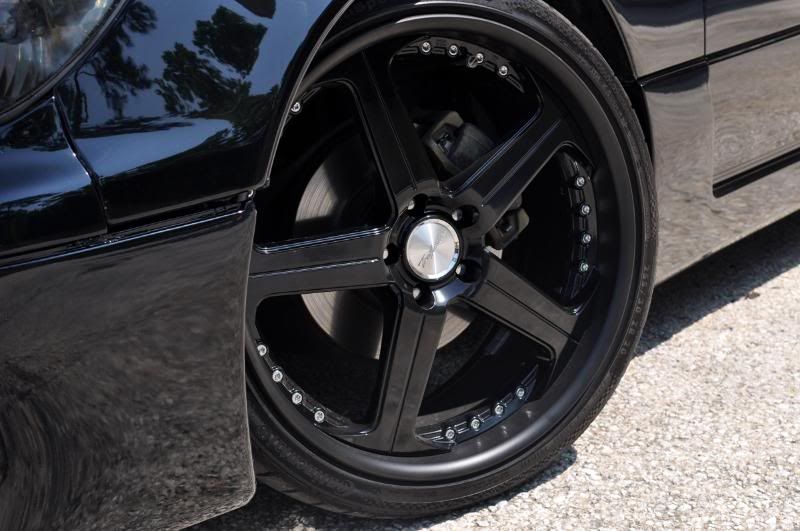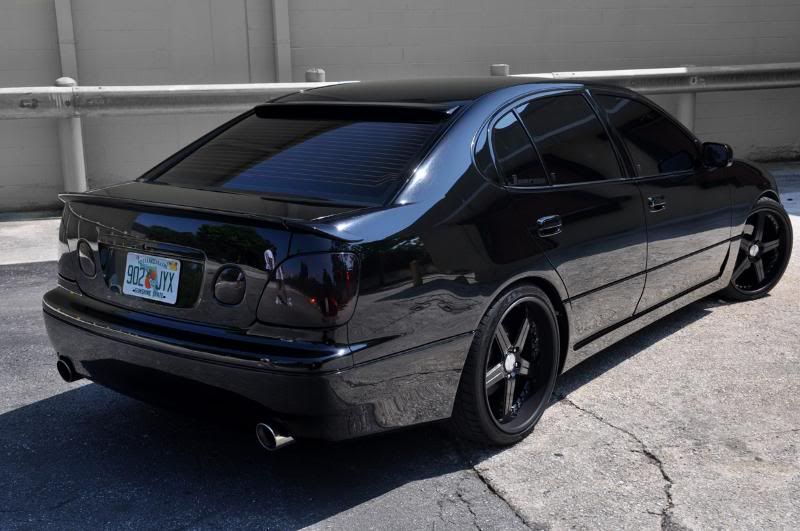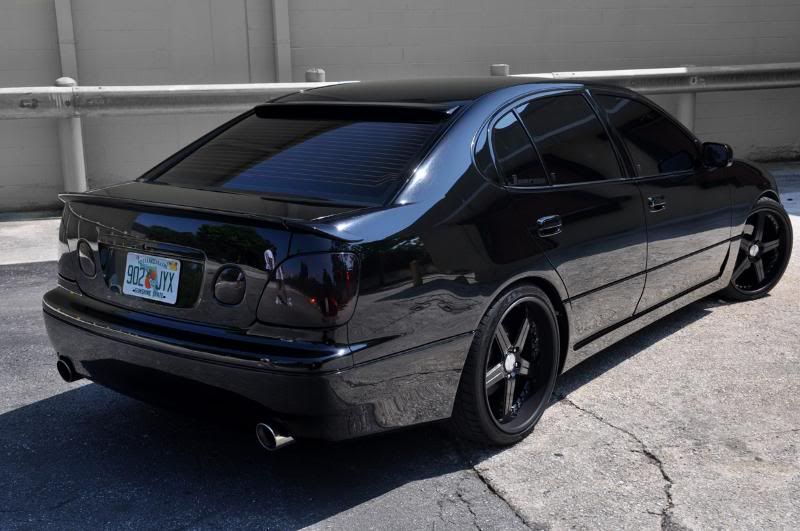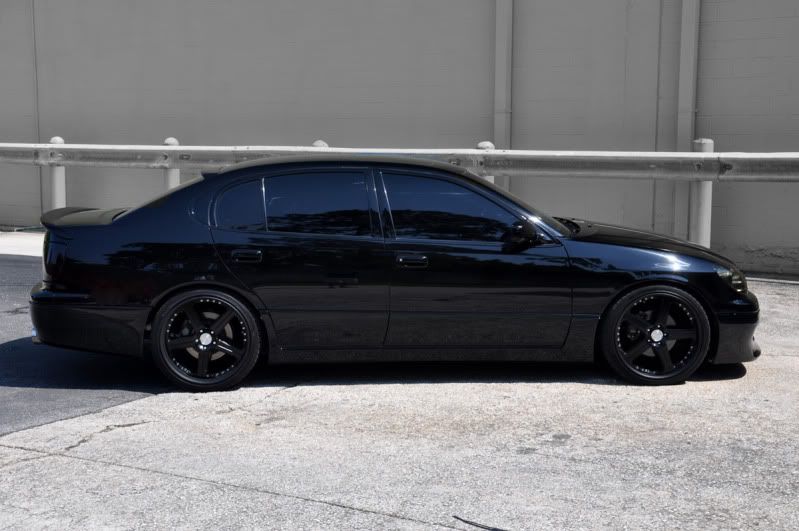 one with my buddies Kandy BMW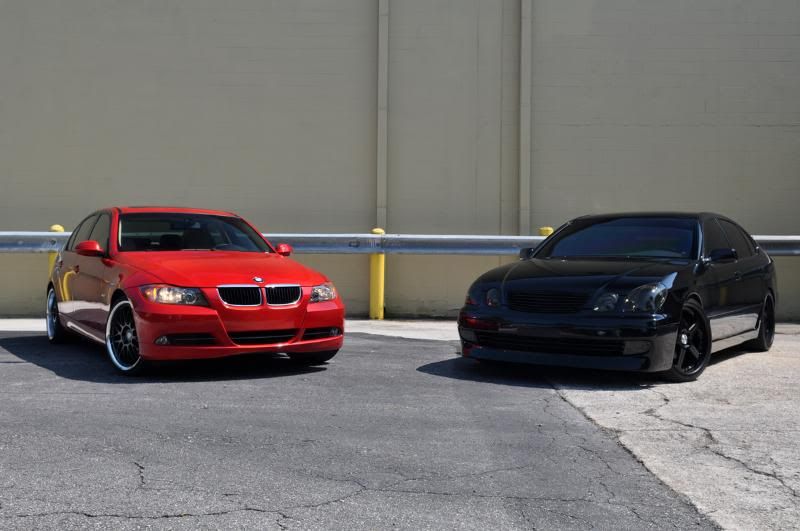 and stereo.. sorry for it being all in peices... long story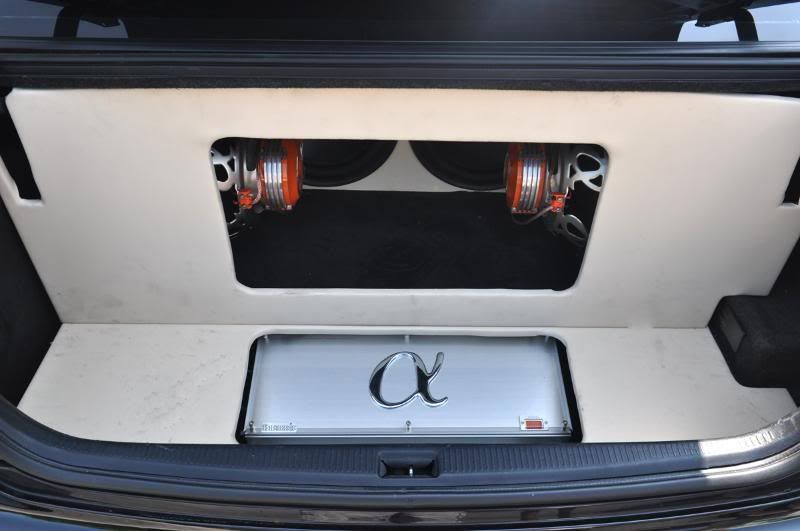 AGAIN.. this isnt my car.. th is is my buddies.. i sold my gs430 long long time ago... i miss it and am living my modding life through him now.. lol
comments and suggestions are
[email protected]
!
---
Last edited by 00lexondub; 05-25-10 at

08:03 AM

.
05-23-10, 06:59 PM
Lexus Champion
Join Date: Jan 2002
Location: MN
Posts: 3,362
Thanks: 0
---
Not bad, I'm not a big blacked out fan but that one's alright!
Since we all like to nitpick here, if he's looking for an area to improve on; the brakes could use some dressing up, either a BBK or just painting black would clean them up a lot and fit with the theme.
05-23-10, 07:53 PM
---
I like it.
..minus the head and tail lights.. Smoked surrounds are one thing, but the whole blacked lights out look cheapens it a lil..
Oh and whoever put the front bar back on got lazy, I'm guessing only 2 of the 4 horizontal bolts are tightened
05-23-10, 08:02 PM
Lexus Fanatic
Join Date: Aug 2008
Location: California
Posts: 6,432
---
I'd SOOO Love to see what this biatch looks like with a better drop.. Headlights look pretty damn good. Just wish there was something else that can be done to our tails other than tinting them
would be nice to do what we do with the headlights; have a clear lens and blacken the inside or chrome on the inside with clear lens w/light tint. All in all looks pretty clean (coming from one who despises blacked out cars
)
05-23-10, 08:39 PM
Lexus Test Driver
Join Date: May 2007
Location: NYC
Posts: 931
Thanks: 0
---
---
Last edited by nar8ta; 05-23-10 at

08:42 PM

.