Rays G35 FORGED 19 inch wheels on GS pics
01-24-08, 09:05 PM
---
^good point. So many people/companies such as top secret put skyline engines into toyotas or supra engines into s2k's or s2k engines into ae86's...etc.. These wheels are simply 19" forged rays wheels and with a simple push on the center cap they are no longer infiniti wheels
01-24-08, 10:32 PM
Moderator
Join Date: Feb 2007
Location: midwest
Posts: 6,570
Thanks: 0
Thanked 0 Times in 0 Posts
---
Originally Posted by
GS4_CS
^good point. So many people/companies such as top secret put skyline engines into toyotas or supra engines into s2k's or s2k engines into ae86's...etc.. These wheels are simply 19" forged rays wheels and with a simple push on the center cap they are no longer infiniti wheels
unless you have REAL infiniti wheels like I do (the CPV35 18") lol.
01-25-08, 01:14 AM
Lead Lap
---
Originally Posted by
Vic Nyce
i was wondering when someone would ask that. car is sitting on H&R springs and yellow Bilsteins. in real life car has a 1 finger gap. i photochopped the drop. LAAAAAAME!
25mm + 19s will be FLUSH. if your lowered you will hit the fender unless you have fender mods.
if im correct, +33mm wheels + +25mm spacer = 8mm offset wheels!
25mm + 17s [50mm offset] = 25mm offset. i rocked that with absolutley no problems. NYC craters and all.
i'll snap some close up pics this weekend so you can see how far the fender is from the tire.
Get some Tein Flex's to get that look. No photochoppin' needed
01-25-08, 01:59 AM
Lexus Champion
Join Date: Jun 2005
Location: ニューヨーク
Posts: 2,707
Thanks: 0
Thanked 0 Times in 0 Posts
01-26-08, 05:12 PM
---
to each his own but i like my g35 wheels, but i removed the infiniti centercaps
01-26-08, 11:13 PM
Lexus Champion
Join Date: Sep 2005
Location: CA
Posts: 2,631
Thanks: 0
Thanked 0 Times in 0 Posts
---
02-15-08, 05:55 PM
---
so any pics from the rear? I was thinking of purchasing a 25mm spacer for my stock 17's until I purchase after market wheels or the g35 wheels. Also how will the spacer fit with the g35 wheels?
02-15-08, 07:02 PM
Lexus Fanatic
---
Like was said earlier... if you take the badging off them, they are just 19" Rays wheels. Matter of fact, they look like a wheel that Rays used to mass produce and a lot of people on here like...
Volk GT-V anyone????
Almost identical with only a few differences.
IMO, I think they look good. Especially when the car is lowered. The same can be said for all of you that are doing the Retrofit with the
INFINTIY
Q45 projectors... or heck... for any other brand name for that matter... Some people need to think before bashing something with such high visibility, when there are HUNDREDS more doing the exact same with some less visible and are receiving praise.
02-16-08, 06:46 PM
---
I think they look good and I like them. Its actually one of my choices for a set of wheels considering they are 19's and fairly affordable. I just want to see how they look and fit from a back view.
02-17-08, 02:11 PM
Lead Lap
---
Right now my ride is running on the stock 16 inch. I just replaces some of the front suspension components and did a alighnment.
I have some plans for the 19 inch g35 Rays. I have been thinking of painting them a different color. Be 4 i do that I have to fix the curb rash they have.
I was thinking of getting the rays center cap but Damnn they are expensive. I am going to see if I customize the ones it has.
I think with a spacer in the rear the car will look better. without all tires look even.
I dont have a recent picture but here is one I took from a side/ rear view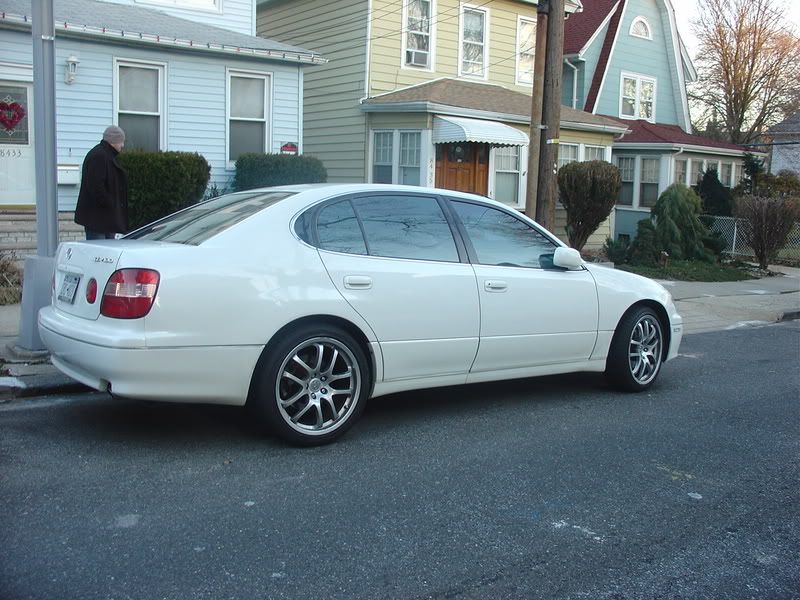 Rays Forged 19"
Optional 19" G35 forged wheels
Super-Light Weight Forged Aluminum Alloy
Front
Size: 19x8.0
Offset: +30mm
Weight: 19 lbs
Tire: 225/40-19
Rear
Size: 19x8.5
Offset: +33mm
Weight: 21 lbs
Tire: 245/40-19
---
Last edited by PR FIEBRU; 03-14-08 at

09:57 AM

.
02-17-08, 09:12 PM
---
I think they only way they look good is with a good drop and that does not only apply to these wheels. I think just about any wheel out there can look good or look better if the car is lowered just right. Wheel gap=