We are now stocking the Borgwarner EFR Turbo Systems here at Addicted Performance. These units have been out for a few years now and with positive feedback now getting back to us we feel comfortable to market them. Here is some back ground on the Turbo.

The EFR line of turbos was born out of an internal BorgWarner Turbo Systems program labeled Advanced Aftermarket Products or AAP. The program was engineered by a cross-functional team that began with the proverbial clean-sheet of paper. No legacy products, no preconceived notions of what a turbo could or could not have; no restrictions. The aerodynamics for the product line were selected using a range of optimized combinations that would give users turbo solutions anywhere between 250 and 1000 horsepower capability per turbo. Next, a list of every notable design characteristic for an engine boosting device was tabled. Specific interest was given to new ideas that had never been formed in metal or had never been combined into an aftermarket turbo.
The result is the new EFR (Engineered for Racing) line of turbos from BorgWarner. These turbos contain a bevy of key attributes such as Gamma Ti turbine wheels, dual ceramic ball bearing cartridges and investment cast stainless steel turbine housings. Collectively, those features help give the EFR line its innovative appeal and will provide a breakthrough experience in durability, device responsiveness and installer/user satisfaction. Seven different sized turbos, optimally matched for the 250 - 1000hp per turbo segment - and four different turbine housings. The EFR series covers all applications except the hardcore drag racers.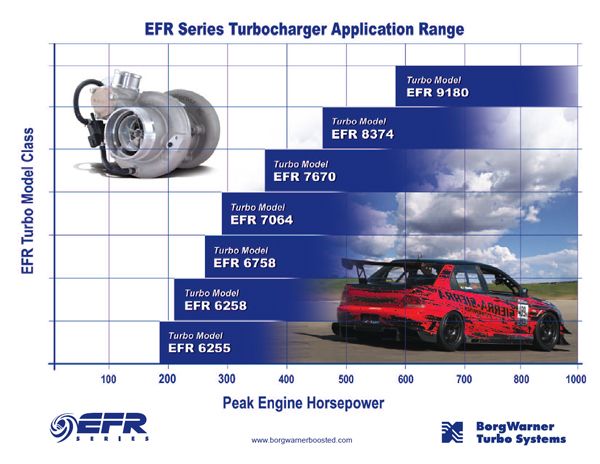 PM us for all questions and pricing