If you had $150k to spend - what's the BEST car out there? NSX, AMG GT, R8, 911, etc?
08-24-18, 08:05 AM
Rookie
Join Date: Jul 2005
Location: CA
Posts: 15,998
Likes: 0
---
If I'm spending that kind of money, it's going to have to be a ridiculous car and not one that looks like anything else on the road. It cannot be a compromise between performance and comfort. With that being said, I would go for the Ariel Atom 3RS (Starts at $119k).
08-24-18, 11:02 AM
---
$150k is very little money these days especially to get anything close to exotic car.
Ariel Atom is only good for the track, doubt you can go anywhere in it.
Thats what make 911 so great - its fun on the track yet useable to drive to the grocery store or go on a dinner date.
Lotus Evora is another option in this price range.
08-24-18, 11:16 AM
08-24-18, 07:13 PM
---
Have to modify my response (I said RS5 or R8 and put the leftover cash to a 1988 SL convertible). I need to include the LC500 in my list. Every time I see one on the road I love the look and sound of it. Can't believe I left it out.
08-25-18, 05:44 AM
Lexus Champion
Join Date: Jan 2004
Location: Florida
Posts: 2,173
Likes: 0
08-25-18, 07:07 AM
---
The first 4 cars you listed all go about their business differently and each one has it's forte. I've driven all 4 as both a daily and on the track. They are night and day difference in terms of:
- Visceral expereince
- Exhaust note
- Performance capabilities
- Overall look / feel
GTR: It's a bit dated in this group and feels bulky and huge. Our black one is a 2015 and has some minor mods so it's not 100% stock however it's a brute force car. Does not feel exotic at all and bit primal in how it drives. The car makes a lot of noises some good, some bad. Lots of plastic inside and it is really a huge car! If you must have back seats for the kids as a 2+2 this is a really nice option. The AWD makes this a 4 season car too I guess though here in CA it's really not a consideration
AMG: The car is a essentially a German Muscle car. The best attribute about this car is the exhaust note and interior craftsmanship. The gauges, buttons, panels really make the car feel like a million bucks. It's got a lot of torque for the V8. I keep forgetting I'm driving a Mercedes and puts smiles on my face everytime I fire up the car! It's not a great car on the track for me as it feels heavy.
R8: Not sure if you mean 1st gen or 2nd gen but the 2017+ R8's are essentially a Huracan so the car is very modern and quick. They have a few variations so the Plus model is blistering fast as to be expected. It's a direct competitor to the new NSX and kills it in sales. There was like 300 R8's sold in 1 month if I remember correctly compared to 3 NSX's sold! Personally I love the 1st gen R8 v10 with the gated shifter instead. It's everything the old generation NSX should have been with a howling v10 and precise shifts from the manual tranny. It's the ultimate daily driver if you do not need back seats.
2017 NSX: I've had the old NSX for many years now and never plan on selling it, it's that great of a car! So when my wife said we should try the 2017+ NSX, it just made sense. Everything about the car is really awesome except the fuel range capacity and funny trunk smell. I bought this car and drove it 20 hours home straight by myself as the wife had to watch the kids. If you asked me to do this in the Huracan I'd say forget it, no freaking way! The 2017 NSX is a rock solid car that is capable of triple digit speeds easily without beating up the driver. I plugged in my phone on CarPlay setup, popped my huge McDonalds cup in the cup holder and pretty much drove non-stop 1400 miles. The car in Sport mode is quite tame and actually will kill the gas motor as needed which I find really lame. They need to rename the "modes' since I spent 90% of my drive in Sport Plus mode with the exhaust valve open. There is one more Track mode but it's not that dramatic of a chance. Oddly the suspension does not change with the mode selection so it's a rather harsh ride ALL THE TIME. It's not as bad as the 4C mainly because the seats are so damn comfortable. A few times I almost ran out of gas in the desert again because the ranch of this car is pretty dismal, kinda ironic in a 3 electric motor hybrid car.
here she is crossing the Wyoming state lines: (as you can see weather was not perfect, encountered light snow, heavy rains, etc)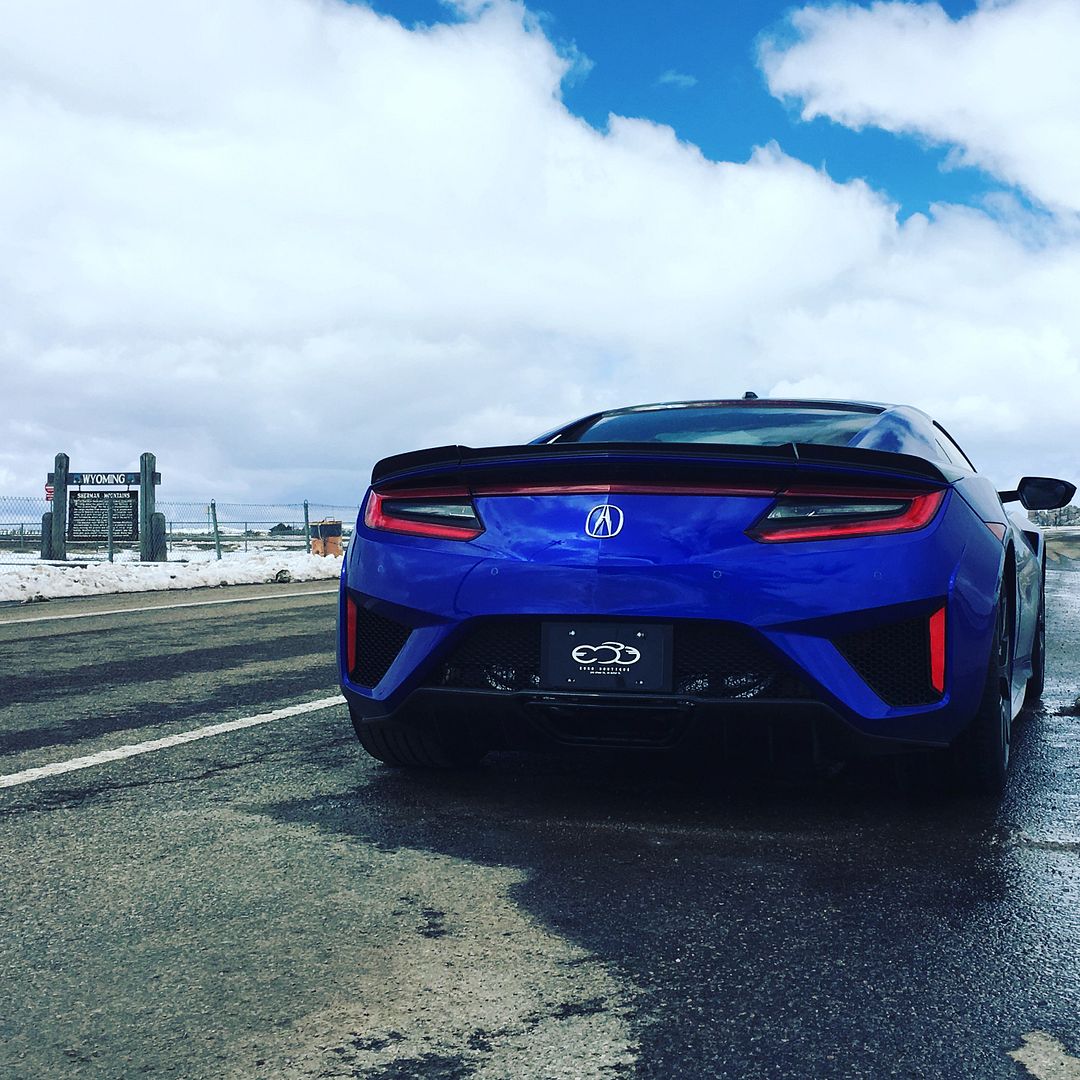 Felt like I was on a rally by myself at times:
Got her home safe and sound: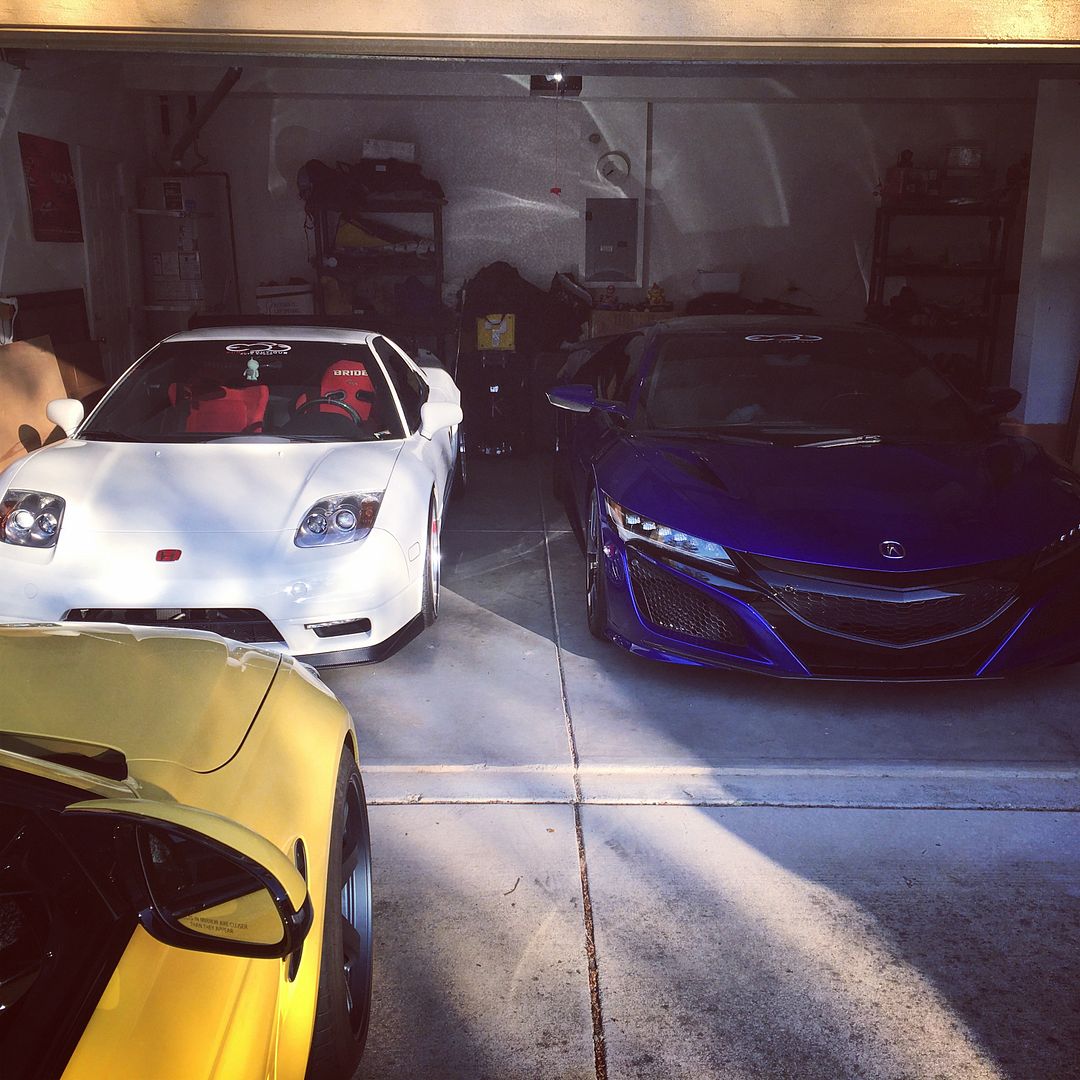 First car show with my other toys: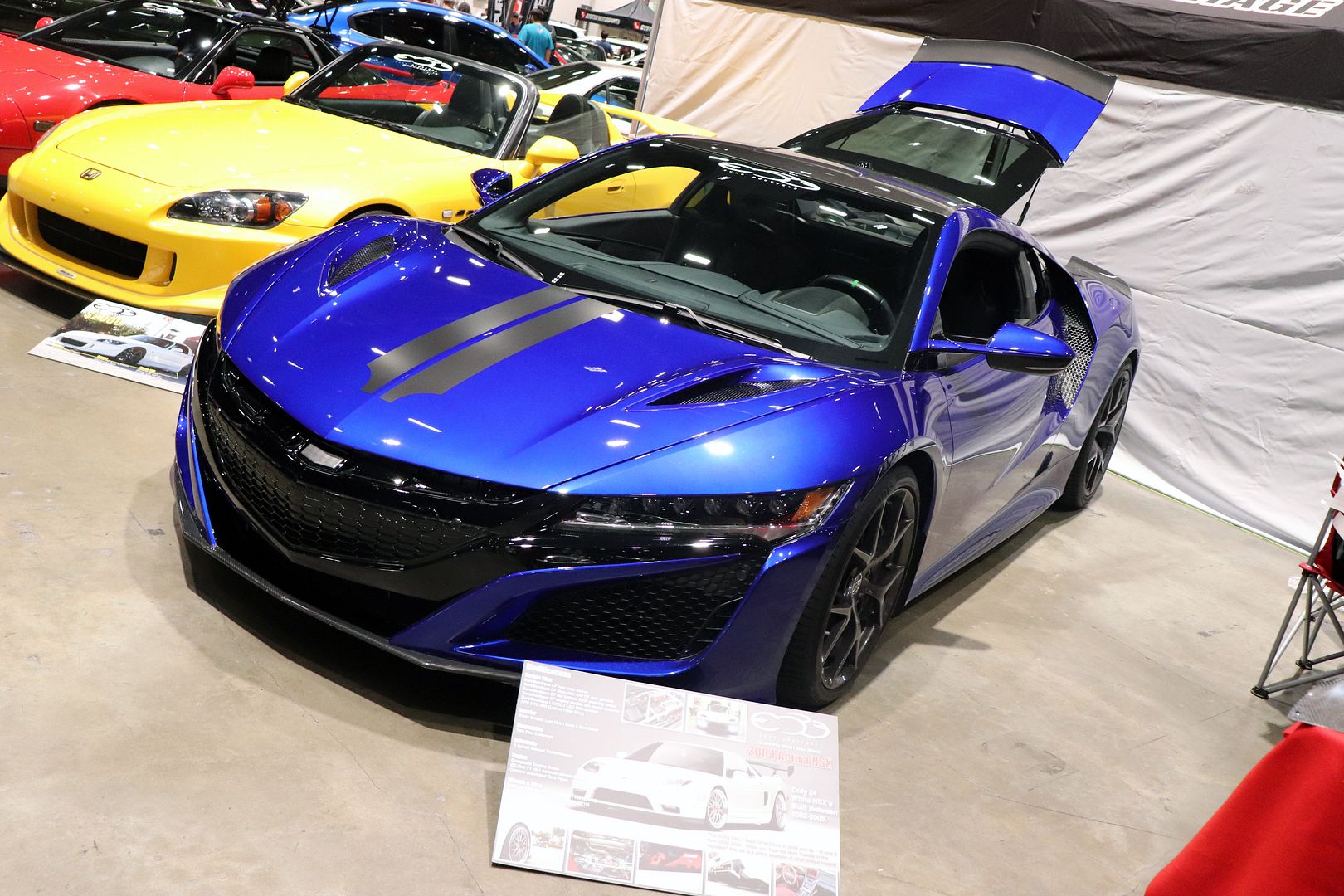 08-25-18, 07:39 AM
Lexus Champion
---
Yeah, the LC is one amazing car - seems like it could be a great cruiser but not bad at all on a back road. Dunno why I didn't think of it earlier. For $150k, I could get an LC, plus an IS to commute in.
08-25-18, 09:20 AM
---
I love when people make blatant comments without ever sitting or driving any of these cars lol.
488 GTB is just as liveable as NSX or R8. All 3 are mid-engined supercars. Not that many folks want to put 10-20k miles per year on these cars.
911 is still the best all around car especially if you plan to daily it.
08-25-18, 10:30 AM
---
08-27-18, 03:11 PM
---
Originally Posted by
swajames
I love how perfectly you sum it up in the last sentence, it's so very true because people naturally gravitate to the big name exotics but when you have experienced all of them on a more daily basis you then realize the badge is not the most important. I have a few people I know who have Ferrari's in their garage stashed away but daily drive their 2017+ NSX!
Originally Posted by
RNM GS3

I love when people make blatant comments without ever sitting or driving any of these cars lol.

488 GTB is just as liveable as NSX or R8. All 3 are mid-engined supercars. Not that many folks want to put 10-20k miles per year on these cars.

911 is still the best all around car especially if you plan to daily it.
Again very true, the 488 GTB can easily be daily driven as it's quite comfortable and tame with exhaust valves closed. HOWEVER being able to daily drive one without risk of damage or putting miles without care is a totally different matter and I think most owners of Ferrari will tell you they only drive them on "special" occasions to keep it pristine. A high mileage Ferrari in most cases will kill the value for sure not to mention your daily dings, dents, scratches from parking it everywhere.
08-28-18, 05:30 AM
---
Itís not the fastest thing out there but neither is a GT4 or a regular 911 thatís priced high with options but I still like them. Just like the Nismo GTR, another car I like in this price range, is overpriced but I still like them too.