Ordered my new car (2018 Buick Lacrosse)
04-20-17, 03:27 PM
Lexus Fanatic
Join Date: Oct 2003
Location: Virginia/D.C. suburbs
Posts: 72,914
Ordered my new car (2018 Buick Lacrosse)
---
Well, folks, my shopping's over. I made my decision and ordered my new car today....a 2017 Buick Lacrosse (Preferred-Trim-Level), with a minimum of options.....just the all-weather floor mats. The base-trim model doesn't come with the Sirius XM satellite radio I wanted, and the more expensive Essence and Premium versions come with a bunch of added stuff that I can do without. I would have liked the Rear Cross-Traffic Alert, but that comes in a Driver Confidence Package that also includes NAV and a bunch of other things I don't need (and I'm generally very careful backing up, and all new cars come with a standard back-up camera). The Preferred trim-level does come with power tilt/telescoping steering column and the Satellite radio I wanted.
Out of all the exterior colors offered (like many upscale sedans, mostly funeral-home shades), I think the Lacrosse looks best in the "Pepperdust" metallic (and all of the metallic or pearl colors, except the Plain-Jane appliance-white and coal-black, carry either a $395 or $995 mark-up....you can thank the Germans for starting that crap, years ago). The Pepperdust Metallic, despite its being rather dull, IMO, is still attractive...and that is the color they the auto-show-tour Lacrosses were painted. It is an unusual combination of a rather light smoked gray Metallic, Moondust, and Champagine....kind of a nice throwback to the silver big Buick I had in college, but an even more interesting color.
Right now, delivery looks to be after the pollen season....about 6-8 weeks, so we're probably talking early-mid June. (just in time for big thunderstorms and hail in this area LOL......Hey, you can't win them all).
And, yes, Mr. Trump...I bought American...American-market Lacrosses are built in Kansas City, with American labor, though some previous-generation Lacrosses were built in Canada. (My last two cars, the Verano and Subaru Outback, were also built in American plants...the Outback in Lafayette, IN, and the Verano in Orion, MI).
Steve will no doubt say "Ha Ha, I told you so".......but that is only partially correct. The truth, for me at least, was that this was a
TOUGH
choice between what I thought were four excellent sedans in this class (luxury or entry-level-luxury, depending on how you view it)...the Lacrosse, Lincoln MKZ, Lexus ES350, and Genesis G80, with the Chevy Impala and Kia Cadenza being two other possible options. The Lacrosse ended up being the choice for three basic reasons......First, excellent dealer service (which I believe in rewarding), Second, the Lacrosse's outstanding ride comfort and quietness, and, Third, my longtime attraction to the Buick nameplate, dating back to my late teens and college, though, from after the time I was in college till the time the Verano came out, Buicks, quality-wise, were mostly garbage, and I pretty much had to avoid them. You could (maybe) add a fourth...Buick's recent rise in Consumer Reports' reliability ratings to just behind Lexus, though that typically affects the Opel-based models more than the larger, American-based models like the Lacrosse and Enclave, which are generally average in reliability.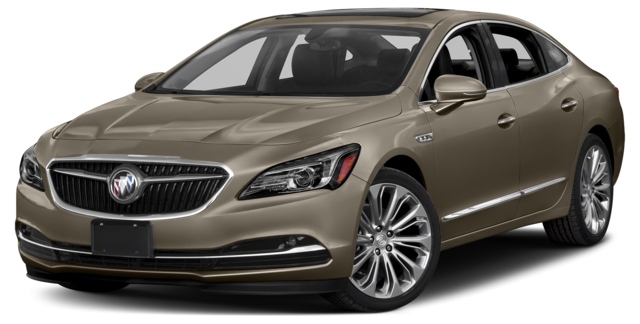 ---
Last edited by mmarshall; 04-20-17 at

03:33 PM

.
04-20-17, 03:57 PM
Lexus Fanatic
Join Date: Oct 2003
Location: Virginia/D.C. suburbs
Posts: 72,914
---
It was the only color available that, IMO, really enhanced the car's looks. Next year, for 2018, a Black Cherry (very dark red) will be added, and this year's dark blue and dark green will be dropped, but I'm not a big one for dark colors in the summer sun, or for trying to keep clean.
My family's 1st car after we moved to US was a 1981 Buick Riviera, it was awesome.
I hope Buick continues to improve.
Glad you enjoyed it. Was it reliable? After the early 1970s, GM cars tended to have a lot of problems.
04-20-17, 04:00 PM
Lexus Fanatic
Join Date: Feb 2003
Location: NY
Posts: 11,724
Thanks: 0
---
04-20-17, 04:02 PM
---
Congrats, nice upgrade. Even more posh, comfortable, and quiet than your Verano you rave so much about.
04-20-17, 04:06 PM
Lexus Fanatic
Join Date: May 2012
Location: MD
Posts: 26,074
---
Phew...my thumbs are safe lol
Only color they had huh?
04-20-17, 04:08 PM
Lexus Fanatic
Join Date: Oct 2003
Location: Virginia/D.C. suburbs
Posts: 72,914
---


Ordering fresh from the factory, rather than from buying off the lot, has several advantages...brand-new tires (no flat-spots), a fresh battery, new paint, no corrosion from sitting and moisture, and minimal exposure to the elements. It also guarantees (or at least increases the chances) that any TSB (Technical Service Bulletins), recalls, and other previously-discovered problems in design or on the assembly line will have been taken care of at the factory....buying a car off the lot means it may have been produced months ago. You also get exactly the car you want....or, if that is not possible, then something reasonably close to it. Of course, the negative things about special-ordering are that you usually wait several weeks, you can't always test-drive it in advance, and that it's harder to get discounts while dealing.......dealerships usually like to clear out what is in stock.
---
Last edited by mmarshall; 04-20-17 at

04:26 PM

.
04-20-17, 04:15 PM
Lexus Fanatic
Join Date: Oct 2003
Location: Virginia/D.C. suburbs
Posts: 72,914
---
wanted. (see my reply to pbm317, above). Buick shops tend to stock mostly black, white, and an occasional dark blue...and higher trim-levels.

(The sister Impala, BTW, also comes in that Pepperdust color...my Buick/GMC/Chevy dealership did have one of them in stock).

As one would guess, I ordered it from the same guy that sold me my Verano. I've also referred some customers to him, one of whom recently bought an Encore.
04-20-17, 04:21 PM
Lexus Fanatic
Join Date: May 2012
Location: MD
Posts: 26,074
---
I'm just poking fun lol.

That's what I always say when I see somebody's new car for the first time, "only color they had huh?"
04-20-17, 04:24 PM
Lexus Fanatic
Join Date: Oct 2003
Location: Virginia/D.C. suburbs
Posts: 72,914
---
Thanks.
The big question is reliability....seems reasonably well-built, especially compared to past bigger Buicks, but it (somewhat) lacks the tank-solid construction of the smaller, Opel-based Buicks. But, by today's standards, this car
does
coddle...I find it a joy to drive, though the shifter is irritating.
Yes, I liked my Verano very much (perhaps the best car I ever owned in that size range), but I would have preferred it with a N/A V6 engine and taller-profile tires....the Lacrosse solves both of that. And, if any problems
do
occur (which generally did not happen with my reliable Verano), Buick's generous 6/70 and 4/50 warranty (same as Lexus, Cadillac, Lincoln, Infiniti, and Acura) should cover it.
04-20-17, 04:28 PM
---
Nice job. The front end on this Buick and all Buicks in general are really growing on me. I believe this option level has leatherette seating. No heated seats. Is that an issue or was that pre-considered? I think the car ordered will be ready before the actually quoted time wait. It would be very interesting if you can give a fully report and feedback of Apple Car Play as soon as you get the car. (haven't read much from the people on this forum regarding Apple Car Play)
---
Last edited by LexsCTJill; 04-20-17 at

04:38 PM

.
04-20-17, 04:40 PM
Lexus Fanatic
Join Date: Oct 2003
Location: Virginia/D.C. suburbs
Posts: 72,914
---
Thanks.
Yeah...I realize that the big tri-color Buick shield doesn't add anything to the car's build-quality, performance, or reliability, but, after years of that cheap-looking chrome-blank shield (which is still on the steering wheel, BTW), the new tri-color-shield
does
add a nice cosmetic touch....and reminds me of the Buicks of old, as with the side fender-ports. On the trunk lid, the tri-color shield in back pops the trunk lid open when you press on it.
I believe this option level has faux leather seating? No heated seats? Is that an issue or was that considered.
That's correct. I didn't have either leather or seat-heat in the Verano (which are optional on higher trim levels), and I didn't have any problems (My old Subaru Outback
DID
have heated seats, but I found that my not-so-small rump heated the seats up almost as fast as the electric grid-heraters LOL). I found, on the Verano, that I didn't miss the leather, either....the over-stuffing in the seats was quite comfortable. And leather can dry out and/or crack after a few years if not regularly conditioned. The Lacrosse's seats are not as thickly-stuffed or havily-padded as the Verano's, but are well-shaped, reasonably soft, and comfortable. They also have more even padding, without the bulges in the Verano's seat-cushion ....so the comforts more even across the board.
04-20-17, 06:35 PM
Lexus Champion
Join Date: Mar 2009
Location: NY
Posts: 2,495
---
Congrats
good luck with it!
04-20-17, 07:07 PM
Driver
Join Date: May 2007
Location: Québec
Posts: 172
Thanks: 0
Thanked 0 Times in 0 Posts
---
Congrats Marshall. Post pictures when you receive it!