project:Soarer
06-15-11, 10:16 PM
Lexus Champion
---
the only thing so far that shows wear is the plastic loom that covers the spark wires crumble when you touch them. Common sighn when wires are between the valve covers.
and even the transmission looks new. But iam selling this sucker. so if anyone is interested $360.00+shp/delivery.
So the downside is i got a cut harness. It stated that in the auction so this is no suprise. I made it clear to the engine shop guy. "do not send me one with the igniter plug cut. He complied. looks like some wires going to the dash. Not sure, i knew harness work(merging this and the sc400 harness) would be a max of $1,000.00.
Dosen't make sense it's so high. would love to find someone to do this for half or less. But lexus/toyota cost more than nissan so yeah.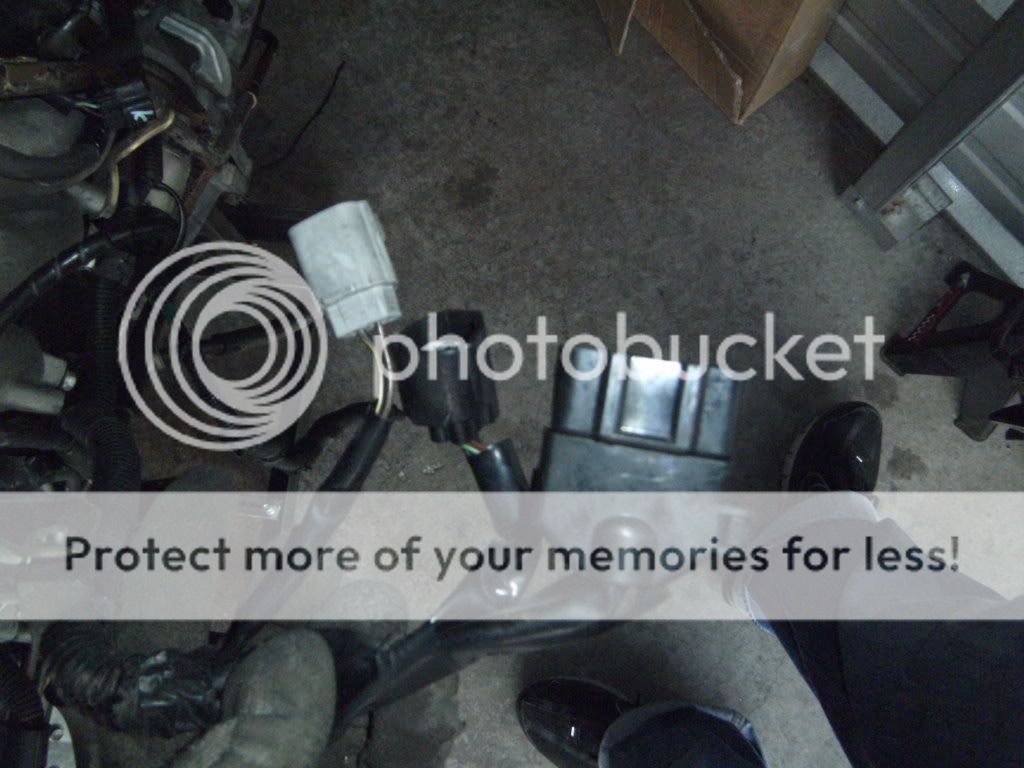 The only pair of plugs i got with the motor. other wise everything else is wired up.
So this is the ecu. and i opened it to check if there was any melted capacitors.
06-15-11, 10:16 PM
Lexus Champion
---
so just did a search. and my ecu code is 89661-24281

and survey says......


8/92 - 1/94 Soarer 1JZ-GTE A/T ECU.



also found this on supra forums


which 1jz ecu is 89661-24281
"I was told this ecu was from a soarer m/t but I want to verify it; part number 89661-24281. I know the chaser and soarer ecu's are interchangeable but I want to know exactly what I have. I have a chaser harness I figure bc my 1j is a front sump, non vvti, 2plug harness missing the 2 body plugs that go to the ecu which I picked up today off a avalon, I read that the v6 camry es300 and avalon had the same ecu plugs so I went searching the junkyard and found the 2 plugs."


!GREAT EFFING NEWS! So i don't have to get a sc300 whole harness or anything. Scweet.. So tranny is for sale.
06-16-11, 06:31 AM
Lexus Champion
---
some people are selling a complete soarer harness for the motor on here too. you'll have to add a lot of wires to make that work. thats why i held out for a soarer swap instead of a chaser one.
07-24-11, 03:18 PM
Lexus Champion
---
so it's been hot as **** recently here in m.o. so that makes my job harder(duh). But i have to get this damn thing running by winter so i can get another suby daily so i can finally invest in the stock market and take over the world.
So ive never really removed a tq converter before. On my 240sx i left it on the block as i sent the single cam to the scrap yard. On my donor sc300 i left it on the block untill the other day(when this happened)..
so i had my engine/tranny on my stand and i removed the tranny(check). then i was taking the bolts off the tq converter. The engine leand forwaRd a little when i took the final bolt off from the flywheel.
but when i slid the ****ing doughnut off(which i didn't know these things were that ****ing heavy). My ****ing engine tilted forward and my damper lip(outside-fanbelt). got chipped and broke the fall..
OUCH!!! Yeah iam a ****-sucker. But "even monkeys fall from trees". So surveying the damage..
There goes my minty new damper pulley. So while it was down there i took the opp to take off the fkn flexplate.
i had to use one of my magnum rubbers to help me get the engine right side up.
so after a few knick-nacks. I wanted to remove the harness and box it up with the sc4 oem one to be ready to ship.
none told me "hey you got to remove the ****ing intake" just can't be easy right..
and here is the damn thing. Pretty long for something that was cut somewhat...
anybody know what sensor this is??? it was on my ge block so it's not unheard of(unless it's me).
so iam trying to clean my oil pan from my ge car. And it's grimer than ****..iam soaking it in soapy water. using brillo pads. and now were using engine cleaner..
iam thinking i need an oven brush?? Dosen't have to be perfect, just want some of that old grime gone. Well thats all i have now. Have to get the damn turbo changed out on the rb so we will see. and still abt $4k away from getting this thing running.. so yeah
07-24-11, 03:31 PM
---
DUDE that SUCKS but if the engine fall on the ground it could be a lot worse. There is this engine on eBay that's totally screwed up.

Take the engine degreaser and parts to a DIY car wash with a pressure washer.