headlight restoration with 1500, 2000, PLastX
05-21-08, 08:21 PM
Rookie
Join Date: Jun 2003
Location: Georgia
Posts: 69
Likes: 0
Received 0 Likes on 0 Posts
---
05-21-08, 08:44 PM
Rookie
Join Date: Jul 2005
Location: CA
Posts: 15,998
Likes: 0
---
I forgot to mention I used a rotary with a cutting pad. I used the blue magic with a rotary. The blue magic is for the deeper scratches and the Plastx for the finer scratches and haze
It's just more abrasive than Plastx. I can do one side of the headlight in under a minute for just polishing
05-29-08, 04:42 PM
Driver School Candidate
Join Date: Apr 2008
Location: arizona
Posts: 7
Likes: 0
Received 0 Likes on 0 Posts
---
so i did this to my 00 gs300 last week and it turned out great! but i feel like there should be a "last step" after plastX, like some kind of uv protection or polish? but anyways thanks for the pics / guide
i swear by this stuff now...cheap / easy / takes a lot of time but well worth it!
07-09-08, 06:59 PM
Lexus Test Driver
Join Date: Jun 2008
Location: Minnesota
Posts: 869
Likes: 0
Received 0 Likes on 0 Posts
---
I love you guys.
I rinsed them off, wiped them down, applied the PlastX with an applicator pad, and wiped off the residue with a microfiber towel. Here are the results:
Before:
After: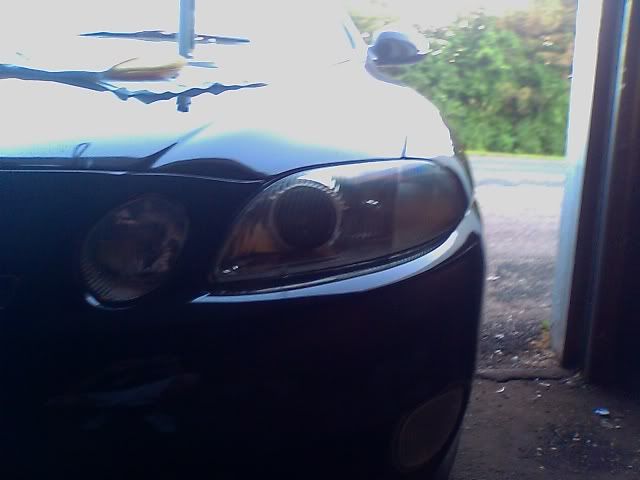 07-13-08, 09:48 PM
iModerate
07-21-08, 10:06 PM
---
how much sand paper did you guys use? i used about 4 sheets maybe 8 inches long 4 inches wide of 2000 and sanding for an hour and a half i cant get crystal clear as some of you im using ICE polish and PLASTIC X with microfiber towels
07-22-08, 10:44 AM
iModerate
---
07-24-08, 07:33 AM
iModerate
07-24-08, 11:23 PM
Driver
Join Date: May 2008
Location: S.Arabia
Posts: 171
Likes: 0
Received 0 Likes on 0 Posts
---
true. All what the oil does is smoothen the edges but it will not prevent the spreaded scratches the sandpaper generates.
more questions I have
1-Does this procedure works with the stop lights as well (There is no reason why it should not)
2-Does this procedure work with glass head light cover (not plastic)
Many thanks for the answerers in advance.