Club Lexus Cleans up at JDM Theory Meet at Japantown San Francisco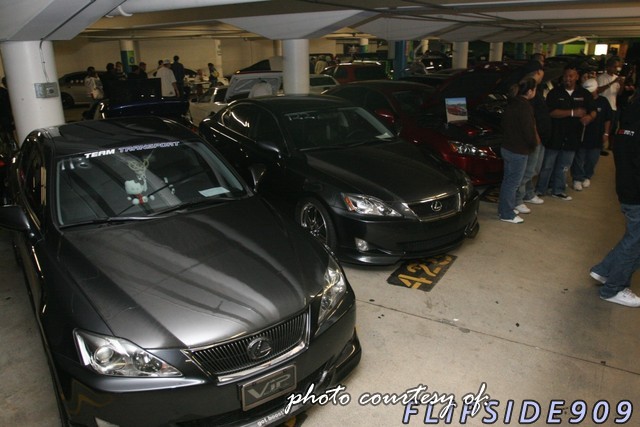 January 13, 2008 – San Francisco, CA – With over 400 cars in attendance, LGWNorCal and SoCal Clublexus members
came in FULL FORCE to represent at this highly prestigious 6th annual
event held in Japantown Center in San Francisco. Lexus was gracious enough to bring out the SEMA LS460 built by VIP Auto Salon and a new 2008 Lexus IS-F in Starfire Pearl for people to check out.
We all have a lot to proud about our recognition by JDMTheory. One
award that we can ALL be proud of is the "Best Forum" award given out
to the forum website that was best represented by all the participants.
That award was presented to CLUBLEXUS!!
Awards Won:

1st – Best Forum – Club Lexus
4th – Best Female Tuner – ldynred
1st – Best Female Tuner – miss_IS300
4th – Best VIP – r.maestas
3rd – Best VIP – GSXOTIC
2nd – Best VIP – BIG_STEVE
1st – Best VIP – lightwave76
1st – Tuning Car Maniax! – lightwave76
1st – Hella Flush – BIG_STEVE
1st – Best Crew – ar-kan
3rd – Best Luxury – JohnnyBoy
2nd – Best Luxury – flipside909
1st – Best Luxury – rominl
5th – Best Performance Sedan – RMMGS4
3rd – Best Performance Sedan – Josephdoc
4th – Best Lexus – TAMR_GUS98
3rd – Best Lexus – DDQUACH
2nd – Best Lexus – Josephdoc
1st – Best Lexus – RMMGS4
Discussion Thread and additional photos:
https://www.clublexus.com/forums/showthread.php?t=329545 
By: RMMGS4
Edited By: Flipside909